EXPAT in Paradise – Tom Cardella – 66 Going on 19
EXPAT in Paradise – Tom Cardella – '66 Going on 19′
Win a 1 Week Stay at an Ocean View Home in Costa Rica for $100!!!
In response to the tremendous need to feed and provide basic supplies to unemployed tourism sector worker in the Papagayo area, Tom Cardella has generously offered to raffle off a 1 week stay at his stunning vacation rental home in beautiful Monte Paraiso, Playa Hermosa, Costa Rica.  So here is your chance to donate and at the same time have a chance to spend a week at a luxury ocean view home in Costa Rica.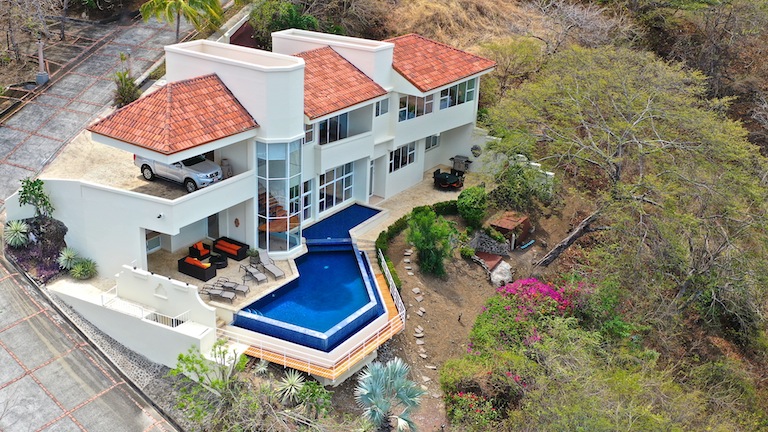 It's real simple – Tom is selling 100 raffle tickets for $100 each.  To purchase raffle tickets just deposit to PayPal or Zelle using michael@tanktopsflipflops.com.  Please make sure you put CARDELLA RAFFLE when you make the payment.  Buy 1 or 10, whatever you can.  All the funds raised will be used to feed needy families in the area.  Check out this video explaining the Cardella Challenge – Casa Ventanas Raffle.  
Tank Tops Flip Flops Newsletter edition no. 166
In case you're for some reason not convinced check out the video of the house.  Whoever wins the raffle – ENJOY!
The raffle is actually the 2nd huge effort that Tom and his wife Rhonda have embarked on to raise funds for out of work local tourism workers.  the first "CARDELLA CHALLENGE" was a huge success as well.  Tom started out by offering to match any donations up to $5,000.  He soon raised the match to $10,000 and when the dust settled $35,000 was raised.  Check out this video where Tom explains why he decided to donate and what the funds are being used for.
When I met my friend Tom Cardella years ago the first thing he said to me was 'I'm not buying anything!'.   Of course we all know that he couldn't resist and soon fell to the charms of Costa Rica.  11 years and many properties later Tom is now the Poster Child for how to enjoy living the EXPAT life in paradise.
Not only is Tom enjoying himself here in in beautiful Playas del Coco but he has quickly assimilated into the local EXPAT and Tico community.  Tom and I sat down and talked about how he first came to Costa Rica and why he fell in love and stayed, what he and his wife do down here in our little slice of paradise and most importantly how he has been able to raise a tremendous amount of funds to benefit local organizations that provide much needed food and supplies to out of work locals affected by the Covid-19 crisis.
Tom first came to Costa Rica in 2009 with his wife and children when hurricane Wilma stopped them from visiting their timeshare in the caribbean.  I was introduced to Tom through a mutual friend and client and so of course I went to meet Tom and show him around.  In this video Tom describes our first meeting and why he made the decision to purchase property down here and how he has made great friends and gotten involved in the local community.
Tom's wife Rhonda is also very involved in the local community and for those of you who have read all the prior newsletters you may remember the incredible story of Rhonda and her business partner Lisa Martin's business Gitingas.  Gitingas makes incredible beach bags and accessories that are super useful when you hit the beach and to top it off they are made in partnership with a prisoner reform program – Prisoner of Hope.  Check out the Gitingas Newsletter here.
Since retiring from a successful corporate career at Miller-Coors, Tom has been coming down to Costa Rica for longer and longer stints.  He has been playing live music whenever he can and has been part of a lively nightlife scene in Playas del Coco and surrounds.  Tom also keeps his toes in the business world with consulting work and also is a partner developing spec homes in the area.  Now that he has been forced to stay in Costa Rica due to the Covid-19 crisis he is realizing that has no need to return to the US other than going to a few Green Bay Packers games!  Tom is the first to say he is a 'Garage Band Gringo' and is '66 going on 19′.  Well we can attest – Tom is really living the dream.  Check out this video and you will know why Tom loves it here and find out what he does day to day.
Tags: Charity Costa Rica, Costa Rica Adventures, Costa Rica Dream, Costa Rica Lifestyle, Life in Costa Rica, Live Music in Playa Hermosa