Michael Simons Client Testimonials
10 November, 2023
Hanging out with Michael is like hanging out with a celebrity.  Every place we went he was recognized and greeted. He has a very outgoing personality and treats you as a friend.  Michael loves his community, and he is very well-respected by the locals.  Living there for 20+ years he is very resourceful and provided us insight about the local areas. After showing us multiple homes and condos, he helped us find a place that fit our lifestyle.  
Thanks,
Angie and Jim Beeson – Wenatchee, Washington
1 November, 2023
Michael Simons of Tres Amigos was super helpful and accommodating to all our needs. In fact, the first house he showed us, I hardly looked at because I was totally focused on another house from the spectacular pictures I had viewed online. We then went to view the only house I thought I was interested in. However, after seeing it and the drive to get to it, I was very let down.  As a result, we went back to the first house and actually looked at it this time. The result is we loved that house and bought it. The point of the story is that Michael had understood what we were looking for and was better at selecting it than we were. He really is a people person and does his best to match the home to the buyer. Furthermore, he goes out of his way to meet needs after the sale. We recommend Tres Amigos and Michael as a 5-star organization.
Larry and Susan Wilkins – Ft Lauderdale, Florida
14 September, 2023
We are happy new home owners in Playa Hermosa, Guanacaste, Costa Rica. Thank you to Michael Simons and his awesome company Tres Amigos Realty Group for all the hand holding and guidance through the entire positive  process. 
Michael I am sure we will be long time friends. 
Isabel Leach and Mark Stevens – Texas
12 September, 2023
Dear Mr. Simons,
I am writing to express my appreciation for the great service I received with you as my Real Estate Agent. You provided me with resources and support for two smooth and pleasant transactions, going above and beyond anything I have experienced. You conducted your work thoroughly and efficiently throughout the entire process. There were multiple extra tasks, such as legal service and contractors that you assisted me with to make the process much easier. The time you took to explain the entire process is greatly appreciated!
I will continue to recommend TRES AMIGOS REALTY GROUP / TANK TOPS FLIP FLOPS and look forward to working with you in the future.
Thank you,
Ray Pope – Las Cruces, New Mexico
07 September, 2023
If you are serious about buying a property in The Papagayo area of Costa Rica, I'd go to Michael Simons at Tres Amigos Realty Group. He knows what's there and what I want before I do; and he'll help me get it.  We went to Guanacaste looking for "something". It took us 3 days and Michael found it for us and we closed in 60 days. All along the way Michael was there to help. If I were to buy another property, I'd go to Michael.
Bruno and Rita Alterescu – Massachusetts
05 June, 2023
I met Mike Simons and Tres Amigos in 2007.  It was our first property introduction to Costa Rican real estate and Mike was very professional, making all the right connections to insure everything was handled properly and insuring we found the right property for us.   Over the years we have bought and sold several properties and always relied on Mike and his team to make sure we were well covered and aware of the underlying market dynamics.  We have seen what happens when other people cut corners and that is why Tres Amigos has been in business for so long in Guanacaste.   I would and have recommend Mike and Tres Amigos to anyone interested in real estate in Costa Rica.      
Kevin Bohn – South Bend, Indiana
02 June, 2023
Let me say first of all that if you are looking to buy or sell or rent a property in the Playas of Ocotal, Coco, Hermosa or Panama area, Tres Amigos Realty Group is the most trusted real estate agency and Michael Simons is the owner/broker.
We lived in Santa Ana Costa Rica and wanted to move to a beach community.
To go to the above mentioned areas was a 4 hour drive, so we needed a place to stay while we looked around to purchase a property. Michael always found us a reasonable rental for one week (many times) while Michael showed us many properties. When you work with Michael, he makes you feel that you are his only client. He also does his due diligence and you feel very comfortable. So if you are looking in the above Guanacaste  area, Michael Simons is your go to guy!
We purchased a condo in Ocean Breeze condominiums and we are quite pleased!
Muchas Gracias Miguel! Pura Vida!!!
Tim and Clemencia Cavanagh – Playa Hermosa, Guanacaste, Costa Rica
29 May, 2023
Don't waste your time working with another realtor or agency.  Anyone looking to purchase real estate in Playas del Coco, Playa Hermosa, Ocotal or surrounding area needs to contact Michael Simons of Tres Amigos Realty Group.  I've worked with Michael on three separate purchases and have 100% confidence.  Michael understands the market and all the nuances of the area and will only provide the best available advice.  He's not looking to just close a sale, but ensure you understand what you're buying and most importantly ensure you're happy with your decision.  Michael has a no BS approach and will tell you how it is regardless of an investment property, vacation property or your dream home.  What I find most impressive, is his willingness to work with you even after the sale has closed.  Buying real estate in a foreign country can seem like a daunting task, but Michael helped advise me throughout the process including recommendations for a lawyer and all required services and even reviewed documents when I had questions or was unsure.  Michael – I appreciate all the support and advice you've provided and look forward to working with you again.
Scott Paterson – General Manager, The Royal Ashburn Golf Club, Ontario, Canada
17 April, 2023
I highly recommend Michael Simons/Tres Amigos Realty Group to anyone considering buying a property in the Playa Hermosa/Playa Coco areas.  Michael is so knowledgeable, personable and 100% focused on doing a great job for his clients.  Having lived in Costa Rica and worked in real estate for many years, he knows the business inside and out.  He walked us through the processing of buying a vacation home in Costa Rica, showed us some amazing properties and then connected us with everyone needed to make it happen…from lawyers to property managers.  He loves Costa Rica and it's clearly a joy for him to introduce people to what is now his home.  Thanks to Michael, we found the perfect vacation home for our family.  The next dream is to buy some land and build our own home in Costa Rica.  When the time arrives, we'll definitely be knocking on Michael's door to assist with this!
Karen and Jorge – Redwood City California
01 March, 2023
It has been a wonderful time dealing with Michael on several Costa Rica purchases!!! He has the connections to handle all of your needs and most important he is a great guy!
Marco Davis – Texas
24 February, 2023
We met Michael at a beach front hotel/restaurant in Playa Hermosa. At the time he was meeting with a group of clients at a nearby table. We asked Michael for his business card and said that we would be in touch. When we returned to the U.S. we continued our online search for properties and we were drawn to Michael's website, hence his very large library of extremely informative YouTube videos about Costa Rica. His presentations "sold" us, and we knew that we wanted to have Michael become our realtor. Within 2 months we were back in Costa Rica, and we made an offer on a property. This offer was accepted but it had some "conditional" issues that Michael deemed not to be in our best interest. We again returned to the U.S. and we subsequently made another offer on our "second" choice property in the Los Altos del Cacique area and closed in December 2022. We could not be happier with this home.
Michael is extremely passionate about his job and in general, about Costa Rica He listens to what you need and then he shows you the properties. He doesn't just sell you a piece of property, he makes sure that the property is the right one. Michael was always (and still is) just a text or phone call away. Costa Rica closing procedures were somewhat more confusing than those in the United States but Michael made the process go as seamlessly as possible. Thank you for walking us through everything.
He is exceptionally enthusiastic about the people and animals of Costa Rica; and listening to Michael talk about both is indeed "infectious." We truly admire Michael's love for Costa Rica. Michael heads up and/or works with a number of charities and organizations to help make life better for Costa Ricans. At Christmas time Michael is extremely involved with organizing various drives to collect toys for children. His annual Christmas party is an example of that — attendees are asked to bring toys as donations for the children of Costa Rica – and to enjoy a wonderful day of food, drink, multiple bands, and the ability to "meet your neighbors." As a result of this "party" and some other toy drives headed by Michael, over 3000 gifts were collected for the children of Costa Rica. Michael is a legendary example of a person who heartily "gives back to the community."
He also houses several dogs at his home – these dogs were "rescue dogs" and had no homes and Michael took them in and they all became a part of his family.
Michael is much more than a realtor — he is a "one stop shop." Michael has a large network of knowledge for just about any type of service that you could imagine, i.e., banking, insurance, property managers, purchasing a car and so on. Just ask Michael whatever you need help with and he most undoubtably will have an answer or referral for you — and if time permits, he will personally take you to the company and introduce you in person.
We feel extremely fortunate to have Michael as our realtor and now as our friend. We cannot say enough good things about him. We give him our highest endorsement and recommend him unconditionally. If you are looking for a realtor who is a true professional, honest, up front, and not pushy, go with Michael and we can assure you that you will NOT be disappointed.
Linda and Miguel Guadamuz – California, USA
24 February, 2023
I would like to share my experience with Michael Simons and Très Amigo  Realty. I had visited several countries, Panama, Belize and Mexico before I came to Costa Rica to look for my next adventure, and home away from USA. In all my experiences which I have owned over a dozen properties, I've never felt more at ease, and at trust with Michael Simons to guide me in a direction that I was suggesting, but "not sure" of for my next "home".
Through several trips down here and reaching out to other realtors in other cities, Tamarindo Jaco , I felt the warmth of the local people here and Playas  del Cocoa to be my next residence. Living 6500 miles away from this location could been a really disastrous and challenging venue but with Michael's team and great legal assistance my dream became instant reality with hardly any effort on my part-I had a tremendous experience with Tre's Amigo Realty, and I am in discussion with them now for future homes, I'd like to purchase here in paradise. 
Dan Adams – Lexington KY
15 February, 2023
I recently bought a piece of paradise in beautiful Costa Rica and I couldn't be happier,   Let me briefly share my experience… I was referred to Mike Simons through a friend.  He knew every listing that was available, where they were, how much they were, and everything about them.  I was so confident in his knowledge of the market, and even of what suited me, that I bought a place sight unseen based on his recommendation.  Since then, Mike has been one text away for everything … from facilitating the inspection and closing in my absence, to finding a contractor or renting a car.  I now refer him to all my friends, and will continue to.  It was a great experience and I absolutely LOVE my new place. 
Thank you Mike and Tres Amigos.  Pura Vida
Wendy O. – Toronto, Canada
10 February, 2023
We met Michael Simons as a referral from a friend that we had met in Coco.  My family and I were new to the area and we were still deciding on an area for us to plant roots.  We knew we wanted to live in Guanacaste, but were not yet sure where.  We liked Michael the moment we started communicating with him.  He was so knowledgeable of all things Costa Rica.  He helped us look for houses all over Guanacaste, from Tamarindo to Hermosa.  We finally settled on Playa Hermosa and Michael was wonderful throughout the process.
That was just a small, tiny fraction of how helpful Michael was though….  He was so much more to us then a realtor.  My family and I have a unique backstory and we came to Costa Rica with Pura Vida on our mind,… lol but we didn't have a lot of plans other after that.  We just wanted to relax for a bit and enjoy the untouched beauty that Costa Rica has to offer.  Michael helped us more then a normal realtor would.  He helped us settle into this community.  My wife and I decided to start a small business in the greater Coco area and we would have been lost on how to do anything without the help of Mr. Simons.  He introduced us to lawyers, accountants, and all the key people to help us get our business off the ground.  He was an advisor to us, we pitched him our ideas and he blessed them and told us how to best launch.  He helped us find our first rental property to live in before we were even thinking of buying a property.  He helped us find a school for our children.  He was our guide to how to do anything in Costa Rica.  He introduced us to the community (many who we are now bffs with), he helped us figure out how to bring our dogs from the US to Costa Rica (they are here now), he helped us find a car, he helped us with advice on the residency process (which we are now in the process).  His mentorship, guidance and friendship was invaluable to our success and we are now a part of this community because of him.  He even came to my wife's birthday dinner as a friend.   My family and I are pretty awesome, but it would have taken folks a bit longer to figure it out without the help of Michael.  We are forever grateful for the assistance he offered.
PS…. Michael bought a beer for me and my wife… and chips for my children the first time we met him….  Even if he was horrible and didn't do all the amazing helpful things above, I would still like the dude.  The fact that he was genuine with all the help above months before we ever considered buying a home from him only makes us love the dude more.  Pura Vida, 
John and Rebecca Murray – Playa Hermosa, Guanacaste, Costa Rica
Rental Gear | Mango Baby Beach Rentals Costa Rica
10 February, 2023
I had the pleasure of working with Mike Simons when I was looking to purchase a property in Costa Rica. From start to finish, Mike was an exceptional realtor who went above and beyond to ensure my buying experience was seamless and enjoyable.
Mike was extremely knowledgeable about the local real estate market and helped me find the perfect property that fit my specific needs and budget. He was always available to answer any questions I had and provide valuable insights and advice.
What I appreciated most about Mike was his unwavering commitment to their clients. He truly cared about making sure I found the right property and was always available to offer support and guidance throughout the entire process.
I would highly recommend Mike to anyone looking to buy property in Costa Rica. His expertise, dedication, and professionalism make him a stand-out realtor in the industry. Thank you, Mike, for making my dream of owning a property in Costa Rica a reality!
Jon Hersh
9 February, 2023
We spent a month last summer in Playas del Coco. Like pretty much anywhere we go, we look at real estate for a potential investment/vacation home. Michael Simons came highly recommended, so we set up our parameters, took a few drives, and saw a few slices of paradise. Michael is extremely knowledgeable about the different neighborhoods, where to eat, who to contact and Costa Rica in general. He speaks so lovingly about Costa Rica, Guanacaste in particular, and his enthusiasm is infectious. Don't be fooled though – he'll shoot you straight and is not just out there to make a sale.
We decided that we'd start with an investment property, come down a couple of times a year, and then buy a lifetime home a few years down the road. Although we didn't find anything during our trip, we made a trusted advisor in Michael, and he put us on a short list for anything that might pop up while we were back stateside.
Less than a week back in Colorado, Michael called with our ideal home, everything we wanted in that house five years down the road. So ideal, in fact, that we are moving in June, not to vacation, but to stay and live and put our kids in Costa Rican school! Michael was so great throughout the process of the purchase – he connected us to all the right people (lawyers, especially), and made the whole transaction seamless. He continues to be a great advisor and friend. Once the deal is inked, as most realtors do, he doesn't disappear. We feel like we could call him with any questions, advice, and guidance. Ask him about the best bread in Coco!
We will certainly recommend him to all our friends and soon to be amigos in Costa Rica and beyond. Pura Vida!
Jonathan and Lynette – Colorado
6 December, 2022
Michael,
Thank you for selling our property and mostly the way you did it. More than I was asking and absolutely no hiccups/etc (which are a bit more common in CR).
Will send anyone and everyone I know to you and we will be looking to buy again in a few years, so see you then (at the latest).  Thanks,
Mark – Costa Rica
1 August, 2022
We had the pleasure of meeting Michael Simons while we were on a family vacation in Costa Rica in Feb 2022. Michael came highly recommended by a friend back home in Ontario, Canada. Michael so kindly picked my wife and I up at our resort and explained all that he knew about the Costa Rican people and  the area we were interested in investing in. His 20 plus years of knowledge was exactly what we needed to hear in order to acquire a level of comfort when making the decision to invest. The Internet helped us a lot with researching areas and prices but Michaels input was priceless to us. After showing us multiple (5) properties in the span of approximately 6 hours, our minds were made up and we put an offer in immediately and thankfully purchased a beautiful condo we call retirement LOL. 
Thank you Michael for handling everything so smoothly and professionally and guiding us with our purchase. We'll see you at your annual Xmas party this year. 
Regards,
Steve and Melissa Latham – Ontario, Canada
20 July, 2022
To all my friends in the Coco area and those people who I have not yet met but hopefully will be friends. I have bought two homes in the Coco /Hermosa area and both times I was assisted by Tres Amigos Realty Group, headed up by Michael Simons – – I personally have bought and sold nine homes and have yet to meet any company with such wonderful caring professional associates. And by the way their service first starts after you've made the sale and they help you with a myriad of things – all you have to do is ask them. Knowing what I now know of real estate in this area I would have to be very unwise to buy sell or do anything without consulting Tres Amigos (and I might add this experience includes being involved in buying and selling nine homes.)  PURA VIDA
Warren Ornstein – Playas del Coco, Costa Rica
20 July, 2022
Mike, 
My wife and I would like to thank you so much for helping us with our vacation home purchase.  Not only were you extremely patient with us but your kindness and honesty is what sold us.  You were never pushy and you took time to hold our hands throughout the entire process of the purchase. We were nervous about making a first-time purchase in Costa Rica and you just made the whole process so easy.   I've purchased many properties in the past and I have never met a real estate professional of your caliber.   Thank you so much for allowing us to gain such a special friend in Costa Rica.  We look forward to working on future transactions with you. Pura Vida!!
 Gene and Vika – Los Angeles, California, USA
4 July, 2022
Thanks again for everything, Mike. I hope this finds you well.
Michael Simons helped us find the perfect home. My wife Catherine and I had been coming to the Playas del Coco area for over 10 years and we finally decided on getting a place of our own. Many people suggested we contact Michael to help us find a house.
We told him what we needed and he went to work finding that perfect house for us. 
With each house we visited, he told us the pros and cons of them for us. Whether the location was ideal or not, the layout of the house, the services offered nearby and if the house would be a good fit or not.
He didn't want to just sell us a house, he wanted to sell us the right house.
After closing the sale Michael was always available making sure the transition went as smoothly as possible. Helping find us the right people and services we needed to get everything done for the house.
Catherine and I got to spend a bit of time at the house before coming back to Canada and each day we marveled at how lucky and grateful we were to be where we were. 
It was with the help of Michael that we were able to be where we are and we will be forever appreciative for all that he has done for us to find that perfect home. We cannot wait to come back again.
Ernie and Catherine – Outremont QC Canada
4 July, 2022
We were looking to purchase a property in January and did not know how to go about it. Michael explained everything in detail, answered all our questions, and was with us every step of the way. Even though real estate transactions are always extremely stressful, he made us feel confident and at ease. He is very trustworthy and helped us out to smoothly proceed with our purchase. Choose him to represent you in your real estate transaction, you will not regret it.
Alec and Marina Ferguson – Ontario Canada
1 July, 2022
Anytime you purchase a home it's a stressful process, especially when you're purchasing something internationally.  The one thing that can make the process smoother is an amazing realtor and his team (Tres Amigos Realty Group) on your side to help you through.  From the home search through closing.  Michael was impeccable, communicative, responsive to our many questions and always willing to help in any way he possibly could to ensure we had both a wonderful experience and felt good about our purchase.  For anyone looking to buy in Costa Rica, or anywhere Michael does business.  I would highly recommend Michael. 
Sincerely, 
Debra C. – Virginia
28 June, 2022
We recently purchased a condo in Playa Hermosa and we were so happy to have the expertise of Michael Simons to help on our search! His knowledge of the area and understanding of how things work in Costa Rica made things so much easier. We were taken care of from the initial search to getting properly settled into our new place.
If you're looking to purchase property,  you absolutely need Michael and his team at Tres Amigos on your side!
Thanks again for everything Michael!
P.S. Hope to be there for a bit in August too.
Rob & Marie – British Columbia, CANADA
27 June, 2022
International real estate investing in Costa Rica or any country can be pretty intimidating whether buying a personal home or investment property.  Similar to all business related activity whether real estate or other business investments, it always comes down to people, information, and trust.  I've had the good fortune to work with Michael Simons over the last 15-20 years on a number of real estate projects as it relates to the purchase of land investments, building spec homes, and 2 of my personal homes.  In all, I suspect my real estate buying and selling activity with Michael will be in excess of $10 million over the next year since I met Michael.
People and connections are always the key aspect of any business investment.  If you want to invest in the Guanacaste area, there's only one person/company that you should connect with:  that's Michael Simons and his company Tres Amigos Real Estate Group (aka TARG).  Michael has been actively selling real estate for 20 plus years in Costa Rica and he or his company are the market share leader for Guanacaste, Costa Rica in property sales.  Michael has connected me with his own personal rolodex.  He's helped me establish relationships with all the key real estate people: lawyer, accountant, and developers.  He recommended the lawyer, Hernan Cordero, who I've worked with over the years who has done a great job for me and I'm pleased to call him a friend.  He's connected me with several developers in the area.  Developers can be tricky and trendy but Michael will connect you with the developer who is doing the best job today.  Michael introduced me to my accountant who I've worked with for several years that I closely work with and have actually made joint Costa Rica investments based on the trusted relationship that's been established. 
Information is key for any kind of investment.  Michael works tirelessly for his clients and is available 24/7 to assist his clients.  I typically talk to Michael outside of normal work hours of Monday – Friday from 8 AM – 5 PM, then normal work hours.  He's passionate about his job and it shows in how he goes about his businesses.  Because of his work ethic, business aptitude, and commitment for his clients, he's built-up tremendous knowledge over the last 20+ years and is exceptionally well informed.  If you want to know about real estate in Costa Rica, there's only one source, Michael Simons.
As it relates to trust, Michael will always tell you exactly the way it is whether you want to hear or not.  For example, I was looking at a beautiful piece of land that could be purchased at a low price, but Michael told me not to buy it as the development had a number of issues that I need to avoid.  He bypassed an opportunity to put money in his own pocket so I wouldn't make a bad investment.  He is focused on protecting his clients and ensuring they get the best value for their dollar whether buying or selling real estate.  It's comforting to know that he has your back as you go through the process of real estate investing Costa Rica.  That's how trust is created and maintained.
The one aspect of Michael that often gets overlooked is his love for Costa Rica the "country" and the "people".  Michael puts his time, money and passion into helping Costa Rica to make life better for Costa Ricans.  He heads up a number of charities that most people are unfamiliar.  During Covid, he headed up numerous food drives to feed Costa Ricans as Costa Rica's number one economic activity: tourism fell dramatically off.  People were hungry and Michael focused on feeding Costa Ricans.  People were also out of work.  Michael made numerous phone calls to chase down dollars so he could put money into Costa Rican's pockets by clearing off land and doing a variety of tasks.  Michael also heads up a charity to raise money to purchase toys for Costa Rica children at Christmas time.  As a Marine, I worked with the Marine's Toy's for Tots and Michael's charity mirror this charity.  He makes a difference because he loves the country and the people.
I'm proud to call Michael a great partner in business, but more importantly a trusted friend.  If you don't know where to start with making your first Costa Rica investment, call Michael and you will connect with a person you can trust, with the best knowledge of the local real estate market, and the person that has all the connections you need.  It's that simple on how to avoid the intimidation of international real estate investing.
Dwayne Boggs – Missouri
27 June, 2022
Good morning Mike, 
I am in the middle of making arrangements for my move to Costa Rica… winding down my business, deciding what will happen to my house, vehicles, etc. It's an exciting time. 
This move is the best thing I have done for myself in too many years. And while I am responsible for having the means to do it, so much of the thanks for making all this possible goes to you. 
Your enthusiasm for the country and people of Costa Rica is infectious. That you can't (or won't) stop talking about the virtues of both is what everyone I've met that knows you likes about you. And you say the truth; nothing you have told me has been wrong. Within 2 days after we met, you found the house for me and, although it was more than I wanted to spend, you were adamant that "you need to buy this house". You spent whatever time I asked for going over the numbers and responding to my internet research on alternative houses and locations. Your warnings to me about the vetting of my finances to do the deal were, again, 100% accurate. But, with your help, the closing went off without so much as a hiccup. You were also right about the value of the house – I turned down an unsolicited offer, within 3 months, for $400,000 US more than I paid. Crazy, not crazy.
I admit there was some suspicion that, after closing, you would disappear to other clients and deals. But you didn't, and I'm as appreciative for that as much as your help in the original deal. From your referral to the attorney that did my closing to the referrals to the folks helping me buy my vehicles in CR and refurnish my house, everyone has seemingly been the best at what they do… experience, knowledge and honesty. Next, I'll be asking for shipping import help. 
Probably more importantly, thank you for your friendship and the respect you have shown me. By this time next year, I will be able to hold my own much better in CR and instead of asking for help, being able and available to give back and stay your friend. 
I look forward to your party in December.
Gene Hagood – Houston, Texas
6 June, 2022
Have had the honor of knowing Mike Simons close to 30 years. The guy has looked out for me, my brother and other friends as though we were family. In fact, I feel like we are family. He and Will helped me and my wife, Jodi, through the process of getting a condo in Playas del Coco and we are thrilled with the service and commitment they put into getting us our piece of paradise. Costa Rica is the Dream-come-true! PARADISE ON EARTH, FRIENDLIEST PEOPLE IN THE WORLD, BEAUTIFUL BEACHES AND FAR TOO MUCH TO DO FOR FUN AND ADVENTURE IN ONE LIFETIME! CALL MIKE OR WILL TODAY AND GET DOWN THERE ASAP!
Todd Monistere – San Antonio Texas
04 May, 2022
Hi Mike, 
We would like to take the time to sincerely thank you for all your valued expertise you shared with us during our home purchasing process.
Pricing – We found your real estate experience in the area to be very valuable in determining the pricing for the property we purchased.  Given that Costa Rica has no Multiple Listing Service, we appreciated you showing us the comparable properties and lots with their corresponding historical and current values so that we felt comfortable putting an offer forward on our home without overpaying.  Your real estate knowledge enabled us to act confidently and quickly in a fast moving and appreciating real estate market.
Off Market Property Sourcing – Costa Rica has become a very popular destination for purchasing homes and vacation properties.  We had been looking on our own before we engaged your firm with no success as there were limited properties that met our criteria.  Your 20 years of experience and network of property owners/sellers in the Playas del Coco & Playa Hermosa area was exactly what we needed to source the home of our dreams. Sourcing our home before it went to public market was a fantastic bonus for us as we could put our offer in precisely to match the seller's preferred transaction timing. In short, you provided us the opportunity to "strike while the iron was hot" and get a deal done that worked well for both Buyer and Seller.
After Sale Purchase Due Diligence Support – As real estate investors for over 20 years, we were very impressed with your after sales and due diligence support that is very important to have in Costa Rica.  Your management skills and your professional network were invaluable in coordinating the buyer/seller legal teams and the Escrow, Survey, Home and Mechanical Inspections and Cleaning companies throughout the full life cycle of our property purchase and closing process.  Our stress levels were kept to a minimum with you running the show as you demonstrated that we were in great hands.   All our due diligence tasks and timelines were met so we could successfully close on the property.
Thank you again Mike.
We look forward to working with you again as we begin our search to acquire investment properties in Costa Rica. 
Cheers!
David & Kim Blainey J – Full-timers in Paradise
03 May, 2022
Michael was incredible to work with.  We were nearing the end of our vacation and decided to look at a few properties.  Michael spent the afternoon with us and 24 hours later and the morning we were set to leave,  we were signing an offer an a beautiful ocean view lot in Cacique Hills.  While we were nervous about the legal process and closing from our home in Canada, Michael was with us every step of the way and asked to be copied on all legal correspondence to ensure we were being properly looked after.  To be honest, this couldn't have been any easier and paired with Michaels guidance, assurance and responsiveness during the process it was stress free.  We're now planning on building and Michael has offered to lend his support, knowledge and contacts in helping us get organized.  In writing this, I feel like Michael has become a friend and only wish this service was more readily available in Canada.  Thank you Michael!!
Lisa Paterson – Ashburn, Ontario Canada
03 May, 2022
It was an absolute pleasure working with Mike to secure our real estate transaction in Playa Hermosa, Guanacaste. Mike is a top-notch real estate pro AND a great guy to work with. I felt we were in great hands from the first moment we met Mike. He knows the market extremely well, he is punctual, detail-oriented, patient, and super quick to answer any question or request we had for him (he responded to every question and every message we sent him within minutes, literally). Most importantly, Mike helped us secure the property that was right for US, ensuring it was a fit for our needs, and helped us to close the deal at the price we wanted. Mike also supported us during the due diligence phase and even post transaction. I look forward to working with Mike again in the future and will highly recommend him to everyone who's looking for a real professional, reliable, and fun to work with real estate agent/broker in Costa Rica!"
Ran Ravitz – Thornhill Ontario Canada
26 April, 2022
Michael Simons is a very competent and knowledgable Real Estate Agent, he has been successful in helping people to buy property in Costa Rica for many years. My husband and I recently purchased a condo with Michael as our agent and could not be happier with our New Home!
Joe and Rena Tarrant – PACIFICO – Playas del Coco, Costa Rica
26 April, 2022
Recently we bought a beautiful home with the services of Michael Simons from Tres Amigos Realty Group.  Michael gave us good counsel concerning buying the house as well as excellent service.   He goes the second mile for his clients, not just during the process but afterward.  He met us at our lawyer's office to make sure everything went well.  He has helped us settle in, recommending different  services & offering his help where needed, right to the present.  Michael always answered our calls or messages promptly.
Thank you, Michael .  We highly recommend you.
George and Gladys Lewis – Vista Ridge – Libertad, Sardinal, Costa Rica
25 April, 2022
My wife and I had been talking about purchasing international real estate for several years. After some research and some traveling, we settled on Costa Rica.  Within Costa Rica there are many choices, and I began an internet dialogue with Michael Simons a couple of years ago.  Michael was very helpful, thorough, and informative in exchanging emails and phone conversations. After several trips to different parts of Costa Rica, we took a trip to Coco Beach last year. We knew we found the right place in PACIFICO, Coco beach. We spent some more time with Michael in person and told him what we were looking for. 
Several months later Michael called with a new listing that met our specifications. We made an offer the same day, and it was accepted the following day. Michael took very good care of us, setting us up with the right attorney, facilitating us during the process of purchasing international real estate without visiting the condo unit in person. 
When it came time to close in March 2022, we planned a visit to close in person. Michael offered his own condo for us to stay, in the event our closing date did not coincide with our visit. Michael continues to be helpful and informative after the sale in providing ongoing advice and recommendations. We look forward to having a beer with him each time we visit! 
Michael was a true professional and we recommend him highly. If you need a real estate agent, who is honest, up front, not pushy and extremely capable, go with Michael Simons.
Jeff and Karen Marozick – California
21 March, 2022
Over the last 15 years we have trusted Mike to represent our firm in over 5 million dollars of land and real estate investments in Playa Hermosa. His understanding of the area, culture, and his genuine care for the citizens of Costa Rica is reflected in his work and the decisions he makes for us.
William Grant – Land Manager – Powell International
21 March, 2022
After working with Mike for years in CR on a corporate level, there was no doubt who to choose when I decided to make a personal investment in Playa Coco. Mike understands the area, the people and the needs of his clients and is always just a phone call away. I'm proud to have him as an agent and a friend.
Will Grant – Baton Rouge, Louisiana
9 March, 2022
My journey with Michael Simons started over dinner with some of our best friends at their beach house in Galveston Texas. We were discussing real estate diversification out of country and had pretty much decided Costa Rica was the ideal country to take a look at. My friend had been researching this for some time and had found Tres Amigos and Michael on the internet.
We both had properties in the US to sell before making the move so off we went. They sold their Galveston property in 3 days for above asking price and were off to Costa Rica. They had a great experience with Michael and found the perfect property. It took us a few more months to get our property sold, and we soon followed them. Michael had pre-arranged 7 homes to look at and had listened very well to what we were interested in. We fell in love with a 3 bedroom home in Pacifico Resort with an amazing view and made our offer on that first trip. From there Michael truly provided the "Easy Button" to completing the purchase and helping us find a great property management firm to run the rental and management of our investment. His network of lawyers, title folks and insurance brokers made it a very easy process to complete. Michael has been in the area for many years thru good times and bad and knows everyone. He supports all the local business and is a true contributor and fund raiser for the less fortunate and the orphaned dog and cat population in the area. We are dog people so that struck a chord with us. I highly recommend Michael Simons to help understand and find the perfect investment or vacation property in the Guanacaste area.
Alex Fernandez – Texas
9 March, 2022
Jan 2021 was my second trip to Costa Rica, but first time in Guanacaste. Some former coworkers had mentioned that Guanacaste has some of the best beaches and they weren't kidding! My travel was to accompany a friend whose dream was to be able to retire in a beautiful place & Costa Rica was top on the list. He'd been told to check out some properties so I said let's go to Guanacaste.
We actually stayed in Playa Hermosa and ran into some locals while checking out the area sharing our interests. This gentleman told us if you are looking to check out properties in the area, we have to connect with Michael Simons because he is the best. We reached out and Michael was very quick to respond. He even picked us up from our hotel and toured us around the area. We saw 3-4 places and fell in love with the Coco Beach area.
After going home, we couldn't stop talking about the trip & places we saw. Within a few months I reached out to Michael and said let's do it… we want to buy a place! By September I was able to close on a great condo near the beach and love it. We are even looking for another (God willing).
My experience in working with Michael was amazing. His knowledge of the area, his personal story, and his passion is what made my decision that much easier. I have already shared his information with several of my family & friends and would highly recommend anyone to not hesitate & reach out to Michael.
Theresa – Minneapolis, Minnesota
8 March, 2022
I took a long weekend trip to Costa Rica last August to get away and decompress for a few days. Conversations over dinner with a few expats led me to an introduction to Michael Simons with Tres Amigos Realty in Playa Hermosa. Long story short, I left a few days later with an offer in on a spectacular building lot, introductions to a great builder in the area and contacts with an excellent Costa Rican attorney and escrow company. Michael is a superior resource for literally everything pertaining to real estate in Costa Rica. Since August I have referred a family member and close friend to Michael and they have both purchased property in the same area. I generally avoid writing reviews or giving recommendations but can say unequivocally that Michael is the best realtor I have ever worked with. He is invested in the area and the people in a way that is very important to me…..heading up many charity and community improvement initiatives. He "walks the walk." If you are considering investing in Costa Rica, and you should be, he is your man.
Stuart Buckingham – Farmington, New Mexico
8 March, 2022
Mike Simons and the team at Tres Amigos Realty Group are truly one of a kind. Buying real estate in a foreign country can be a daunting experience, even when you feel prepared and informed. In my experience with these transactions any problems have consistently come from the questions you didn't know to ask. With Mike Simons you have an extremely knowledgeable and competent partner and advocate, who is not only able to answer any question you might have, but who is also there to answer all the questions (there are many!) you didn't know to ask. Mike's experience in Costa Rica, his network of contacts, and his passion for wanting you to be happy and confident in your purchase set him and his team apart, and make Tres Amigos the realtor of choice in the Papagayo and the surrounding area. Thanks to Mike, I not only found a place that I love, in one of the most beautiful places in the world, I also made a friend.
A heartfelt thank you to Mike and his team.
Randy Reeves – Atlanta Georgia
8 March, 2022
I met Michael Simons of Tres Amigos Realty five years ago and was impressed with his knowledge and experience of Costa Rica. We toured the beautiful bay and mountain areas west of Liberia for several days looking at the communities and properties available. My experience with Michael in those couple of days convinced me I would retire to Costa Rica and that I had met a good friend.
After staying in contact with Michael, I returned this last July to look for that retirement property. This time I purchased a unit in Pacifico. Michael and his Tres Amigos counterparts were great to deal with throughout the entire purchase. The process was relatively easy considering how complicated it could have been. Michael was available to assist the entire time.
Michael also directed me to a Residency Attorney. I should be receiving my residency cards late this spring or early this summer.
I spent nearly three months last year in Coco and plan to spend twice that this year at least. In addition, as Michael told me, I would meet wonderful people and that I would have more requests than I could handle for friends wanting to visit, all true. Michael, my friend, thank you for leading me to Pura Vida.
Jim and Berni Gordanier
8 March, 2022
We wanted to share our great experience with Michael Simons. We have done a few deals with Mike, and he is amazing. He is very professional and his services are outstanding. For instance, after we signed a listing agreement for Mike to put our house up for sale, he sent a team to shoot top quality photos and video. It was professionally marketed and promoted, and we sold the property very fast for close to the asking price. After that, we used Mike for buying our next property. We were out of Costa Rica, but Mike took so much effort to find out dream home. He went several time to properties that we were interested in, sent us videos and even did a virtual walk through tour of each house. Also, even after the deal was closed, and everyone was paid their commission, we called Mike for help and recommendations for everything: handyman, electrical, plumbing, etc. and we always got an immediate response. We strongly recommend to everyone, for Mike's professional services.
Felix and Natalia Doktorovitz – Canada
7 March, 2022
When you put yourself in Mike Simon's hands you can trust that he will listen to your needs, understand your hopes and will ensure they will be met with expert knowledge, deep experience and sound guidance. Mike is not out for the sale, he is out for helping you make your dream house come true. Put yourself in Mike's hands. You'll be grateful that you did.
Drs. Michelle and Dennis Reina – Vermont
5 March, 2022
I was recommended to work with Michael Simons on my Condo purchase by trusted friends whom he had also helped purchase a property. He is incredibly proactive in facilitating a streamlined purchase process making all the necessary legal, logistical, financial introductions and then recommended an excellent property management company who have also been top drawer post completion. His website Tank Tops Flip Flops provides a wealth of essential information for those investing, living or considering emigrating in/to Costa Rica. I have myself recommended him to others which is never something I do lightly.
Dr. Darrin M Disley PhD, DSc, OBE – United Kingdom
30 August, 2021
Michael Simons is an experienced realtor who knows Costa Rica, knows real estate, and will get to know you and your real estate needs.  He is well organized and always available.  He helped me find my little piece of paradise in no time, introduced me to all the people I would need to know – attorney, escrow agent, property manager, and even restaurant owners and managers – and helped me in so many ways.  Never having done anything like this before, he was a major comfort to me and helped me navigate every aspect of the buying process. You won't find anyone better – just call him now so you can have your own piece of paradise too!
Pura Vida!
Heather Hinze – Yakima Washington
30 August, 2021
To: Michael Simons
My name is Mike Downing, from Cleveland, Ohio. My wife Denise and I were looking to buy some investment real estate in Costa Rica. First off, we knew nothing about the country or where to buy at, but our initial research directed us to Costa Rica being a solid real estate investment. My first step was to get on the internet and research some listings. Michael Simons firm, TRES AMIGOS REALTY GROUP continually came up and the listings seemed to be in the price range and type of investment home that we were looking for. I called Mike and started to ask him some questions. After a few questions Mike directed to me to his FREQUENTLY ASKED QUESTIONS page on his website. I was totally impressed with the amount of detail and time Mike put into this segment it answered all my questions. Anyone looking to buy property in the Papagayo area needs to start on this website! Do not go to any other site or YOUTUBE and waste your time. It all starts on Mike's website.
After a few more conversations with Mike, I booked a flight down to Costa Rica. Mike planned everything for me, my rental car, hotel, and even my fishing trip. He was like a realtor, travel agent, and concierge all wrapped up in one. Upon my arrival Mike met me for breakfast as scheduled and showed me several of his own listings, as well as listings that he did not have. Actually, Mike had the best listings and the others were a waste of time. Come to find out, it's not a mistake that Mike has the best listings, it's because MIKE IS THE BEST REAL ESTATE BROKER IN THE AREA.
So, to make a long story short, we ended up buying an investment/rental home. Like my initial visit Mike took care of everything! Finding us a great attorney, escrow agent, insurance broker, property manager etc… This transaction was the easiest transaction I have ever been involved in.
If you are considering buying property in the Papagayo area of Costa Rica, let me save you sometime, JUST CALL MIKE, HE IS THE BEST! Not only is he the best realtor in the area, I found Mike to be a highly intelligent, straight forward and most important a friend. Mike is just an all, around great guy.
Mike & Denise Downing – Cleveland, Ohio
29 August, 2021
Michael is wonderful person, who sold our condo in Flamenco Rosa fast in June 2019 (we needed to sell because of my husband's fight with late stage of cancer in the US and we didn't know if he will survive – he survived, btw.) and we are delighted with his exceptional service. Thank you, Michael!
Lyudmila Filatova – Wisconsin
13 August, 2021
We can't imagine working with any other real estate broker.  Without a doubt, Michael knows more about real estate in Costa Rica than anyone else.  He is a wealth of information, extremely prompt in answering any questions we had throughout the entire purchasing process.  Michael is reliable, accommodating, and always provided us with great recommendations for the area.  By the time we were signing the contract we felt like we made a great friend in Costa Rica.  We highly recommend Michael Simons without hesitation.  Thank you, Michael!
Donna and Lucian Visone – Buffalo, NY
12 August, 2021
It was a genuine pleasure getting to know and work with Michael Simons at Tres Amigos.  He brings a wonderful, genuine energy to every conversation.  His knowledge and insights about the area and how to think about the many aspects of a real estate transaction were an invaluable help.  It is great to see the care he brings to the area and relationships – from the community he helps foster to the thoughtful and generous support he provides local animal rescue and other foundations. 
Warm wishes,
Christina Adams – NYC
12 August, 2021
Working with Michael was magical.   He not only knows the marketplace like the back of his hand, but he also knows just about every person in the Guanacaste Province.  We did not buy a high-end property and it was our first time buying in Costa Rica.  Even though we were an average buyer at best, Michael made Karen and I feel like we were million-dollar buyers.   Michael spent the whole day with us and made sure we knew the lay of the land.   We started with breakfast in Hermosa discussing what we want in a retirement property.  After a very relaxing breakfast we departed in search of our dream retirement home.  In the end Michael found our dream home in PACIFICO.   It was truly a great experience, and we would recommend Tres Amigos Realty Group to anyone looking to purchase in the Guanacaste market.
Sincerely,
Scott and Karen Danner – Kansas City Missouri
9 August, 2021
We have worked with Michael on two occasions (a property purchase many years ago and the subsequent sale recently) and they both were very positive experiences.  Most recently, he managed the sale of the Costa Rica Villa we built in Guanacaste.  Michael and his team are very professional thorough and appropriately detail oriented.  In our view, he is simply the best broker in that part of Costa Rica.  His extensive knowledge and experience in the area cannot be overstated and makes the process extremely smooth for all involved, without the surprises typical in real estate transactions.  His patience, refreshing candor, honesty and transparency made both of our experiences with him and his team exceptional.  
Paul K – South Carolina
6 August, 2021
Michael Simons is absolutely wonderful to work with. We have purchased several homes in our life and worked with many realtors. None of them have even come close to the talent and passion Michael has for what he does. It's like having a friend on the "inside" that is working for you. He makes you feel like he really cares about his clients as well as the community and all the animals in the country. This was our first overseas purchase for a home and Michael had an answer for every one of our million questions. He put us in touch with everyone that could help us from a rental car to where to buy great furniture for our new home. We will be buying more property in Costa Rica and Michael will be our go to without a question. Also, Michael knows everyone in a 50-mile radius so be prepared for a few people to stop and thank him for helping them find their perfect piece of paradise.
TJ and Kimberly Westerman – Georgia
6 August, 2021
As a realtor I knew I needed someone with knowledge and experience in a market and country I am unfamiliar with. Michael and team were true professionals and on top of the transaction from start to finish. His length of time and experience with Costa Rica real estate is an asset when purchasing property in Costa Rica. I would recommend him to anyone purchasing real estate in Costa Rica.
Dione Beilgard – Frisco, Texas
9 July, 2021
Michael R*O*C*K*S!!
Michael is the top rated / award winning Guanacaste Realtor and he lives up to his reputation 100%
He takes the time to understand his clients and works tirelessly to make sure all are satisfied with the transaction process. He ensures all the processes to closing are processed seamlessly. Michael has ~20 years' experience in the property market of Costa Rica, so he is able to explain the purchasing process to foreign buyers. He has all the right contacts for lawyers, Title Company, inspection reports, home insurance, local banks, etc. Michael just knows everyone locally.
Michael is a steadfast advocate for his clients and addresses their needs with expertise, compassion and open communication. He has extensive background in the real estate market in Guanacaste, Costa Rica, the local communities and his extensive network/connections all go to making his clients experience added value and first class.
Service never ends with closing; Michael strives to maintain an on-going relationship with his clients and is grateful for the relationships he has formed over the years.
Michael is just not the consummate realtor; through "Tank Tops Flip Flops", his Charity foundation, he works with many local community groups to ensure the locals are helped (Covid had a devastating effect on the tourist industry) AND a big advocate to look after stray dogs.
When Michael is not selling real estate, he's looking after the local community.
Michael R*O*C*K*S
Peter and Janet Moss – Richmond, Texas
5 July, 2021
I originally met Mike Simons nearly 20 years ago when he first arrived in Guanacaste. My first impressions were that he was someone who was dedicated, hardworking and knowledgeable. Nearly 20 years later, my impression is the same!
After selling my home in Costa Rica and living in the states for the last 12 years, I missed Costa Rica. When I decided to return and purchase a home, I only made one phone call – to Michael Simons.
He showed me properties (while patiently wrangling our 5 year old son), negotiated a contract and kept me informed every step of the way as many changes had taken place in the process over the last decade. He was also there to help with last minute items that cropped up after closing. Michael is always available, a consummate professional and a wealth of information and resources. As a fellow Realtor and Broker, I appreciate his level of service and expertise.
I highly recommend Michael to anyone relocating to Costa Rica!
Michelle Peckham – Permanent Resident of Playas del Coco
23 June, 2021
If you're traveling to Costa Rica there's no one better than Michael Simons to help you find a house, condo or lot!  He has more knowledge about CR than anyone we have ever spoken to!  My wife and I contacted Michael about a year before we bought a house and he was informative beyond words!  Michael sent us emails, he returned all our telephone calls and once we arrived in CR to buy, Michael knew exactly what we were looking for…. His attention to our wants and needs was unparalleled to any other realtor we've ever dealt with!  Michael has not only exceeded our expectations but in the process become a family friend!   Michael continued to assist us from the time we signed the contract until we closed on our house.  Our new home in CR is more than we could have hoped for!  Our suggestion to anyone thinking of buying in Costa Rica is don't waste your time with anyone else call. Michael Simons at Tres Amigos Realty Group; he will not disappoint! 
Bob and Barb Serafin – Avon-by-the-Sea, New Jersey
21 June, 2021
So, I am not sure if you are a believer of God putting certain people in your life, but I am convinced this is what happened when we stumbled onto Michael Simons.  Oh my Goodness, We "thought" we wanted to do what we ended up doing which was buying a house and a lot, but without his guidance and knowledge we would have never done it.  It is so great to have someone to ask every question to even months after you have closed.  Where do I buy insurance, I need a car, do you know a builder and his latest was helping me save a kitten I found on the mountain and the list goes on.  I have Michael's number on speed dial.  He truly becomes your friend.  
Miss Boni
More than a realtor.
Feeds the poor, rescues animals and treats you as his best friend.
Loves Costa Rica and loves life and wants yours to be great as well.
Knows everything and every contact you will need to be successful.
Will try to talk you out of places to buy but will not push you into one.
Even when we are back in the USA, he is still only a text away.
The man is a legend.
Chuck
Chuck and Bonnie Schuetz – The Woodlands Texas
4 June, 2021
Michael is a wealth of information for those looking to learn more about Costa Rican life and invest in the economy there. We were first time home buyers in a foreign county, and he made the process amazingly easy. He knows someone for everything, to set you up for success as a new owner. We bought as a vacation/rental property, with the intent to retire there in a few years, and he set us up with a property manager who manages everything for us until we can call the most amazing place on earth home! 
Dayna Howard and Shaun Belk – Bellevue Washington
25 May, 2021
We would like to take this opportunity to personally "Thank You" for your role in our adventure to Costa Rica.  Your knowledge of the area and your professional team contributed to securing the home of our dreams.  On top of that, you are fun to work with and a totally great guy. We would recommend you to anyone looking for a real estate professional. 
Thanks again,
Tim and Carin, Rockin Reds Cattle CR
23 May, 2021
John and I have been researching where we could retire on social security. I read everything I could over the last decade about many different locations. In 2013 we took a trip to investigate the name that repeatedly kept coming up, Costa Rica. We were impressed by and fell in love with what we saw and even more investigating was done and every time Costa Rica beat out every location. Then, a few years ago, I ran into a neighbor and I brought up moving to CR. He and his wife had just purchased a lot and were building there to move permanently. He had done a lot of research for realtors and he gave me the name of his realtor, Michael Simons. I reached out to Mike, but we didn't really do anything at that time because we were not in a position to retire any time too soon so we waited, but I kept investigating to ensure it was the right place for us. Then covid hit… so we reached out to Mike again, this time to see if there were any oceanview properties that might be in our price range given the pandemic. Mike sent us what was available and we narrowed it down to 2 properties. One had the most incredible views. When we traveled in 2013 to CR we didn't go to Guanacaste but had decided it was the best fit for us after tons of research and by following our neighbors journey. They built their house and moved in 2019 and are very happy. We became familiar with Playas Del Coco & Playa Hermosa through their journey. When we reached out to Mike he was great, he went to both properties and had us "ride" along via WhatsApp so we could see the property as if we were there with him. We do not speak any spanish so buying internationally was a scary thought. We decided on one of the two properties we felt was the best investment and views. We were terrified to purchase the property sight unseen basically, but Mike helped us every step of the way and Mike has even been there post-sale to answer questions and give us guidance. He, his staff, the attorney's he helped us retain even the builder we ultimately have chosen, and so many others have all been excellent. We recently made our first trip to CR after getting vaccines and finally met Mike in person. Of course by this time we are good friends having gone through so many years of talking. Then when we saw our property it was more beautiful than the videos or pictures showed – it is breathtaking. Mike never pressured us but gave us the facts so we could make an informed decision. We did ask him and others familiar with the area which of the two properties was the better investment, and Playa Hermosa won every time so we are now very proud owners of a beautiful property with an expansive view of the ocean, mountains, valleys, and 4 volcanos. To us Mike isn't just our realtor, and a consummate professional, which he absolutely is, but through our journey he has become our friend who we value and appreciate and most importantly TRUST. He is an excellent Realtor, but also a good person who truly loves Costa Rica, his community and his customers. He is very special to us.
John and Debbie Singer – Dallas Texas
22 May, 2021
Michael has been a truly great leader for us in CR. We recently purchased a condo through Michael and his guidance and caring helped us to know we were making a very comfortable decision. His follow through is quite amazing, answering our calls and questions pretty quick. His connections are trusted as well. Michael made things so easy for us, from writing the offer, signing power of attorney with a trusted lawyer and setting us up with an outstanding management service. One of the greatest things about Michael though is his love for the community, it's people and Expats residing in Coco. He continues to give back, organizing food drives, helping in animal rescue and helping repair and update schools. He has a network of Ex Pat volunteers, we look forward to joining them. Above all, Michael is honest. Our purchase was so comfortable because of Michael.
Rick and Donna Beringer – Hartland Wisconsin
21 May, 2021
What a pleasure!  After eight years of visiting Guanacaste, I finally decided to make the move and purchase a home on the Gold Coast. My experience with Michael Simons has been nothing less than amazing!
From the first telephone call, Michael was totally engaged with me and my quest to find the perfect home. I closed on my property almost two months ago and Michael is still helping me through the process of setting up shop.
Buying and managing real estate in Costa Rica is a bit more complicated than the US. To have an advocate like Michael alongside of you through all of it is invaluable.
There is no doubt that he will be a lifelong friend. Michael is the hardest working real estate person I have ever met.
This passion coupled with is dedication for giving back to our community makes him one of the special ones.
Run; don't walk to Michael if you are thinking of real estate in Guanacaste!
Matthew Rossi – Georgia
21 May, 2021
"I went to Costa Rica a few months ago to look for a lot to build a house. I was introduced to a realtor by a friend in the U.S. and when I arrived in Costa Rica, they took me around to see a few properties. I was not impressed with the properties that the realtor took me to see, and in retrospect, the realtor did not really understand the area they were selling, or have any in-depth knowledge of the properties that were available. During a conversation with a local chef, I mentioned that I was looking for property, but did not see anything that I liked. I told him that I was leaving in 2 days and would come back later to look again. He told me that he knew the perfect realtor for me to speak with and would reach out to him to see if we could meet before I left. Mike came to a house that I had rented and picked me up the next day. He took me to some very nice properties in Pacifico and Monte Bello, two of the best neighborhoods in the Playa Coco/Hermosa area. I identified a property in Pacifico but ultimately could not come to terms with the seller. When that deal fell through, Mike told me about an available lot in Monte Bello. I could find little information about that lot on the Internet, and it appeared Mike just knew about the lot from his personal connections. I am now the owner of that lot and much thanks goes to Mike for making that happen. Experience matters in Costa Rica real estate."
Edward Polk – Ashburn Virginia
11 May, 2021
Man, myth, legend…

Michael Simons called my phone back within five minutes of dialing his number.  What I heard on the phone was pure, raw energy.  I was in Tamarindo CR looking for a vacation house for my family.  I soon discovered Tamarindo was a little touristy for what we wanted.  Michael told me about Pacifico in Playa Coco.  He quickly offered to pick me the following morning and show me homes around Coco.  We met for a wonderful breakfast on the beach and then took our time looking at about 8 different properties.  Michael took me to his house and introduced me to his 13 dogs.  He has a true passion for all things Costa Rican and a soft heart for the local people and animals; he has been running food drives throughout COVID-19. The following day we looked again at some of the houses that made the top of our list and after showing videos and pictures to my wife back in the US we made a decision on our new home.  The process was very efficient.  Michael arranged everything with the attorneys, negotiations with the builder, and introduced us to a property manager. He also introduced us to his neighbor who owns a car lot.  Michael is a true professional and a one stop shop for buying property in the northern pacific area of Costa Rica. 
Kindest regards, 
Nina & Joe Sellers – North Carolina
26 April, 2021
Nobody knows Guanacaste and Papagayo better than Michael!
My husband and I have lived in Costa Rica for three years now and we decided the time was right to purchase our first investment property. Being no stranger to world of real estate having bought and sold homes and properties in Canada, the US and Europe – we obviously did our due diligence before reaching out to an agent here. Time and time again, one name came up – Michael Simons.
From day 1, Michael was incredibly responsive and understood exactly what we were looking for. His knowledge of Coco, Hermosa, Panama and surrounding area is something that only comes with time and experience. His 20+ years of real estate experience in Papagayo simply cannot be matched.  Michael was there to support us throughout the purchase and outside some banking/Covid challenges incurred on our end, this was one of the most seamless real estate transactions either myself or my husband have ever completed.
Michael's professionalism, knowledge, honesty, and work ethic are much respected and greatly appreciated. We will continue to recommended him to family and friends.
While this was our first purchase in Costa Rica – it will not be our last and we are looking forward to future dealings with Michael!
Best,
Lorrie Harvey – Costa Rica
22 April, 2021
If you need to change
Your neighborhood…
Who you gonna call?
Mike Simons!
If the house is weird
And it won't sell
Who you gonna call?
Mike Simons!
If you're seeing Costa Rica
Running through your head
Who can you call?
Mike Simons!
Pavel Yakovlev – Pittsburgh, Pennsylvania
21 April, 2021
Michael Simons is the most responsive real estate professional I've ever dealt with. He listened to my criteria for the ideal vacation home and from the moment I arrived in Coco, he introduced me to the area, restaurants, entertainment venues, attorneys, and management company that facilitated the purchase and management of my beautiful Hermosa home. Because he understood what I was looking for we only had to see 8 homes and I selected the first one that he showed me. He did a comprehensive inventory of the furnishings and household goods that conveyed with the sale which facilitated the process for the management company handling the VRBO. He facilitated my permanent residency filing and even witnessed my Costa Rican will. I gained not only a home, but also someone I consider my first Costa Rican friend. I highly recommend Michael and Hermosa for anyone wishing to live or invest in Costa Rica.
Regards,
Laurie Kane – Dallas, Texas
20 April, 2021
We were so lucky to have met Mike last year! he showed us a beautiful lot in Playa del Coco and it is now one of our biggest dreams! He did not push to sale, gave us the time to think and to be sure about the investment that we were doing. He answered all my questions on time and gave us honest opinions. He also works with very professional people that made our closing a success.
It is not easy to handle a long-distance deal, but every person i talked to was very knowledgeable and I felt no concerns about the transaction. 
I also love that Mike cares about the community where He lives and saves a lot animals, and that to me , talks about the kind of person He is.
I would highly recommend Mike for any transaction,  and I can't way to see him again when we start building our home in Costa Rica….Pura Vida!
Carlos & Maria Breton – Florida
19 April, 2021
Testimonial for Michael Simons
When we started researching the idea of purchasing international real estate, I was excited about the prospect but very hesitant of investing outside the US.  In retrospect, I feel very lucky to have found Michael.  From start to finish, he indulged every question with a thorough response. He went above and beyond merely providing us access and information about properties available for sale.  He thoroughly explained the "how to" of being a property owner in Costa Rica.  Not to mention, the people he introduced us to have further helped us to enjoy and utilize this amazing property.
I have worked with several residential and commercial realtors over the years.  Michael Simons is a one of kind professional and is truly more than just a realtor.
Brad Slaughter and Brent Etlinger – Cedar Park Texas
19 April, 2021
I contacted Michael Simons back in September 2020 when I was looking to learn about Guanacaste. He was very responsive with emails, phone calls, texts; I always got an answer from him.  He even helped me out with booking a Hotel and a rental car.
When I first met Michael in person in November, he really impressed me with his Pura Vida style; his humbleness gave me the confidence to believe in him.
Everybody knows him, from the lady that watched my car on the street to the waiter that serves breakfasts at the small soda in downtown Playas del Coco, who by the way named one of his plates after him, "Michael Simons Combo",
This is a true example of who he is, how people care for Michael, as he really gives back to the community.  That is Michael Simons, a true ambassador of Guanacaste, someone that enjoys watching normal people like me, achieving the dream of owning a piece of Paradise.
Michael, Once again thank you for all your help.
Alex Vargas – Tampa Florida
19 April, 2021
Thinking of, planning to, dreaming of, residing part of the year or living full time, retiring, to the tropics, let us assist you with your deliberations.
Allow me to give you a peek into our journey to this tropical paradise.
I am writing this testimonial for two reasons: to promote Guanacaste Costa Rica, and to promote Tres Amigos Realty Group, and Michael Simons
Since 1995, my wife and I have lived in some beautiful locations. A beachfront home in Ventura, California, followed by a Golf course home in California. Now, we have chosen to retire to a magnificent home in Playas del Coco, Costa Rica, all on a teacher and secretary salary.
California was a dream of mine since I first visited in 1968. It became a reality in 1984.
5 years ago I picked up a magazine – Coastal living. As its title implied, it illustrated many coastal locations along with reasons one might wish to relocate there. Now, we were lucky enough to live in a beautiful coastal location in S. California. Why Leave?  With retirement fast approaching and the California climate getting cooler, I wanted to be somewhere warm where I can wear shorts and a tee shirt year round. Answer, the tropics!
Some primary concerns/reasons for leaving:
    –    Cost of living
    –    Climate
    –    Taxes
    –    Traffic
    –    Politics
    –    Lack of customer service
So, why Costa Rica? One article in Coastal Living was on Costa Rica with all it had to offer. Several friends of mine had visited CR and raved about it. I was familiar with the Caribbean having visited many Islands over the years.  My research revolved around 6 major concerns:
    –    I am partial to the comforts of North American living
    –    Climate
    –    Housing and Living Costs
    –    Medical
    –    Language issues
    –    Proximity to an Airport (as we like to travel)
We first visited Costa Rica 5 years ago to consider a retirement location. We had heard nothing but amazing positive remarks about this "Switzerland of Central America". Through my research I had chosen the Guanacaste Province due to its relatively dry climate, average daily temperatures, its infrastructure including roads, internet access, water, electricity etc. Also it has its own International Airport – Liberia.
We booked a hotel in the Beach area of Playa Hermosa/Papagayo. At the hotel we met a couple who were on the same quest as us. They informed us of a local realtor they had booked time with. The following day we followed suite- hence, Tres Amigos Realty Group!  We looked at 4 homes all with Ocean views and very affordable. We were not ready to commit, retirement was still 4 years away. However, the seed had been sown, this is where we wanted to be!  Further research ensued allowing all the boxes above to be ticked including, 25 minutes from the International Airport, where you arrive and are on the plane 15 minutes later, and a State of the Art hospital!
So, to "Come on down Baby" – Mr. Simons!  Following our visit I viewed Tres Amigos Videos on Costa Rica. An excellent source of information for any potential property purchaser. This led to a further website:  Tank Tops Flip Flops – a relative encyclopedia of information on Costa Rica with a view of coming to purchase property or live in Costa Rica part time or full time. All of this educational information came from a single source, Michael Simons!  Michael has been in this area fulltime since 2003 and has been an intricate part of building this community.  And, so it came to be we phoned Michael who spent much time answering all our questions followed up with," I will always be there for you, whatever you need let me know, relax, don't worry I will take care of everything!"  And, to sum up, he has and more so!   4 years later we "came on down baby" and have not looked back. After our many conversations and emails, Michael knew exactly what we were looking for.
In addition to finding a home Michael has: put us in touch with; a shipper, who gave us a price door to door with no surprises; an immigration attorney and real estate attorney; assistance with living accommodation while waiting for our home;  an introduction to neighbors and fellow owners in our community; builders and remodeling specialists.  We are now in our 4th month and I have to say everything has gone very smoothly.
Michael not only takes care of his clients, as I have detailed, he has established several charities for the local Tico population. Since COVID hit he has devoted much of his time to operating a food bank where he collects food donations and personally delivers them to families throughout the Guanacaste area. Yes, he operates a successful realty business but he is a gentleman where community comes first!  Many locals are indebted to this man.  We are proud to say Michael has become a close friend. I would highly recommend you contact him if you have any questions or concerns about coming to Costa Rica. To learn more please visit the website:  https://www.tanktopsflipflops.com/
And so, I harken unto thee, "Come on down baby", pay a visit to this tropical jewel, you will not be disappointed!!
Thank you for taking the time to read this
Pura Vida
Simon & Nia Kedward – Full Time Costa Rica
19 April, 2021
On the recommendation of a trusted friend, my girlfriend and I contacted Michael Simons to help us find and purchase a home in Costa Rica. This was an especially huge leap of faith because it was at the time during the COVID-19 pandemic when it was impossible to visit the country because of travel restrictions. Our friends thought we were crazy to buy a house in another country without seeing it in person!
Michael was so encouraging and positive and honest during every step of the process, which gave us the confidence to take this leap. He was always available to us, and introduced us to everyone we needed to help complete the purchase remotely. Michael did everything to make this home buying process the easiest that we've ever experienced. When we were finally able to see our home, months after purchasing it, it was everything we dreamed it would be and more! Michael definitely steered us in the right direction and did not disappoint in any way. Not only is he an amazing real estate agent, he also has huge heart and endless compassion for the needs of his community.
We are truly inspired by his generosity and drive to raise money to help so many families in need. We can't thank him enough for helping us find our little piece of paradise! Pura Vida!
Mark and Ruthie – Canyon Lake California
17 April, 2021
Mike,
My Husband and I both want to let you know how Impressed we are with the experience of buying our Gorgeous Condo in Playa Hermosa. We both want to Thank you for making the entire process a pleasure and seamless. From the first time we met you there was something special about how you handle your clients . You are understanding, patient, very professional, educated on so many levels of Costa Rica and Real Estate which makes a client feel safe & comfortable.  You definitely get a 5 STAR from us! Thanks to you we now have a piece of paradise in Costa Rica and for that we are both very Grateful to you.
Sincerely,
Trisha TenBroeck French & David French – Florida
16 April, 2021
I was ready to purchase a home in Costa Rica, but was not able to get down there due to the Pandemic. A mutual friend introduced me to Michael over the phone, and within the first 10 minutes of speaking to Michael I learned more about Costa Rica and the history of the area I was looking at, than I did during the previous 4 actual visits to this beautiful country. I was so impressed and thankful for his detailed knowledge…and knew immediately I could go to him for not just purchasing of a home…but literally any question I had in any area of Costa Rica. He was knowledgeable, straight forward, and gave me his honest and educated opinion… (even if I wasn't ready to hear it) …. with a little bit of humor to help me along.
I felt so confident with his guidance…I literally bought a condo without seeing it in person first! Around 4 months later I was able to get down to see my new condo, and I thought certainly I must be crazy doing it this way, but turns out it was one of my best decisions I have made during a difficult time. I could not be happier with my new condo and I truly have Michael to thank for this entire experience.
Amy Janiszewski – Texas
9 April, 2021
Michael Simons truly made our Costa Rica dream a reality.  We found his real estate website via an on-line search and reached out to him 3 months before meeting him in person. His website makes the promise that he will answer every email. This promise was not only kept, but in a timely and patient manner. Although Michael is a very busy agent, he never once made us feel like we were a pain nor annoyance. Conversely, he made us feel like our inquiry was quite normal and expected.
Michael has been an agent for many years in Costa Rica and it is readily evident. He started to guide us through our property search process before we even stepped foot on Costa Rica soil. We did not know what type of property we would buy when we started. Through Michael's guidance, we explored neighborhoods, perfect turn-key properties, homes that needed TLC, condos and stand-alone homes. We talked a lot about the lifestyle each property had to offer. To his credit, we ultimately purchased the first home we were scheduled to view. Michael seemed to understand us better than we did ourselves!
Buying a property in a foreign country seems intimidating at first, and many online "experts" recommend one rent for a few years before seeking to buy. We are very glad that we took Michael's advice and did not wait. We were able to invest in the perfect home for us that would not have been available had we waited to make a decision.
Our thanks to Michael extends not only for guiding us to our dream home, but also for the many personal contacts that made our move to Costa Rica so much easier. We are now supported by a group of professionals, ranging from lawyers to shippers to property managers. It is like we have an insider's secret book to living here!
Michael Simons and Tres Amigos Real Estate were key in helping us find Pura Vida in paradise. We heartily recommend him to others seeking what so many other happy clients have found!
Tresa & Philip Cerne – US Virgin Islands, now permanently in Costa Rica
2 February, 2021
We couldn't be happier with Michael Simons at Tres Amigos Realty Group! My wife and I have been coming to Guanacaste for 10 years, and Michael helped us finally secure our dream home. He has always been very responsive to our every inquiry, and has so much experience and advice with the real estate market in Costa Rica. We appreciate all of his guidance with the purchase process and how simple he made the transaction. We highly recommend that you reach out to Michael Simons at Tres Amigos Realty Group to have a conversation about the real estate market in Costa Rica!
Marc and Kristina Schultz – Houston Texas
2 February, 2021
We have been fishing and vacationing in Costa Rica for many years and first became acquainted with Mike in 2011 while touring the Playas del Coco area and looking for a condominium to purchase. Through Mike's efforts, we discovered the magnificent Pacifico development and not only did we buy a condo there, several years later we bought a home, sold that, and have since bought another home where we now happily reside half of the year. Through all of our real estate dealings with Mike, he has been nothing but professional and truly enjoyable to work with. Through each transaction, Mike extended us all the time and information we needed as we worked through the details and differences of purchasing property internationally. He truly made the process much easier than we anticipated.
By profession, we have been builders in California for over 30 years and have worked with many real estate agents and brokers. Mike is right up there with the best of them – supremely knowledgeable, professional without being stuffy or pushy, and always more than happy to share any and all of his knowledge about Costa Rica and what living here entails. And since he himself has lived in this beautiful country for many years, Mike has all the right connections no matter what you need assistance with. Additionally, Mike is a huge supporter of the communities he lives and works in. Through the pandemic, Mike has been on the front lines as far as his fundraising efforts to help feed the many Costa Ricans suffering in these challenging times. Suffice to say, Mike has a HUGE heart when it comes to helping others, no matter what the need may be.
We have highly recommended Mike to many friends and family over the years and will gladly continue to do so.
Ron and Mary Ann Froehlich – Bakersfield, California
21 January, 2021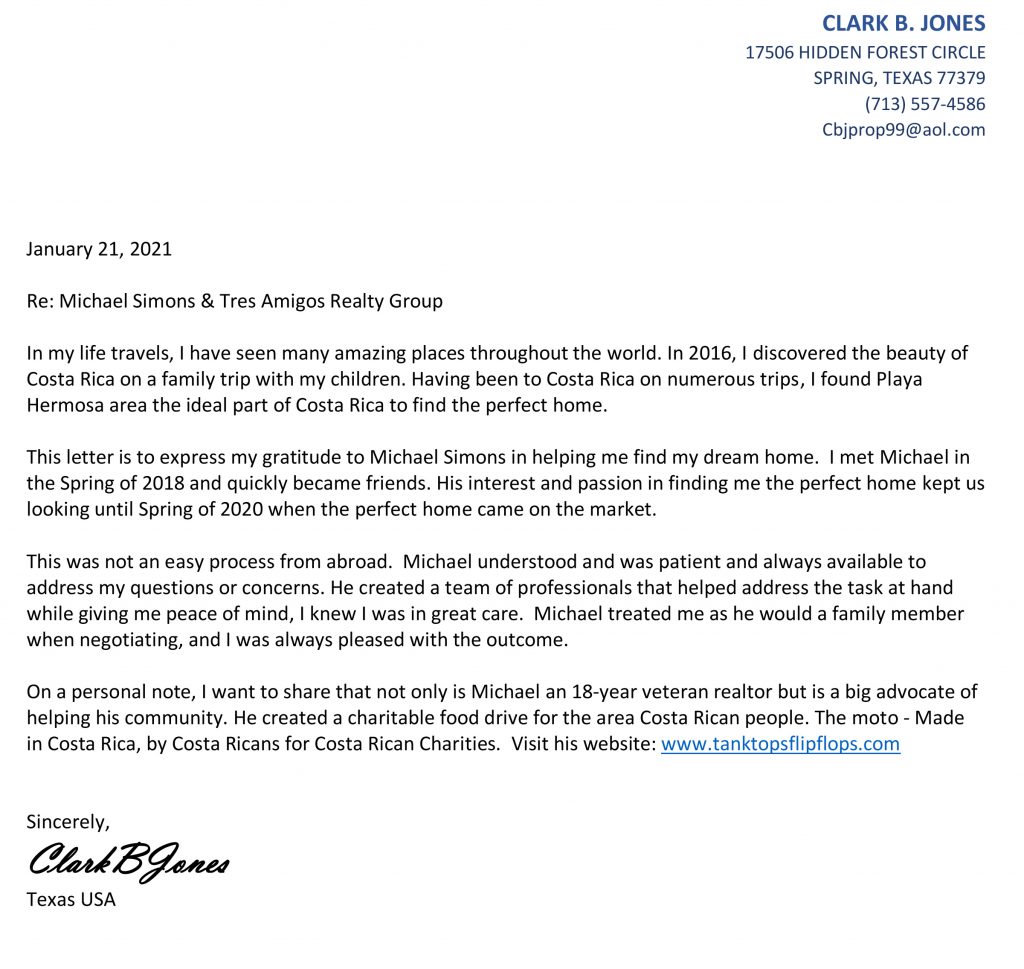 15 January, 2021
We wanted to buy a home in Costa Rica for a while but were concerned about the risks involved with buying property as foreigners, especially since we did not speak some of the local languages. We researched various countries and areas we liked, to try and determine where we could buy real property, have the least amount of residency requirements, and have secure property rights like in the United States. Costa Rica fit the bill almost perfectly for our needs, but there was still the language barrier concern.
There is a lot of information on the Internet to help understand the requirements, but the unknown risks are always a concern. We got in touch with a few agents in C.R., but their follow-up and ability to answer our questions were somewhat lacking. When we started looking in the Guanacaste region, we found Michael Simons at Tres Amigos Realty Group. His straight-forward talk, quick responses, and ability to answer our questions were a nice change and especially helpful. Besides showing us several homes to look at online, he gave several recommendations for attorneys, escrow companies, property managers and even an immigration counselor. The fact that he lives and works in Costa Rica as a U.S. citizen and local resident also gave us additional assurance and a level of familiarity that made it exceptionally comfortable to start looking for a home to buy.
Michael has years of experience buying and selling real estate for himself and many others, so any anxiety about the unknown soon went away and it felt like we were just buying another home in the U.S. We were so comfortable with Michael's skills and professionalism at this point, we didn't feel the need to visit just to look at several homes, only the one we wanted to buy. We made an offer contingent upon a home inspection, survey and a personal inspection, once everything else was in order. When we finally visited to make our final approval, Michael showed us the area and gave us an invaluable amount of background information on the local area and Costa Rica's overall plans for infrastructure improvements…And well, the rest is history. We are now the proud owners of a beautiful home just outside of Playas del Coco, closing without any surprises…And we did all this during the COVID 19 pandemic in 2020!
We are pretty sure we asked a lot of annoying and off-topic questions, but he answered them all with passion. Besides being an amazing person and broker, Michael is also involved with local charities and helps motivate crews to clean up the local beaches and towns with his company as the key sponsor. We now think of him as a good friend whom we visit when we are in Costa Rica and strongly recommend him to anyone thinking of buying or renting a home in the Guanacaste region.
Dan & Georgia Eagan – Virginia USA
15 January, 2021
Mike was such a pleasure to work with! From answering our millions of questions, always being available when we needed something, and just generally being an all-around awesome guy, we feel so fortunate that we found him to help us with purchasing our new condo. We will absolutely work with him again if we purchase another property, and we have no hesitations recommending him to anyone looking to purchase their own slice of paradise! In addition to being a great realtor, Mike spends a lot of his time giving back to the community, and is incredibly well-liked and respected among both the ex-pat community and the locals. Thanks again, Mike!
Cesar & Lindsay Espinoza – Placentia California
12 January, 2021
Three and a half years ago we visited Costa Rica and fell in love with the country, the weather, the nature, the wildlife and the people.  We travelled back 4 more times to see the country and determine where we would want to live. We started to narrow our search area and came across Michael Simons' Tank Tops Flip Flops website.  It had so much relevant information regarding what it takes to move to Costa Rica, how to get residency, how to buy a car, etc. we learned so much. We corresponded via email with Michael for 6 – 12 months as we were preparing to purchase.  Once we were ready, pandemic and all, Michael took time over Zoom with us and then showed us places via WhatsApp in Pacifico which was the development we decided to purchase in. We wrote an offer and completed the purchase virtually.  Everything went very smoothly.  We were able to come down to our new residence in October 2020 for the first time and it was just as Michael had shown us over video.  
Another wonderful aspect of working with Michael, is that he has been selling real estate here for I believe close to 20 years and has contacts for everything!  He was able to connect us to an attorney, a property manager to watch the property until we got here full time in January 2021, a builder to do remodels, and many others.
Another thing we appreciate about Michael is his giving spirit.  When we were here in October we were able to spend a day volunteering with Tank Tops Flip Flops handing out food to those in need. What an awesome experience and Michael has done this multiple times a week for 9 months!
We highly recommend Michael to others that are in the search for their piece of Paradise! Pura Vida!
Tammy & Ronald Thompson – (formerly from Michigan)
11 January, 2021
Making the decision to move to another country is filled with doubts and questions. When researching Costa Rica, I stumbled across Mike's very informative YouTube videos which shed light on a lot of the questions I had. I emailed Mike and within 15 minutes he had called me back.
On our first trip to Costa Rica, we spent 5 whole days with Mike travelling from one listing to another. For anyone who knows Mike, they know that he places great value on finding the right home for your lifestyle and needs. I never got the impression from him that he was pushing a particular listing on us.
After over 15 listings Mike found us the home we were looking for and we made the jump to Costa Rica. I have subsequently purchased additional investment properties with Mike's help because I trust his advice, honesty and judgement.
Having someone to drive you around in a foreign country and showing you various listings is great but any real estate agent can do that. However, if you are looking for someone who can also provide information about the neighborhood, history, laws and the little nuisances on local culture, then Mike Simons is the right guy.
Michel Butler – Playa Hermosa
11 January, 2021
Michael Simons
I had just returned from 2 weeks in Costa Rica.  Best trip ever!  I was sitting in my kitchen, in Colorado – perusing the real estate ads in Guanacaste – (Coco and Hermosa).  I had inquired about a property in a different part of Costa Rica and with my questions, he referred me to Michael Simons.  Within minutes of an email introduction Michael was emailing me.  
We talked soon after.  It ended up he was 15 minutes from me in Colorado seeing his parents.  We hit it off right away.  I felt very blessed to have someone so knowledgeable and who had been in Costa Rica for so long.  Plus he had grown up in Denver.  How cool was that?
We talked many, many times via the phone; email, etc.  I asked him a million questions and would inquire about houses and I felt good about his input.  
I arrived in Costa Rica (Playas del Coco) on October 18, 2020 (my move date) and he and I spent the next few days together.  The first house he showed me was the house I ended up purchasing.  It's an amazing house.  The following week he showed me quite a few more homes.  No other house felt the same as that first  house.  We talked about me falling in love with that first house and he reassured me that it has happened to him in the past.  He shared lots of stories and I was happy he was helping me find my dream home.  
Since moving in, he has been amazing!  He has been there every time I have any question.  He has helped me get my trash picked up; figure out the water, electricity and cable.  He has given me all kinds of resources.  I have met many people in Playas del Coco and Playa Hermosa via Michael.  He has made me feel very welcome and happy!  I can't thank Michael enough!  He has made this transition pretty seamless.
Melissa Nelson – Denver, Colorado to Permanent Resident of Playa Hermosa
15 August, 2020
To anyone seriously considering the move to the beautiful Guanacaste area of Costa Rica, please do yourself a huge favor and reach out to Michael Simons of Tres Amigos. My wife Nikki reached out to Michael at the beginning of our search after our first trip to Hermosa. We met Michael on our following visit. I had a lot of questions, not just about properties, but the process of purchasing, residency, etc. He helped ease my concerns through examples and stories he shared of the numerous people he helped get their little slice of paradise. When we decided on a property and things got real, the service provided by Michael and staff only got better. Because of the wealth of knowledge and experience Michael brings to the process, we were introduced to all of the people necessary to complete this next giant step. I'm sure we could have muddled through all the steps on our own, but Michael wanted to help as if we were old friends, let's get this stuff done so you can enjoy "Pura Vida"!

We will be forever grateful to Michael for making our dream come true.
David & Nikki Kaiser – Full Time Residents – Ocotal Beach, Costa Rica – from Nashville
3 August, 2020
Dear Michael,
It's been almost 2 years since you knocked on my rental in ocean breeze condominium and took me house hunting.  I fell in love with Costa Rica the moment I landed. Your positive energy, enthusiasm, easy going personality, humbleness – I can go on and on about you – but one thing that captured me the most was that you always wanted to help any way you could.
You made it so easy for me to make my decision and find my second home in paradise. I will never forget the day that I thought someone stole my car and the first person came in my mind to ask for help was you and of course 5 minutes later you arrived to help me any way you could and found my car parked in a wrong spot.  Hahaha… stop laughing at me.  At that moment I felt you are not just a realtor who sells properties, you became a friend that will always be willing to help. I recommended you to all my friends and associates because I believe you are one of the best realtors and friends that I ever known.
Thank you again for finding me a home in paradise.
Love always,
Rana Kazemi – Toronto, Canada
1 August, 2020
Dear Michael,
Now that Steven and I have completed our quarantine and are a bit more settled in I thought I would send you this note to let you know just how much we have appreciated ALL that you have done for us.
Since we first met in early 2016, during our "research" mission to locate the perfect spot to live, you have never steered us wrong. We purchased our beautiful condo in Pacifico and have enjoyed these last few years visiting several times a year and also earning enough in rentals to cover the costs of ownership.
On a whim in April of 2019, when we brought our real estate agent daughter and her family to visit, I had you show us a few homes, just for fun! I thought it would be a good way to spend an afternoon with her doing what she loves. I gave you some simple parameters, location, bedroom count, view, etc. Not in a million years did I expect to find our dream home! I'll never forget walking through the front door with my daughter and as our chins hit the floor she said to me "this is it" and after we explored the rest of the house, she said "I see you guys living here". That was it, I was sold and when Steven came the next day he was too. You made the deal come together Michael and we know it wasn't easy. You went above and beyond as you so often do and we could not be happier.
Now we're here, forever, and again you have gone above and beyond, picking up groceries one week during our quarantine and when I had forgotten my husband's birthday, you shopped again for me so I could bake a cake for him and make the best pina coladas ever! Your kindness and generosity is appreciated beyond words.
We look forward to many good times together in the future.
Be well, stay safe and Pura Vida baby!
Val & Steven – Massachusetts, USA
30 July, 2020
Mike,
Just wanted to thank you for being the great person that you are and helping me find a piece of paradise.  You showed me lovely properties and were never pushy and helped me through the process even when I  couldn't be there.  The information you gave me about living in Costa Rica was right on.  All of the introductions to the various people (doctor, vet, bank, lawyer, etc.) that I would need were most helpful and gave me a good jump start.  I also appreciate the volunteer work that you do and I'm sure the animals do too.  It's great that you maintain a relationship with your clients and don't just sell them something and forget about them. Thank you for all of your help.
Joan and Sage – Arizona
30 July, 2020
When we decided that Costa Rica was the place we wanted to build our dream home, we did quite a bit of research to find the right real estate professional to partner with. An important decision for sure, as although we've had homes built for us in the past, this would be out of the country and there were three critical qualities we were looking for: someone we could trust, knowledge of the market in the area we wanted to build, and someone who works as hard as we do to be successful.
The clear answer was Michael Simons. Once we met and spent time with Mike, it confirmed our choice. Mike is great! He has a big personality and is a consummate salesman. For some real estate professionals, it stops there. Mike is knowledgeable, caring about his clients, and really works hard to make sure he finds the perfect piece of land or home that fits your needs. He has intimate knowledge of what is needed to make the process easy, from first class builders, to attorneys, rental companies and more. The bonus is what a great person he is, as his involvement in helping the communities around him is heartening.
We are excited about our lot and home that is being built for us. One of our children is now going to work with Mike to find, as Mike calls it, "her little piece of paradise".
Best regards,
Tim and Patricia Townley – Colorado Springs, Colorado
19 December, 2019
When deciding to buy property in Costa Rica, there is only one call to make: Mike Simons at Tres Amigos.  Mike is deeply experienced in the local real estate market, and facilitated every aspect of our transaction.  I look forward to enjoying our property, and recommend Mike and his team without reservation.
Bob Ettl – New York City/Pacifico, Costa Rica
18 December, 2019
We wanted to buy a piece of land to build our dream home in Costa Rica but didn't know where to start.  After weeks of researching, we decided to use Michael's company Tres Amigos to help us. Michael was so informative, patient, and kind. He introduced us to different builders and connected us with reputable lawyers to help with the legal process. Michael knows pretty much everyone in the area! Michael is actively involved in many charities and organizations to give back to the community so he is greatly respected by the locals. We appreciate the fact that even though we didn't have a lot of money to buy but he treated us like millionaires. Highly recommended! 
Quan Nguyen and Mai Khuong – Garden Grove, California
11 November, 2019
Had to write a testimonial to Mike for his gracious real estate tour on the 29th of October of 2019.  A buddy of mine and I have been looking to retire South of the border and we had made a few trips to Mexico and environs but never really did a deep dive into Costa Rica.  We found Mike in 2018 just web-surfing for realtors in Costa Rica.  During the ensuing time in planning a trip, each time I hit up Mike for information he responded immediately.  Not in a week, or a few days, I mean the same day.  All of his helpful information made travel into Costa Rica and out to the coast flawless.
As for the visit, Mike picked us up at 8:30 in the morning and treated us to a full day of real estate options.  We ran around the entire area of Playa Hermosa and Playas del Coco.  Mike showed us a great range of options from condos to homes to land.  Just a COMPLETE review of the opportunities.  Along with this Mike provided a very detailed analysis of costs to live in Costa Rica versus the USA, the local property laws of Costa Rica, availability of banks and health care options, information on moving to Costa Rica, and becoming a resident.  Once you start crunching the numbers with a guy who knows that stuff, it makes a big difference and is SO much easier than trying to do it from your laptop on a cold, wet day in the Midwest.
I have to say, I marveled that a guy like this, with his busy, busy schedule had the time to take the entire day to show us around.  As we continued research and revisiting some of the spots Mike had shown us the next couple of days, we were continually amazed by the number of people we ran into who Mike had helped get established in homes or businesses in Guanacaste.  All of these folks from the heart expressed how fortunate they felt to have fallen into their situations in Costa Rica.  I am sure Mike was a key if not the key ingredient in that mix.
I would be remiss if I did not comment on Mike's people. I want to mention that Joe and the rest of the staff are some of the nicest people I have ever met.  I never felt like the sale was the big thing, I felt like developing the relationship was #1 on their list.  The whole day was completely without pressure and just a great time.
I have never prepared from leaving a vacation with a feeling like I had from this trip. Usually the thought process is, "What a great time, but I want to get back home".  This time, as I was sitting in the airport in Liberia, I turned to my buddy and said, "Man, for the first time ever on a vacation, I am regretting that I have to get on that plane.  I could chuck it all now and just stay here".
If you are looking for a place to live in the sun, I cannot say enough good about Costa Rica.  Beautiful country and beautiful people.  But I have to make it clear, having the right person to guide you, the right realtor, is the key.  Mike IS that guy.
Pete Joyce 
22 October, 2019
Over the last 3 years my wife and I have spent several wonderful weeks visiting all over Costa Rica and Playas del Coco Beach.  On one of our trips, like most of us, we said we love this place looked at real estate flyers and thought Pacífico was the place to retire someday so let's call a local real estate office. So we called Mike Simons right away.  He was on task after one quick call and within two days we had toured several homes and found THE ONE and we had a deal.  Then at the last minute – even last hour we decided we were not ready and backed out of the purchase.  A few months went by and we saw a different home on the market called Mike and again we had made another great deal.  Again, for other reasons we were not able to close on that property.  Mike totally understood with no attitude at all and said he would be there to help in any way.  Then 5 months later we were at Pacífico at the same Airbnb as we had always stayed and went to a fund raiser Mike was holding.  In passing I said to Mike we never looked at any Condos vs. Homes – Do you have any time this week?  So even after 2 attempts to purchase, Mike like the true professional he is had everything ready in one day to see 9 condos.  We decided on the one that worked for us and closed on the condo shortly after.  Being in the United States   full time, Mike took care of the details and made it possible to close as easy as it would have been back home.  Mike worked with his great team and closed without any problems at all.  Mike's attitude is if you are not ready – don't buy.  But when you are ready, he is there to help you. Mike's goal to find you that little piece of paradise in wonderful Costa Rica with no pressure at all – he just wants you to be happy with your purchase.
Larry and Marie – Hollywood, Florida
15 October, 2019
Dear Michael,
It was a nice surprise to get your request to write a testimonial about your services as well as the service your Tres Amigos agencies provide.  It is always easy to write a testimonial when you are completely happy with the support given! 
Bryan and I were lucky to connect with you on our first visit to Costa Rica.  We had done quite a bit of research on the country and were very excited to finally get to visit.  We are close to retiring and had discussed the possibility of purchasing a second home in Costa Rica but figured we were a few years away from moving forward on anything like that.  Once spending some time with you, that decision was put on the fast track!  Purchasing a home in a foreign country was a big deal for us and you were able to answer all of our questions and put our minds at ease when considering this investment.  Your involvement and support of the local community and the fact that you are a crazy dog person (like me) helped us feel immediately comfortable and trusting in you.  The Tres Amigos website has been a great resource for us as well.
Some of the key areas of your support that really made a difference to us include – not wasting our time – you picked up on what we were looking for and were able to show us properties that were interesting to us.  You were able to answer all of the questions we had relative to the complexities of purchasing a home in Costa Rica and made it seem easy.  Once we decided to purchase a home, you handled all the particulars – we just had to worry about coming up with the cash!!
A huge thank you for the support you have given us!  We can't wait to spend more time in Costa Rica!!  
Pura Vida!
Cristy Reiter and Bryan Firestone – Virginia
15 October, 2019
My wife and I became interested in Costa Rica back in 1995.  Back then there were many stories of "cheap land".  Friends of ours spoke about getting a piece of a mountain in C.R. for almost nothing.  There was always going to be road built… a grocery built… electricity run… etc.  For some of them things didn't work out as hoped.
We began visiting the country in 2007 and decided to move toward getting our own piece of paradise there but we were concerned about ending up going down the same road as those friends who bought and then had problems.  A great real estate friend, here in the states, knew Mike Simons and worked with Tres Amigos Realty and told us he was the guy we needed to work with if we were serious about being in Costa Rica.
In 2008 I came down by myself, met Mike and we spent about four days together hanging out together, looking at many lots and houses.  Mike helped me to see that it wasn't about the most expensive or least expensive piece of property, but what was right for us.  This meant location in terms of shopping, roads, other people, security, etc.  Everyone has different needs and expectations and to be happy in C.R., just like America, and you have to have the right fit for you or it won't work.
Over the last 11 years we've bought land, a condo and a house from Michael.  He's not only become a close friend but the only person I would be comfortable doing real estate business with in Costa Rica.
If you think C.R. might be right for you, Mike Simons is the guy to help you realize your dream.
Terrance and Katherine McDermott – St. Petersburg Florida
7 October, 2019
After much research and several visits to Costa Rica, we decided that we would purchase a house in this beautiful country. However, given that we live in the States, we did not really know how to begin the process, or who we should consult. We found the Tres Amigos site to be extremely well-designed and full of useful information which helped provide us with the necessary tools to begin the process.  
On one of our visits we stopped for lunch at an establishment in Playa del Coco and casually discussed with the owner our desire to purchase a house. He immediately suggested (strongly) that we contact Michael Simons with Tres Amigos. This turned out not only to be a good lunch but good fortune for us!
Not only is Michael knowledgeable, he is engaging, attentive, and extremely helpful. He listened to the types of property that we were interested in and sent us information about several properties via email prior to our trip to look at houses. While in the country, he personally drove us to view the properties, which he knew well and explained the benefits and some shortcomings of each. In short, he wasn't just trying to sell us a house, he was interested in helping us find our home. And on that trip, we did find our perfect home – thanks to Michael.
In the United States an agent's assistance would probably end at the closing – this was not at all the case with Michael. He has assisted us in every step of our journey before and during the closing and is still helping today. He helped us arrange for a home inspection, lined up visits with several property managers, contractors, insurance agents, etc. He has even helped us locate the best places to dine, purchase necessities, connected us with helpful individuals, and much more. In short, he has been simply wonderful to work with and has made what we thought would be a very stressful process a seamless one.
We can't say enough about our experience with Michael. If you are considering a move to Costa Rica, we strongly encourage you to make Michael Simons at Tres Amigos the first person that you contact. We are so very glad that we did. Pura Vida!!
Jamie and Randy Martin – Pennsylvania
16 September, 2019
Mike Simons is a great person to work with. I was referred to him through a friend who also had a pleasant experience with him. He took the time to show me everything the area had to offer. After a few days I found exactly what I wanted and walked me through the whole process with his professional experience. I am pleased to say I am a happy homeowner thanks to Mike. He helped me to find my own piece of paradise.
Highly recommend him and his Tres Amigos real estate company.
Al Amechi – New Jersey
23 August, 2019
Michael thank you for your assistance in selling my property. It was the easiest land transaction I have ever been involved with.  Hopefully we may have a chance to meet in person in the future.  Thanks again for the professional way this all went down, it is greatly appreciated.
Peace and Unity.
Jon Weiss – Buffalo, New York
17 June, 2019
I can't thank Michael enough for the wonderful experience in finding my beautiful condo. He personally drove my friend and I to view multiple properties until finding the perfect one. His knowledge and experience helped in a smooth and stress free purchasing process. His hospitality was more than expected, showing us the local area and linking us with community activities. Michael invited us to a attended a wonderful fundraising event, the entertainment was great, people were friendly, overall a great experience. 
Thank you so much for making yourself so available to me through this process, it was really a seamless and pleasant experience. I look forward to enjoying the condo in future 🙂 
Sincerely,
Tanya Goldstein – Toronto, Canada
11 April, 2019
All I can say is thank god for Michael Simons. I was very anxious about purchasing my vacation/ retirement property overseas for a couple of reasons. First not speaking the language properly, second not knowing the rules and regulations. That is, till I met Michael. He took a lot of time showing me around, explaining the rules and laws concerning buying and spending time in Costa Rica. He also went above and beyond by showing planned future developments, so I knew exactly what I was buying.
Michael kept me updated via email and phone while I was going back and forth to Canada. He really takes the headache out of investing and buying overseas. To me Michael is a one stop shop. He is the go to guy to buying real estate and starting life in the Costa Rica. He is genuine and honest, and since he is there from day 1 till the day you are all set up you know you aren't going to get swindled.
I had a certain budget, and Michael found me a gorgeous luxury condo which had all my criteria that I had in mind. I could not have gotten a better deal if I had been a real estate agent myself. He really is the go to guy in Costa Rica. Thank you Michael.
Pourya Safari – Toronto, Canada
9 March, 2019
Dear Michael Simons,
I cannot say enough great things about how simple and fun you made my Condo buying experience in Costa Rica.  Several months before I arrived in Costa Rica, your email communication with me was clear and detailed!  I already knew by the time I arrived to start looking that you were going to take great care of me!  It was so amazing how you took the time to introduce me to fellow property owners, told me about all the great restaurants, bars & activities in the area.  I also really appreciated that you showed me homes in a variety of price ranges which helped give me a great perspective of real estate in the area.  Then after you helped me find the most gorgeous condo and it was time to make the offer and close the deal, your service didn't end there!  You walked me through every step of the way, and introduced me to the proper attorneys and property management company.  
Buying an international property can be very scary, especially for a single female.  But not with you, you really made it a Pura Vida experience.   As a fellow Business Owner, I have nothing but respect and admiration for what you do!  You literally made me feel like I was your only client!  I know that's not true because I met so many of your clients all over town and all of them had only positive things to say about you!  I will be referring you to any and all my friends and anyone interested in purchasing property in Costa Rica!  Michael you are truly #1 in my book!  Looking forward too many long visits there and buying more properties from you!
Barbara Holliday – Burbank, California
Flappers Comedy Club & Restaurant
9 March, 2019
As a full time US resident and property owner in Costa Rica for the last 14 years, I can without reservation, highly recommend Mike Simon and his entire Tres Amigos team. It is one thing to secure a reputable realtor as a buyer in another country, but an all together different experience navigating the process as a seller. I have used Mike on multiple properties and do highly recommend him as the premier agent in the area.
Brad Phillips – Louisville, KY / Monte Bello, Playa Hermosa, Costa Rica
7 January, 2019
My wife, Kathy, and I were introduced to Michael Simons as he was getting ready for a charity event he was hosting in February 2018 during our first trip to Costa Rica.  We had been in the country only a couple of days and had already decided we were very serious about returning to the country and purchasing a property.  After meeting Michael a couple of days later, we knew that he was the person that we wanted to help us do that.  Right away he felt genuine we became friends after just that meeting and a Chili Guaro.
We returned to Costa Rica in August 2018 to seriously look at properties.
But before that trip we had multiple exchanges with Michael via text, email and phone to discuss what our needs and wants were.  We then spent a fun filled day looking at the properties that I had listed and some hidden gems that weren't even on my radar.  He truly listened to what we had to say and didn't try to up sell or paint a rosy picture.  We even went back to his house and played with the two puppies that he had just rescued/adopted after they were abandoned on his road earlier in the day.  It was the most fun that I have ever had looking at real estate.
In the end we found our piece of paradise which was one of the condos at Pacifico in Playas del Coco.  In my opinion the best condo at Pacifico.  It was originally not on my radar, but Michael knew it was a good fit for us after our earlier multiple conversations.  We never would have found it without him.  Michael knew that I wanted property as a vacation home and a rental.  He pointed out why this was the best of both worlds.  He also helped us dodge many future subpar reviews on Trip Advisor.  Close to the pool but not too close…..Which way the sun came up and set….. Afternoon sun roasts belongings and guests…. First floor but with a private terrace and entrance.
Now we are suddenly leaving the country in 2 days and hardly speak any Spanish.  What do we do next?  Michael helped us rapidly negotiate an amazing deal with the seller.  He introduced us to a wonderful lawyer in Liberia and a property management company in Playa Hermosa.  He helped us complete all the tasks that we needed to do in the next two days so that we could complete the rest of the purchase through e-mails, texts and phone calls from our home in Maine.  He helped us walk through the entire closing process and we couldn't be happier.
I now consider Michael a friend.  We are returning in 2 weeks and are talking about going out to dinner.  We are also going to schedule my December visits so that we can attend the huge charity event/party that he hosts at his house.  How many of you can say that about your real estate agent?
Michael helped us achieve the first step in our dream of slowly relocating and then becoming permanent residents of Costa Rica.  I would love to talk personally (Michael can provide my e-mail and phone #) with anyone who wants to buy in the Guanacaste area and use Michael as your agent.
Thank you, Michael… PURA VIDA
Kevin and Kathy Sommer – Saco Maine USA/Playas del Coco Costa Rica
4 January, 2019
Michael, you were GREAT! It was pure pleasure doing business with you and thank you so much for being our guide too. You held our hand through the entire construction process and even helped us get our Art out of customs. Being Veterinarians we appreciate all you do for the animals as well. You have a big heart!
Kathy and Harry Sorensen – New Buffalo, Michigan
8 January, 2019
Do not use Michael Simons………….. unless you are serious about buying property in Costa Rica, because the rest of us – his satisfied customers, do not want his time wasted. We want him to continue to be available to us 24 / 7 !!
Deborah and I have been in the real estate business for over 30 years and have a good understanding what a well-qualified broker should be and do. Michael exceeded those qualifications in the two purchases that we recently made.
Please do not hesitate to contact us, through Michael, to discuss any details or particulars that we might be able to help with.
PURA VIDA
George and Deborah – Reno, Nevada
7 January, 2019
Michael Simons was professional and made sure we were comfortable in all aspects. He was not demanding and he did not try to oversell properties. We looked at many properties and he never ran out of steam. He is very generous with his time and helped us find out perfect piece of paradise. We have since bought two more properties from him. We would highly recommend Michael.
Gayle and Wendell Keeling – Georgia
4 January, 2019
Nothing but positives and rave reviews! Michael was very responsive to all our questions & concerns, passionate about his job and making sure his clients are taken good care of. He's also  a man of his words.  He was extremely helpful not just to our real estate needs, but also a well of information to our vacation questions.  We are forever in his debt and grateful for his help.   You cannot have a better realtor/friend to take care of you if you were thinking of buying a piece of paradise here! ?
Stephanie and Kevin Dixon – Newport News, Virginia
4 January, 2019
My husband David and I decided to look into purchasing a villa in the Guanacaste area of Costa Rica after renting a villa in the area. We knew we wanted to come back to the area at least once a year and it made sense for us to buy a place. We found Michael's Tank Tops Flip Flops blog on the internet to be funny and informative and reached out to him for assistance. Within a few weeks we had scheduled a trip to look at properties. We had never purchased real estate outside of the United States and Michael helped put us at ease. He was knowledgeable, honest, a careful listener and we felt like he was looking out for our best interest. Most importantly, he was efficient. He sent us properties that met our criteria when we were in the United States and gave us the opportunity to stay in two of them when we were in Costa Rica. He treated us like family while we were here and helped us negotiate a good prices on a beautiful property that met our needs. Our expectations were exceeded. Michael is a top-notch real estate professional and we recommend him without hesitation. We are deeply grateful for all of his help in securing our dream come true of a vacation home in Costa Rica.

Karen and David Bacon – Katonah NY
4 January, 2019
A real pleasure to work with, Mr. Michael Simons helped me find my corner in Paradise at Playa Hermosa in less than one month. It is no wonder he is #1 in the area, as he listens to his customers, does his homework, and is most knowledgeable about the Northern Pacific Beach properties and commercial services.
Michael has a big heart, with a pure love for dogs, he is very active in community programs, and he pays attention to details.  No matter if you are selling or buying, he composes the best descriptions, videos and music scores for each unique property under consideration. Without hesitation, I recommend Michael Simons and his office staff to assist you too.  
Glen Nickerson – Costa Rica
25 September, 2018
Michael,
Karen and I wanted to thank you for all your patient guidance in helping us buy a condo in Las Palmas, Playas del Coco. We have had occasion to buy and sell property on a number of occasions in Arizona and in Michigan, but never in a foreign country.
The decision to consider buying property came up while I was in Costa Rica with my daughter and son-in-law (who you had sold a condo to). They would only be in the area for a couple more days and I didn't think it would be possible to get it all sorted out before they left. However, my daughter called you on a Thursday afternoon and you made time to show us the one I was interested in the same afternoon.
We discussed it some and called Friday to say we thought we would like to look at it again before they left Saturday morning. I believe it was evening, on a Friday, before you showed up with a key and patiently waited while we looked at everything in that condo quite carefully. We decided to make an offer and you showed up with all the paperwork Saturday morning before they left.
While I can't believe that speed is possible every time, I was most impressed. You clearly had the contacts to move just as quickly as we requested. Another realtor I talked to called me back, for the first time, the following Tuesday.
I should also comment on your follow up. Buying real estate in Costa Rica is different from what I had experienced before. It involves different steps and different players. Most of the actual transaction took place by email. For the most part all the people we needed came from suggestions you had made – at our request. Every email I received from the escrow company, the attorneys, and the management company included your name in the cc list. Generally, I had already received an email from you about what to expect next, from whom, and approximately how long it would take.
Long after your part as a realtor was completed, we continued to get heads-up emails or updates on progress, right up until the closing. This was a very small real estate transaction, but your enthusiasm and diligence would have suggested a far larger sale.
Thanks to you, we now own a place in Costa Rica!
Dale and Karen Howe – Michigan, USA
6 September, 2018
Russell and Patricia Briggs – Playa Hermosa Costa Rica
Were do I start?  Back in January this year my wife Trish and myself planned a vacation in April to Playas del Coco. While there we wanted to look for home to retire and we were given Michael Simons' number at Tres Amigos or best Known as Tank Tops Flip Flops. We spoke to Michael for a great length of time on the phone told him we were looking at Costa Rica for retirement living.
Well I will tell you it is like we went to the information center for Costa Rica and especially in the Playas del Coco area. Michael not only gave us the information we would need but all the contacts for immigration, a fantastic lawyer, dentist, doctors among many others.  This was to help us through every part of the journey if we were to do this adventure.
So, on April 13, 2018 we arrived in Liberia and proceeded to our hotel in Playas del Coco. I had talked to Michael previously and told him I did not have a Costa Rica contact or phone and he mentioned to buy a local phone plan and change out sim card to Costa Rica. We were able to get our phone working with the Costa Rica Sim card no problem.  Again, we would not have done this if it was not for Michael.
Michael, being one of the most generous people I have ever met, invited us out the first night we were in Costa Rica. It is one of the many, many fundraisers he does for the community (far too many to list).  What a great time we had and all the people he personally introduced us too – Whom to this day we are in contact with and have become friends.
The next morning Michael met with us and we went over what we were looking for. Off we went looked at half a dozen places maybe a few more.  With his help and advice, we got it down to our three favorites – and believe me Michael did not at any point pressure us to choose. In fact, he said several times if there is not a place this time maybe the next time. Never in my 60 years have I been treated with such respect and understanding.
Well we did pick out a place Playa Hermosa and we proceeded to negotiations.  I tell you he is the best I have ever seen crazy how good he is at looking after us. We got a deal that I am still shaking my head at. Love the guy.
Because of the treatment and support by Michael and his team and all the great people he has introduced us to we are planning early retirement in Costa Rica this year – 3 years a head of schedule. This is a place like no other and we have been to 46 places my wife and myself.  If you are looking, look no further and talk to my friend Michael Simons.  It will be the best move you will ever make that's a guarantee.
So, if you are looking or just wondering what might be out there, please call Michael and if you want to hear it from me, Michael can get us in touch.  PURA VIDA
Michael Thank You for making our dreams come true
Russ and Trish – British Columbia, Canada
31 August, 2018
Hi Michael,
Just wanted to say hello and express my gratitude for the phenomenal work you and your team have done for Kathy and me and continue to do for us.  Michael I have bought 8 houses and sold 7.  "Hands down" you are the top Real Estate professional with whom I have dealt. You and your organization are the most knowledgeable, professional and caring people that I have had the good fortune with which to do business. And, buying our home was only the mere beginning of your services and help for us. I wish all your clients and potential clients could only know the guidance and help that you provide after the sale. This has been especially valuable for us in moving to Costa Rica as most places have different ways and customs of doing things. Your team has been great!  They helped us in setting up of our Internet service and our telephone service, where and when to shop for groceries, and have even advised us where to go for certain commodities and which days are sale days. Your executive assistant YORLENY has been unreal with her knowledge and ability "to get things done for us." Just the other day I was grocery shopping and ALAIN came up to me and in his special way said hello and wished me well. He also gave me a great tip as to where to buy bottled water and believe me when I buy it for half the price the savings add up. Michael, most often when I believe I can I do things for myself I do it myself rather than asking other people as I do not want to impose upon them; but the funny thing is as you often say "we are here to help you." We have come to learn if we want to know who is a good handyman, who was a good air conditioner Service Man  "heck" just call and ask Michael or Yorleny. BUDDY I don't fight it anymore I just pick up the phone and ask and most of the time Yorleny just says I'll take care of it for you and I will call you back in 10 minutes. And, she does.
Michael, this doesn't even begin to scratch the surface. So let me just say in a real "heartfelt" way THANK YOU.
Your Friend,
Warren Ornstein – Palm Harbor Florida / Playa Hermosa Costa Rica
6 May, 2018
Michael, we just want to express our sincere gratitude for helping us bring our dream home to fruition.
We began researching Costa Rica over 7 years ago after reading a book call The Blue Zones.  It detailed 8 areas throughout the world with the most active centenarian (people over 100 years of age). Susan and I have a goal to be mentally and physically active 100+ year olds, so to say we were intrigued is an understatement. With Costa Rica being one of the Blue Zones and having the Pacific Ocean to boot, it doesn't get any better. We finally booked our trip. While researching, the one thing we continually looked for was a reputable real estate firm that we could trust. When I say research, I mean research; I have been on the internet since it was text and a serial entrepreneur. Susan is not only a US Attorney she is also an English Solicitor with The Law Society of England and Wales. We completed our due diligence.
On multiple occasions your name came up. I then started asking other businesses in Costa Rica who they would recommend if we were interested in purchasing property, again, your name came up.  Then, just prior to our trip, on the cover of National Geographic there's Costa Rica, called "The Happiest Place on Earth". We arrive in Costa Rica and have an 8am appointment the next day. You showed up promptly before 8 and off we went. What an education – the entire day. Looking at a variety of places and areas with an unfettered description of each. Having taught sales for many years in a variety of industries I was extraordinarily impressed with everything you conveyed to us. I began to question; can someone really be this forthcoming with all this information and answering any questions we had with such non-hesitant upfront and direct responses? The answer was a resounding yes.
After our day together, we began to explore the next several days on our own. We started questioning local businesses about you and other people we would introduce ourselves to. We were shocked to meet several couples that had bought homes from you and were elated. They could not say enough how positive their experience with you was and how you took care of them. Further, we took notes of your recommendations during the day and every single one of them was excellent from the restaurants to fishing with Dan from The Tequila Fish, all outstanding. We met two additional times with you and decided this was where we were meant to be. We made an offer to live in Paradise and you made it happen. We could not be more grateful. We have already provided our first of many referrals to you.
We can only say if you are considering purchasing your piece of Paradise, Mike Simons is the man we trust and highly recommend. You took a very overwhelming and scary process (buying property in a foreign country) into one of the smoothest transactions we have ever experienced.  Michael will quickly move past being your broker into a lifelong friend you can trust and count on. Thanks again and best wishes to your continued success.
Pura Vida Michael!
Michael & Susan Budowski – Naples Florida
1 May, 2018
We began looking to retire out of the country several years ago. After retiring in April 2017 we decided to go to Costa Rica for a month to get serious about the dream to live outside of the United States. There were many reasons for choosing Costa Rica as our destination of choice. We worked with several real estate sales people and found Mike Simons in Playa Hermosa. Mike not only strives to get to know his clients, he is able to connect you to all the people you need to make a transition to residency outside of the U.S. Mike spent an entire day showing us many properties in Playa Hermosa and Playa Del Coco. At the end of the day he showed us the retirement home of our dreams. All this took place in February of 2018. Since coming back home to the United States to sell all our belongings Mike has been so generous with his time to get us hooked up with all the right people beginning with the LLC attorney, the immigration attorney, escrow company and even someone that will help with the transformation and renovation of the property we purchased to make it our own.
Mike Simons has made the entire experience amazing. We thank him and all the people who are making it possible to live the dream in Costa Rica.
Thank you so much,
Walter & Cindy Buck – Goodyear Arizona
30 April, 2018
We have dreamed of living the beach life since our first coastal vacation many years ago. Our long time travel agent knows that our sole vacation criterion is ocean view room. Having logged more than fifty ocean front trips as a couple, with friends, with children, and recently with our grandchildren, we knew Costa Rica was our destiny during our first visit to Pura Vida paradise.
After several trips to the Guanacaste area, we decided it was time. We knew approximately where we wanted to settle, but not how to find our dream home. It started out as a daunting task, emailing a few acquaintances from our Costa Rican visits, trying to navigate the language gap with our minimal Spanish skills. We were communicating, barely, with some real estate agents who were lovely and trying to help, but not getting close to offering any properties of interest. In a random internet search I found Tres Amigos with Michael Simons name displayed. Fifteen minutes later, Michael was returning my husband's initial phone call, sharing more information in a short phone conversation than we received in a month of talking to agents, both Costa Rican natives and American ex-pats. We were more than impressed Michael's wide range of knowledge of Costa Rica and especially the Pacific west coast, and confidence in his ability to help us find us our dream life. We booked our flights the same day.
By our third day in Costa Rica, we found our lot with a killer ocean view, our builder, and our friend for life, Michael Simons. It is impossible to overstate the all encompassing way Michael has helped us create our future from our dream. Michael extends himself way beyond acting as a real estate agent. He generously facilitates every connection necessary, and helps navigate the entire process of relocating to a foreign county as if you are his only concern in life. There are so many details to be considered in an international move, and Michael know them all, knows when you need to do them, and recommends people in whom he is confident to help you do them.
Don't waste your time looking for the perfect people to help you find your perfect life in Costa Rica. I found him for you. It's Michael Simons. Michael's spirited approach to his love of Costa Rica is contagious, and you will find a friend for life.
Melanie and Robert Rudes – Dallas, Texas
27 April, 2018
The Michael Simons Experience

From my first phone call with Michael to him attending the closing at the attorneys office was a great and smooth experience! He lined me up with a room at the El Velero, which is my official hangout now, before I got there so it was straight from the airport to a awesome room on the beach. The next day it was a tour around Coco and then to see the house I picked out. A beautiful 2 bedroom 2 bath house with a pool in the back yard! I fell in love with it right off the bat . Close to downtown Coco in a gated community. From there it was back to the office to start the proposal process and it didn't take long for the sellers to accept our offer. Michael worked with the sellers realtor to help me get the extra time I needed for the down payment process and I closed last December! Michael has also become a close friend now through this process. We always get together for dinner and a couple Pilsens when possible. I strongly recommend Michael because not only is he going to be there with you throughout your home buying process, but he also has the knowledge of getting the resources you need to be completely established down here in Costa Rica! Thanks to Michael for helping me make my Costa Rican Surf Dream come true!
Come down and live the Pura Vida life!!

Gary Grossnickle – Carlsbad, California ….and a proud Coco Local !
26 April, 2018
On our first visit to Costa Rica earlier this year, we talked to several realtors about purchasing a condo in either the Tamarindo or the Playa Hermosa area. After meeting Michael Simons, and seeing his sheer love of Costa Rica (and dogs), we knew he was the realtor for us. We read his blogs and watched his videos (he looks just like his pictures!), which helped educate us, not only on purchasing property in Costa Rica, but on many other things about the Guanacaste area and the people. Michael spent several days with us, giving us a tour of the area, as well as showing us many properties. We fell in love with a condo in the Pacifico Development in Playas del Coco and the transaction could not have been easier. Michael introduced us to a local attorney and a property manager so that by the time we went back to the States, everything was nearly done. If you want to live the Pura Vida dream, let Michael show you the way.
Robert & Sonya Tee – Washington State
26 April, 2018
My wife and I reached out to several realtors in Costa Rica and Mike from day 1 was the most professional realtor we've met. He mixes is passion of realty and finding people their little piece of paradise with professional courtesy. If and when we buy more real estate in Costa Rica, Mike will be our go to!
Pat and Jessie McStay – Virginia

5 March, 2018
Thanks to Michael – My husband and I found our dream home.  We contacted Michael and gave him our checklist of our ideal dream home.   Within a day he quickly offered a great offering of homes to consider with most having every item on our desired checklist.
Prior to contacting Michael, my husband and I came very close to buying a lot to build on but the lot view was not our true dream.   Thank goodness we contacted Michael – We found our true dream home with our dream view thanks to Michael.  He is truly above just a realtor- he has your best interest at heart 100% of the time and his drive is to ensure he enables dreams to become reality for every one of his clients.
Thanks Michael!
Stacey and Chris Knettler – Columbus Ohio
6 February, 2018
I should have done this sooner but anyone looking for property in the ocean side Guanacaste land of Pura Vida Costa Rica should know that the best decision you can make is to work with an inspiring gentleman real estate broker, Michael Simons, owner of Tres Amigos Group.
I used only one adjective above to describe Michael, inspiring.  That is an understatement let me try to complete the list; helpful, sincere, selfless, hardworking, tireless, funny, compassionate, concerned, thankful, supportive, smart, connected, personable, caring, generous, I could go on.  You'll find working with Michael to be a joyful comfortable experience.  He will come through with your desires, no matter how long or what it takes.  After working with Michael, I'm sure you will be able to come up with even more positive descriptive adjectives to add to the list.
Blessed with a personality and work ethic that is suited to be the finest gentleman real estate broker you can find I can whole heatedly recommend that if you are looking for property in Costa Rica contact Michael Simons, your life will change for the better.
Sincerely Grateful,
PS: As an insight to Michael's generosity and personality, please be sure to take the 5 minute read of his latest personal article, titled  3 AM WAKE UP CALL in his newsletter https://www.tanktopsflipflops.com/3-am-wake-up-call/
Jeff and Melissa Henry – New Mexico
24 January, 2018
My wife and I decided to take a sabbatical in Costa Rica after visiting this beautiful country last year for her birthday. We flew down to Costa Rica planning to live for a month or 2 in different parts, deciding where to purchase our little piece of paradise. After a few months of travelling around the country we ended up in lovely Playa del Coco.
In our search for a little piece of paradise, we started searching the web and talking to people looking for a great real estate agent. (In Costa Rica this is very important, you must research your real estate representative).
During this process, one name kept coming up as the one we could trust, it was a guy named Michael Simons with Tres Amigos. So I picked up my phone and texted him, within 30 minutes I had a reply and 1 day later we were meeting and he was taking us around to look at properties. He was on time for the meeting and is a wealth of information. We first went to his office and he introduced us to the history and future of the Guanacaste real estate market, people and the area. We told him what we were looking for and our budget and he gave us a wide range of choices in the area. We viewed some properties and found the one we liked, from there that's when his professionalism and network of people really helped.
This guy has an incredible network of people and staff. He connected us with all the right people to assist us in the closing our deal. We had never bought in a foreign country before so you need to know the right people in the right places.  This guy is incredible, he answers every phone call, text, email and no question went unanswered, whenever I needed help finding a professional he was there even after to sale was complete. His staff was very friendly and helpful during our closing process.
If you are ever in the Guanacaste area of Costa Rica looking for your piece of paradise, I highly recommend Tres Amigos, with this group you are not just a customer you are a friend.
Yours Truly,
Ron and Robin Lambrecht – Canada
23 January, 2018
Our initial trip to Costa Rica was a vacation & fact finding tour in 2011, made possible by a referral from a friend & fellow Real estate broker, that had met Mike @ a Real Estate conference in Texas. We contacted Mike via e-mail & telephone with our itinerary. He gave suggestions for travel options & helped arrange for our lodging & car rental, thru his vast network of contacts & friends. We received a tremendous amount of knowledge, prior to our trip by visiting his website, Tank Tops and Flip Flops, which is a fabulous resource.
We started our tour of Costa Rica in the Southern Province. Mike called to check on our status, to ensure our safety & experience was fun, exciting & full-filling. After spending 4 days in the southern part of the country, we arrived in Playa Coco, Guanacaste.
Mike met us the next morning. Took us to breakfast, before going to his RE?MAX Tres Amigos office in Playa Hermosa. He showed us maps, planned developments & details of the Guanacaste Region. He asked questions on our future plans, choice of housing, budget & lifestyle? He arranged a whole day of his life to not only show us property, but to answer any questions about Costa Rica, the people, their customs, the economy, government, taxes, education system, medical facilities and how the national health system works, how to become a resident, & a wealth of info. He also explained neighborhoods, stores & shopping.
Michael was so accommodating and hospitable when we made the trip. We fell in love with Costa Rica during our first visit here. We returned home to discuss & figure out our timetable for our future adventure.
Fast fowarding to 2016-2017:
After life altering changes, I contacted Mike to bring him up to speed of my current status. I began looking for a place to retire & live a different lifestyle. After further research, I decided upon Guanacaste province & specifically the Playa del Coco & Playa Hermosa area. At no time did Mike ever try to pressure me into purchasing. Only to advise & be there as a friend, taking into account my needs, timetable & budget. Michael is straight-forward, kind and generous with his time & patience.
Flying down 3-4 times, during 2017, Mike once again took an extraordinary amount of time showing me around, each time I visited, despite my modest budget & extend his hospitality. He truly loves the area & has become one of its greatest assets. His passion is evident in every conversation and email. Now retired, I am proud to say that I'm an International homeowner in Playa Hermosa, thanks to Michael Simons!! Post purchase, Mike & his tremendous team have been there, hand in hand, day in & day out for anything I have needed. Thanks for making my dream come true of buying a piece of paradise.
Thanks Mike & your team @ Tres Amigos for all the work that you do to make dreams happen!
George Hodge – Riverside California
7 August, 2017
I am proud to say that I'm an International homeowner thanks to Michael Simons!!! I live in Denver and owned a Condo located in the heart of Denver and back in March of this year I decided I was going to take the equity I had made and move on to the next investment. I had never been to Costa Rica but had only heard amazing things, and after doing my research it looked like a great place to invest. That's when I stumbled upon Tank Tops & Flip Flops! I reached out to Michael via email telling him how I was really interested in investing in Costa Rica, two hours later I received a phone call from Michael! Telling me how amazing the Guanacaste area was and that I had to get down there to check it out for myself.
So I did, and it was the best decision of my life! Michael made it so easy for me, he set me up with an awesome beach front hotel, set me up with a great rental car company so when I landed in Liberia I went straight to the hotel where Michael was there waiting! I checked in dropped off my luggage and we were off!! We drove all over the Guanacaste area where he showed me amazing properties but more importantly taught and showed me the Pura Vida way, getting a true sense of what Costa Rica was like in a short amount of time!
I immediately fell in Love with Costa Rica and if you're considering Investing in Costa Rica you need to reach out to Michael, I owe him a great deal of gratitude for helping me obtain a little piece of paradise. He's extremely knowledgeable as he could answer ANY question I had, one might think buying a piece of property in another country could be stressful but it wasn't. Once I was ready to buy I had all the confidence in the world because of Michael Simons.
Fletcher Phillips – Denver, Colorado
26 July, 2017
My wife and I recently visited Guanacaste Province in Costa Rica, and liked it so much we contacted Tres Amigos Realty and were lucky enough to meet up with Mike Simons who spent a great deal of his time showing us the real estate market there. We were ready to buy, and being retired, we no longer needed or wanted to endure the frigid Canadian winters. Mike showed us the full spectrum of properties within our price range. There is no MLS system in Costa Rica, so securing the services of a local realtor when searching for properties is paramount, and Mike is the consummate professional. Buying a property in a foreign country where there are cultural, legal and language differences can be daunting. Mike was able to guide us through the process smoothly and efficiently. What can be a very difficult and frustrating exercise became a simple and straight forward process. Post purchase, Mike was there to assist us with many of our other requirements like buying a car, obtaining insurance, looking for quality health care and many of the other needs of a new resident in a strange land.
If you are considering buying real estate in Guanacaste, using Mike Simons as a realtor is the most important first step you can make. My wife and I will not hesitate to use Mike for our future needs, and have absolutely no reservations in recommending Mike to anyone thinking about investing in the area.
John and Maureen Smith – Toronto, Canada
25 July, 2017
We first made contact with Michael Simons through a questionnaire that we found on "We Love Costa Rica." The information that we provided on that form directed Michael to us. He knew from the answers that we had provided what area of Guanacaste was best suited to the lifestyle we were looking for.
This was our first visit to Costa Rica and had a few days on our own enjoying the climate, pool, food and beach before meeting with Michael. We didn't do too much driving around as it was Easter weekend and "yes Michael you were right! It is crazy busy that weekend". When Michael returned, after the "crazy busy weekend" he dedicated a day to showing us the lay of the land.
We visited many of the different beach areas, saw a wide range of properties and got a real feel for what purchasing/owning a property in Costa Rica was going to be like.  Since we own vacation rental properties in British Columbia we know some of the ins and outs, but we had no idea how all of this work in Costa Rica.
There wasn't a question he couldn't answer about health/medical care, weather, property, tourism and the legalities of being a foreign owner. He also was able to give us a good feel for what life can be like for snowbirds/expats. He shared information about some of the projects that you can be involved in providing your knowledge and talents to help others.  You do feel the passion that he feels for the community and the enthusiasm that he has for helping out in any way he is able.
Unfortunately, we had to leave two days later, but with the help of Michael and his many contacts we made an offer on a property sight unseen.  We have completed the purchase of our property and renovations will be starting shortly. Now we have a great lawyer and property manager/contractor to add to our list of wonderful resources.
Flights are already booked for our next visit!
Barb and Colin Strang – Alberta Canada
8 July, 2017
"Happy Canadians bought piece of paradise, thanks to Michael Simons".
After one visit to Costa Rica, we were hooked and knew this was where we wanted to dream (and plan) for our future retirement living, especially during the colder months we experience in Ontario.  Once home, my husband accusing me of surfing every night for "property porn" and researching all aspects of living/retiring in CR, our future retirement planning was definitely in motion.  Ours is an 8 year plan, too early to retire yet, but know the value in planning for it today! 
I found Michael's sites – with so much information -including his very honest, direct "matter of fact" insight and experiences!  Tank Tops and Flip Flops is a fabulous resource!  We contacted Michael and almost immediately we were communicating and discussing our wishes (locations, cost, size,etc.) with him – and yes, him telling us his standard response…."Just come!"
Well, we did – and we are now very happy, excited owners of a lovely property that we are happy to consider our second home!  Michael was so accommodating and hospitable when we made the trip, spending a day here and there taking us around areas we were interested in.  He referred and introduced us to others to help us manage our property when we are back home, as well as all other contacts needed to ensure a smooth, stress free closing.  I have to say out of all the property transactions we have been involved in, this was definitely the easiest and smoothest – as he assured us it would be!  His team at  Tres Amigos was a pleasure to deal with, all so helpful and happy – and we are so comforted to know that we will all be neighbours in this beautiful piece of paradise.  Bottom line, if you are seriously thinking about owning a piece one day for yourself, "Just go and meet with Michael!". 
Brian and Kathryn Moyle – Ontario Canada
7 July, 2017
OUR Tres Amigos EXPERIENCE—COSTA RICA
The fall of 2016, my wife and I decided we wanted a vacation home near the ocean and after several visits to paradise we knew the Guanacaste region is where we wanted to be.
Wanting to explore the northern part of Guanacaste, the Hermosa and Coco area, Courtney gave us a referral to see Michael Simons, owner/broker of Tres Amigos in the Playa Hermosa area.
Again, after countless e-mails and phone calls we made plans to meet Mike in Hermosa for breakfast and begin the journey and that it was…
As our rental car was in the body shop (repairing wife's damage), all 5 of us piled into Mike's new Toyota truck for a tour of his office and course 101 of the Hermosa/Coco area.  Great information BTW.  From there Mike gave us a detailed tour of Playas del Coco as well as some out laying areas and then a beverage at the Pacifico Beach Club.  From there,  Mike had a  half a dozen condos to tour that met our search criteria and took a generous amount of time explaining the pros and cons of each unit which helps us narrow it down to what we believe was the best location, choice and value. We ended up purchasing in Pacifico a 3 bed condo at ground level, a garage and an old Honda van all in one deal and we love it!!!
Being our first international real estate purchase there were a lot of questions and fears. I can't thank Mike enough for all the help he gave us through the purchasing process. Mike was always there at any time of the day responding to my questions. He thoroughly explained the processes of a Costa Rican purchase and guided us through a flawless closing.  I can honestly say Mike went way above and beyond what we had expected from our realtor.
From Las Vegas, we sincerely thank you Mike and Tres Amigos…
Jeff and Tammi Homeyer – Las Vegas, Nevada
5 July, 2017
Michael,
This is long overdue, but I wanted to thank you and your associates at Tres Amigos for your outstanding service with my recent purchase in Playa Hermosa. You took the daunting task of buying a house in Costa Rica and turned it into an informative first class experience.  Your knowledge of the area truly helped me narrow down my decision to the Papagayo region, plus, your recommendation for Cordero & Cordero Abogados was spot on.  Thanks again for all your hard work, looking forward to being there full time and becoming a part of the community!
Best Regards,
Glenn Ballard – Eagle Colorado
29 June, 2017
How can you put into words a place so magical and utterly mystical?  Only if you have stood on that mountain looking out to the ocean could you begin to understand what the allure of Costa Rica truly is. 
We are one of the truly fortunate families who came to Costa Rica for a vacation only to return a year later to purchase a home. Our first trip to Costa Rica, we stayed in Playa del Coco and we experienced an amazing trip of relaxation combined with adventure. A year later in 2016, we began thinking of possibly investing in a property. During our search, Costa Rica popped up. We researched the process of owning a property in Costa Rica as U.S. Citizens and realized this was very obtainable.  We knew, at that point, we wanted to return to Guanacaste and try to own a piece of that paradise that left an image burned in our minds.
At home we started our internet search of homes in and around Guanacaste. During a you tube search, we came across some videos from Michael Simons with Tres Amigos. Michael had that spark that told you he was not telling you what you wanted to hear, but he himself was passionate about Costa Rica. We soon thereafter contacted Michael and the search for homes began. 
With each and every home we sifted through, Michael reminded us what is meant to be will be- which has always been my motto. After narrowing down to a nice list of homes to view, we made the easy journey back to Guanacaste. We viewed many homes that day, and the last home to view was the ONE home I did not want to see since it had not met all our original criteria. Mike insisted we take one look anyway. We were not even up the walkway before we said, "This is it !!!" We didn't find our home away from home that day, it found us. It is that one place that you think about all the time, waiting for the opportunity to return to its beauty and splendor. It is the view that never gets old. It is the view that cannot be put into words and a photo can never do it justice.
Playa Hermosa is now home to our own Casa Om.  The culture, the environment, the pace at which life runs is everything we could want in a vacation home. Had it not been for Michael and his expertise to recognize what we would want without us even knowing, this piece of perfection would have passed us by.
If you are considering a property in Costa Rica, please do not hesitate. The process of purchasing is painless and the amazing team Michael has lined up makes for a smooth transaction. We are so happy we took the plunge and put our trust in Michael. He does not disappoint. 
The best part of owning a home in Playa Hermosa is the not only the majesty of the area, but the friends you make a long the way. Michael started off as our realtor, but now we are honored to call him our friend. Thanks to Mike, we can now call Costa Rica our second home!
Arlene and Mani – Louisiana
26 June, 2017
Second time around and HAPPY!  I bought a lot through Mike two years ago with the intention of building.  Due to life changes I had to change the plan, at least for the moment.  So . . . I sent a text to Mike, at night, on his personal cell phone.  As usual, he replied immediately and within days I was under contract on a studio condo Mike had shown me on a previous trip.  Mike arranged the title company and attorney and the deal was closed within just a few weeks without my having to travel back to Costa Rica.  Within thirty days of that first contact, I was living in my little paradise — literally.  
Shelley Peters – Pequeno Paraiso :), Playas del Coco
15 June, 2017
My experience with Michael Simons:
Michael was recommended to me by a friend. My first meeting with Michael was very productive, he is a man with a lot of passion, loves his country and enjoys what he does. He recommended some properties to me and we went right to work; he is very knowledgeable about the area. He knew all of the answers to my questions, if he did not know he followed through and got back to me promptly.
I found the place I wanted, purchased it and Michael was there through the whole process in finalizing the purchase and closing.
As I have gotten to know Michael, he is much respected in the community, very generous and caring to all of the local Costa Rica people. He has a passion for life and never looks back.
Mark Lindstedt – Alberta Canada
14 June, 2017
I too have many experiences all over the US with realtors during our many relocations and I can honestly say that I have never met an agent with so much drive, gusto, enthusiasm and knowledge of your market, and your adopted country as you displayed while working to help me choose just the right fit for our retirement year's needs!!  Let's have a celebratory adult beverage in the next week or so when I return to CR.  Best wishes for continued success and recognition.  GO TEAM SIMONS!
Joanne and Harry Bruner – Austin Texas
13 June, 2017
Having recently used your real estate services and currently planning our move to paradise, I can attest that you have always gone above and beyond expectations with everything.  From touring us around and showing us lots of property options that would be suitable for our unique family circumstances to facilitating introduction to equally fabulous people that are helping us along this process.  Thank you for all you have and continue doing for us!  Cheers!
Carole and Michael D'Arcy – British Columbia, Canada
13 June, 2017
Through the years Brenda and I have dealt with a lot of agents through several relocations and over 10 home purchases. In all of those there has never been an agent so knowledgeable in the market and so involved with the community. You deserve it, be proud and shout it out loud!
Ron and Brenda Morris – Austin Texas
17 April, 2017
Michael has a saying, "COME ON DOWN BABY"!
Wow! We are so glad we did! We are thrilled to be new owners in Playa Hermosa and it is our good fortune to have Michael Simons as our neighbor! We feel secure knowing Michael is there watching out for us every day!
Michael is one of the nicest people we have ever met. He has a bigger than life personality that everyone adores. Ask anyone in the area you meet about Michael Simons and watch them light up with good things to say about him.
Who would think that buying property in a foreign country would be fun, but Michael has a way of bringing humor along for the day. He just made us laugh. On the final morning of our "sanity check tour", we were in Michaels office writing an offer. We were anxiously scheduled for a flight out early in the afternoon and we found ourselves totally consumed in laughter at one of Michael's Costa Rica adventure stories! He just has a way of taking the anxiety out of the process. He just makes it fun! Take the time to read about some of his adventures here on tanktopsflipflops.com. Oh, and btw, it will answer every question you could ever dream of about Costa Rica!
We were initially given Michael's name over lost luggage at the airport from another couple who had just purchased their Costa Rican dream. Although Michael wasn't in town that week, our initial introduction to the area was a very successful day with Lisa Farrell who is part of Michael's team from Tres Amigos Realty . Lisa seemed to have a natural instinct on matching the properties we toured to our taste. She really sparked our interest in the possibility of purchasing in the area and Costa Rica in general. After the afternoon with Lisa  to give us a through look at Playas del Coco and Playa Hermosa we felt like we had a really good idea of the real estate market in the area. We were going home with plenty to think about.
We just couldn't stop thinking about Costa Rica! A couple of months later we scheduled a 2nd trip down to meet with Michael and to have confirmation on the idea of Costa Rica. We always knew we wanted to be at the beach. We just didn't know it was going to be in Costa Rica! Michael gave us his undivided attention and provided us with a wealth of information. His love and knowledge of Costa Rica is infectious. After spending time with him all of our concerns melted away. His devotion to the people and promotion of the country convinced us Costa Rica was the place to be.
We found Michael to be a no pressure type of realtor. He did not try to up sale us, in fact he made sure we saw properties below our budget in order to give us options. Then his attitude was, go home think about it, and he would be there for us when we were ready. What a realtor! We had read all of his reviews and he lived up to every single word.
Michael's professionalism and talents as a realtor made our purchase seem effortless. Michael and his team take care of the entire purchase process and guide you through every step of the way. He had assured us of this and he followed through true to his word. Michael's team at Tres Amigos runs like a well oiled machine.
The entire purchase process has been a pleasure. We feel so blessed and honored to own "a little piece of paradise." We just want to say THANK YOU to Michael Simons and his team at Tres Amigos for making it happen! Throughout this experience Michael has truly earned our respect. Not only is he our realtor and our neighbor, but we are happy to call him our friend and better yet family.
Call Michael today. You'll be glad you did.
Pura Vida,
Tod & Cheryl – California
19 December, 2016
Michael Simons is a gem. He is a bundle of positive energy and enthusiasm, and seemingly never slows down.  And yet he is very exacting in everything that he does and notices all that is going on around him without missing a beat. He will go out of his way to help you with everything you need and even things you don't yet know you will need. He's the best.
Give Millie a hug from me!  XOXO
Thanks,
Karen – Albuquerque, New Mexico
15 November, 2016
What can I say? I knew I wanted to buy a home in Costa Rica, but had no idea where or when. I first flew into San Jose and went to the Jaco Beach area. Though beautiful, it was not for me.
My friend, who is a real estate agent here in Galveston, Texas had me contact Michael Simons so he could show me around the Playa Hermosa/Playas Del Coco area. Well, what a treat. Talk about a man with a plan and so much knowledge of that area! He had all the answers to everything you would ever want or need to know to be able to move to Costa Rica and become a resident.
I was a little concerned about the entire process and not sure if I really wanted to buy there, but, after a few hours with him, I was confident and happy to buy my dream home. Of course, I didn't even KNOW it was my dream home that he showed me, because it was well over what I was wanting to pay, but, he knew what I wanted way before I did. After showing us several options and guiding us through the area, we completely fell in love.
If you are seriously considering a move to Costa Rica, or just wanting to buy a second home there, he is certainly the person to work with.
Pat Barrios – Galveston, Texas  –  Proud owner of my Costa Rican Dream
11 November, 2016
Too good to be true?
I have heard that saying many times and wondered if that might be the case with Michael. Boy was I wrong. Michael was and still is everything he said he would be. He made our purchase go thru like clockwork. We came down a couple of times before deciding on what to purchase and he treated us great even though we didn't buy right away. I have bought property in the U.S. and it has never been as easy as this was. I was wondering what I should write here but decided to just tell you all to read the testimonials on here, because I can't say it better than it has already been said.
It is easy to get one good comment, but if you look at all of these, you soon realize how many people he has helped and how they feel about him. Also, when you hang around the town, everybody knows him and has good things to say about him. So I guess all I can really say is Michael will promise a lot but will deliver that much and more. Proud to call him a friend and I would definitely use him again. Thanks for all your help and can't wait to be back in paradise.
P.S. – Take the time to explore this website as it can answer so many of your questions before you ever get here. We learned as much here as anywhere else we looked. Full of great info and entertaining.
Ron and Patty Ensz – Kansas
18 October, 2016
To whom it may concern:
I have recently purchase a home in Playa Del Coco, Guanacaste, Costa Rica and was represented by Michael Simons, Broker/Owner, of Tres Amigos in Playa Hermosa. It was the easiest transaction I have ever been involved in.
In the past 30 years I have bought, sold, managed or arranged hundreds of real estate transactions in California and this was by far the easiest.
Michael anticipates and sets realistic expectation up front. His website Flip Flops and Tank Top is also a valuable pre and post-closing resource.
Michael also provides and recommends a world class team of Attorneys, Property Managers, Escrow Officers, International Bankers and Interior Decorators to assist him in the transaction.
I would not hesitate to recommend Michael for your future real estate needs in Costa Rica.
Brad Hamilton – Monterey, California
27 August, 2016
I don't think that Michael Simons fits the stereotype of a real estate agent. Michael goes above and beyond that role in every way possible. Actually, I wouldn't really describe him as an agent but more of a guide, a confidant…a friend. Michael has helped us with almost every aspect of our transition to Costa Rica. Even after we have been here for several months (and long since closed on the property), he has continued to answer our questions and be supportive of us. Not sure how you could ask much more of an agent. Actually, we did…we asked him to show my father some properties and now he has a place here too.
Muchas gracias, Michael! We are forever indebted to you for helping us with this life decision!
The Wright Family – Montana
17 August, 2016
As an American citizen purchasing property for the first time in Costa Rica, I found that there were a number of significant differences between my Costa Rican experience, and equivalent experiences purchasing homes in the USA:
There are many folks you will encounter who represent themselves as Real Estate agents in Costa Rica. Be warned that in order to present oneself as a realtor, no licensing is required. As a result, you will encounter tremendous diversity in the knowledge and motivations of individuals you will meet who wish to sell you property.
The purchasing process is significantly different in Costa Rica than in the USA. Because of the differences, a high quality realtor must be more than the individual who will ferry you around to see properties, with the primary function of matching sellers and buyers. In fact, you should use a realtor with significant contacts and networks in the community in which you are considering purchasing a property. Not all realtors in Costa Rica are equally well connected. A high quality realtor will have a working relationship with an attorney (critical), banker, home inspector, property manager, landscaper, housekeeping service, auto dealership, and a host of other folks who can make your transition to the Costa Rican culture and lifestyle much easier.
Realtors in Costa Rica tend to represent sellers in relatively limited geographical areas (at least as compared to our experiences in the USA). Despite operating in limited geographical areas, many realtors can be (a) less than completely knowledgeable about the properties they are showing you; or (b) disingenuous; and/or (c) less than forthcoming about issues associated with properties they are showing you (especially if the properties are represented by another agent). The danger here is that you could end up purchasing a property that you only later discover has significant issues, which will not show up on an inspection report prior to closing.
In searching for a realtor in Costa Rica in general, and in the Guanacaste area particularly, I was extremely fortunate to find Michael Simons.
If the only place you have ever purchased a condo or home is in the USA, forget everything you think you know about a 'realtor'. Michael could be described as a 'realtor' in the same sense as Michael Jordan could be described as a 'basketball player'; that is, he is a superstar.
Once contacted, before my trip to Costa Rica to find a home, Michael spent countless hours trying to understand what I was searching for in finding a home in Costa Rica. Going far beyond a simple question or two about my budget and square footage requirements, he probed me for extensive information on what I was looking for. In fact, some of the questions he asked required me to consider issues that had never occurred to me. Michael subsequently sent compilations of available properties, and in addition to asking which ones I would like to see upon my arrival, he requested that for each property I reviewed, in addition to indicating a simple 'yes' or 'no', he wanted to know WHY. By the time I arrived, he knew what I wanted as well or better than I did.
Upon my arrival in Costa Rica (I had already looked at opportunities in Atenas, Grecia, and the Tamarindo area), we met for breakfast. We then went to his office in Hermosa, where he basically gave me a comprehensive presentation on the history of the development of Costa Rica, the Guanacaste region, and the various areas that fit the requirements and desires I had shared with him. By the time he was done, I felt as if I had a firm understanding of where and why I might want to select a property. It was clear to me that his knowledge of the area and properties available was superlative.
In the two days I spent with him, Michael was able to show me multiple properties, all of which fit my criteria (if not my personal taste) perfectly. Ultimately, I found a home that was ideal for me.
At that point, Michael became even more stellar. He connected me with an attorney from the second oldest law firm in Costa Rica (a real superstar as well) for the purchase of my home; a bank representative who helped me open a bank account; a second attorney to assist me with applying for residency; property managers who could assist me in getting all of my utilities set up and easily paid, as well as keep an eye on my property when I was back in the states; an insurance agent for my home; an insurance agent for my car when I purchased it; a car service for when I needed to be shuttled to and from the airport; a landscaper; and a number of other folks who were essential to my transition into Costa Rica. When I indicate that Michael 'connected me' with these folks, it was not just a matter of giving me their contact information. Michael actually coordinated all of my meetings and interfaces with all of these individuals. When it came time for me to go to various agencies to accomplish the tasks necessary to get settled in my new home (e.g. obtain Costa Rican phones), Michael had his unbelievably knowledgeable and helpful administrative assistant from his office accompany me for the day to take me where I needed to go and help with translation when necessary (I speak limited Spanish). Who does that?
Michael also spent hours taking me around the area, showing me where the best restaurants and hard-to-find services could be obtained. This is actually a big deal, by the way. Things are not as straightforward in Costa Rica as they are in the states. You can take months to figure it all out on your own, or 'just call Michael'. He always 'knows a guy/someone', and always makes it clear that it is never a bother to help you out.
Two examples.
When I returned to Costa Rica for the second time for the closing of my new home, Michael shined again. I had originally planned on arriving two days before the closing, and I emailed him asking if he could recommend a condo I could rent in town while I waited for the closing. He contacted the sellers and arranged for me to stay in my home before the closing; at no cost to me. This is completely out of my experience here in the States.
Additionally, I asked him if he could recommend a car service from the airport to pick me up when I returned to Costa Rica. He insisted on picking me up himself; even when I was delayed and did not arrive in Liberia until just before midnight. Even more remarkably, he insisted on taking me back to the airport, and picked me up at my home at 4:10 AM to do so!
Michael clearly operates on an operational philosophy that when you engage him as a realtor, you are obtaining a lifelong friend, guide, and never-ending source of information and assistance. He is highly responsive, trustworthy, and reliable. When he connects you with others in Costa Rica to provide you with the services you need, they are of equally high character and quality.
I would recommend, without exception, with enthusiasm, and with 100% confidence, that you engage Michael as your realtor and guide into the remarkable culture that is Costa Rica. If you decide to buy property in Costa Rica outside of Michael's service area, be sure to ask him who you should work with.
Pura Vida!
Jeffrey Luftig – Boulder, Colorado
16 August, 2016
"We just want to thank Michael for all his help. Not only did he help us find a home perfect for our family but he made a long and difficult process easier as he was an endless source of information and tips to help with the purchase process.

Michael is a wealth of information on best places to go off the beaten path and get all the wonderful fresh foods that make Costa Rica so amazing.

We recommend Michael to anyone looking to purchase their dream home and look forward to seeing him whenever we are in Costa Rica!!"

Jamie, Shannon and Jaxon Leach – Manitoba Canada
16 July, 2016
Ironically, my search did not start with Mike. Instead I was looking for a house on the other side of the country in Atenas. As with all well laid out plans my wife had different plans when I mentioned retiring in Costa Rica. She told me she wanted to live by the beach. So like any good husband, I asked the realtor I was working with to give me recommendations. He immediately gave the name of Michael Simons from Tres Amigos as the best Realtor in the region. What immediately followed the introductory email, was a flood of emails that tried to hone into my family's requirements and additional information about Guanacaste, Liberia and Playa Hermosa. I learned more in those days exchanging email with Mike than all my own research a year earlier. When I finally did make it to Costa Rica, Mike spent two days showing me potential homes for my family. One reason was because the house we wanted to see was locked and the renters were in San Jose. This didn't deter Mike, instead he showed me his house because it is similar and proceeded to give us drinks and fruit like we were his own family visiting from the states. We did go to the house the second day after Mike sweet talked the house keeper to let us look at the house while she cleaned. Anyway, long story short, we did buy the house and have been Mike's neighbors at the Golf course for 4 years. Like any good neighbor I have borrowed tools, ladders, building materials and all Mike tells me is, "Mi Casa Es Su Casa" take anything you need. I have since then approached Mike again for an investment property, and as usual fashion, Mike sat me down and told it like it is. He described the good and bad about rental properties and introduced me to all the people that would make my dream a reality. This man is a godsend. He has become, my neighbor, friend and trusted adviser. I have nothing but good things to say about Mike and would recommend him without hesitation to anyone interested in Costa Rica.
Thank you Mike for all you do!
I say we vote Mike for mayor. 🙂
Alex and Linder Polanco – New jersey
12 July, 2016
I am writing you Mike to tell you something you most undoubtedly have heard more times than you can count but I know being a business owner and an entrepreneur that not enough people will take time out of their busy schedule to compliment or feed the fire that continues to inspire your passion. Having a real estate license here in Texas I would like to say that you are probably the best real estate agent that I have had the pleasure of working with. Not to mention someone who I consider a friend. It took me 6 years and 8 trips to your paradise before we were ready to commit and we bounced all over the board on what to buy but with your patience and guidance we bought a home in Pacifico that fits all of our needs. Feel free to pass my name and number on to anyone on the fence about using you or your agency to locate property in Costa Rica. We have been more than pleased with your service even after the sale.
Thank you,
Daniel & Madison O'Bryan – Austin, Texas
9 July, 2016
Buying and owning a piece of paradise in Costa Rica is something that I really wanted to do yet even though I am a very successful Attorney in the USA, I was apprehensive to do so until I met Michael Simons and reviewed the wonderful information contained on his Tres Amigos websites.
Mr.Simons and the network of people he introduced me to were very professional in all respects and took great care to ensure I fully understood the process and were there for me prior to, during and after my transactions were completed.
I am now the proud owner of a beautiful ocean view home in Coco Beach, Costa Rica and highly recommend Mr. Simons and his team to anyone who seeks to have a piece of their own paradise in Costa Rica.
Pura Vida,
Jack Wooten – San Diego
1 July, 2016
Today, I closed on my condo in PACIFICO in Playas de Coco, Costa Rica. This was my first investment property and also my first international investment property. I feel like I wanted to share my experience having Mike Simons as my "real estate guy."
I should preface this by saying that Mike is one of my best friends and we've known each other for over 40 years. After all those years and times together, there is no doubt that he is someone I trust, and almost blindly! We discussed my possibly investing in property before coming down to visit him last month. He said, "Sure we can look at some stuff when you're down here if you like." He never put any pressure on me. As a seasoned sales guy myself (I sell heli-skiing trips in Canada), I am fully aware of all the tricks and games that can be played by sales people.
There is no BS with Mike. None. He calls it as he sees it. If you ask his opinion, be prepared to get it! He's honest as the day is long and incredibly knowledgeable. I'm not kidding, there wasn't a question he couldn't answer- a result of passion, curiosity, professionalism and years of experience. I met many of his satisfied clients who are now all his good friends.
He introduced me to and surrounded me with a trusted team who could get me through every step of the process- sales agent at PACIFICO, lawyer to handle the closing, property manager, even an interior decorator. Let me emphasize that I met all these people; I didn't just talk to them on the phone. Mike coordinated the closing, which went smoothly and ahead of schedule (way different experience than the stress machine that happens in the US). Now I find myself the owner of a little piece of paradise. Woo hoo!!
If you are thinking of investing in real estate in Costa Rica, I strongly suggest you contact Mike. There's a good reason he is the #1 realtor in Central America. Feel free to contact me directly if you'd like to discuss any of this. 
Pura Vida!
Brad Nichols – Denver, Colorado
8 June, 2016
What a realtor!!!
Answered every question we had about the property, the area, the government, the taxes, and contractors.  Could not have been more knowledgeable nor generous with his time even though we were not million dollar buyers.
Thanks Mike!
Melissa & Jack Atwood – Cape Cod, Massachusetts 
5 June, 2016
Mike is the true ambassador of Costa Rica!!  We are so lucky to have found him, he made not only the house buying, but the whole move seamless! He literally helped us every step of the way, from house purchase, immigration lawyer, getting us at airport, (with 19 suitcases in tow!), getting us to a car person, all utilities set up, cell phones, but most of all putting us right by a great school for our kids, and having a BBQ at his house for our kids to meet other kids their age here!! He is more that a real-estate agent, he is family once you meet him.  Having him on your side is like winning the lottery! Picking up and moving our family was a hard decision, and any support we got along the way was much appreciated, but we never could of imagined what support comes with buying a house from Mike. He's not just selling houses he's selling your Pura Vida~
The Conroy family
Amy and Bryan Conroy – Originally Austin Texas, now FULL TIME RESIDENTS OF COSTA RICA
24 May, 2016
"Michael is a truly caring and generous person, and he is undoubtedly the best realtor we have ever worked with. He made the process of purchasing our property in Costa Rica very smooth, and fun! He went out of his way to show us the area and introduce us to people and places that he thought would be of interest to us—and we knew in that first day with him that we could trust him completely. He took such great care of us every step of the way and made sure that we were well informed of all aspects of the area and the process of buying property there. Michael's clarity and insights were invaluable in helping us resolve any doubts and concerns we had. We already feel that we have a community of friends and well-wishers in Costa Rica, all thanks to him."
Joan Rasch and Kovida Das – New Mexico
13 May, 2016
On our recent home scouting  trip to Costa Rica we were lucky enough to meet Michael Simons at our first stop on the Guanacaste Peninsula.  Our intention was to check out 4 different areas and come home to discuss where we would ultimately like to retire.  Michael was so well versed on Costa Rica and the Papagayo region particularly.  He spent an entire day with us showing us around the area and pointing out different places of importance, like a movie theater, which we couldn't live without!  We looked at homes and condos all in our price range.  After looking at PACIFICO in Playas del Coco we knew we had found our home.  We told Michael we were going to continue our trip to the other regions to be sure and that we were not prepared to buy at this time.  He was very understanding but added "I know you'll be back!"  He was right!  Before going to Arenal, our last leg of the trip we decided to stop back at PACIFICO, take one more look and BUY it!  Less than 2 months later we are home owners of a beautiful new condo at PACIFICO and can't wait to go back.  Michael helped throughout the entire process and even found us our decorator.  We couldn't be happier with his services and look forward to a continuing friendship with him.
Valerie King and Steven Kennedy – Boston, MA
10 May, 2016
To retirees and investors. If you're in the market for a real estate agent in Playas del Coco or Playa Hermosa Costa Rica (CR), Michael Simons should be your go to guy.
I retired and decided I needed a total do over in life. I researched CR and many realtors there. I selected Michael Simons at Tres Amigos Realty Group.  My initial contact with Michael was of course via email which was kind of a feeler email trying to get an idea of where to start. He immediately responded with a phone call, "Come on down baby, Its Pura Vida time." After further correspondence, I sold everything and flew down with suitcase in hand.
I quickly learned that Mike genuinely cares about his professional relationship with all his customers and works diligently to ensure all their needs are met, both business and personal. I only had a modest budget to work with. That didn't make a difference with Michael. During the search and closing process and a bunch of stuff in between, Michael gave me the same time and attention as if I were purchasing a million dollar home. He was there through every process to include a temporary rental, buying a car, opening a bank account, introducing me to business owners, locals, other retirees, etc. etc., the list goes on. Michael ensured I was comfortable in my new environment and happy with my real estate decision.
Because of Michael Simons, for me It truly is Pura Vida time.
Mary Hall – Alabama
10 May, 2016
Dear Michael:
I am writing to thank you for the incredible service you have provided me over the past 6-months. I was first introduced to you via your impressive web profile. Your professional and timely reply to my initial email was followed by an incredibly informative first telephone conversation. Our telephone conversation was followed by a series of email exchanges where you provided me with an education on Costa Rica real estate that would have taken me many months to figure out on my own. During my first visit, you spent the entire weekend showing me various communities and homes. The time you spent with me enabled me to make a fully informed decision. I bought my first home shortly after my first visit. Words can't properly express my appreciation for your professionalism and friendship.
Very truly yours,
Mark – Florida
10 May, 2016
From initial contact, to meeting in Coco, to securing the property we wanted for the price we wanted, to closing and then far beyond, Michael has done a fantastic job for us. As a real estate agent with many years of experience in Central London and Denver, Colorado, I had never actually needed to work with an agent before – but I was not disappointed even for a second. My standards are very high, and were surpassed at every stage by Michael. The communication was excellent throughout, all and any questions were answered quickly (and I ask a lot of questions) and even after closing, Michael is still available to us with answers and guidance. He has helped us find our immigration attorney, someone to help purchase a car, people to do work to our new property, and more. Overall, I just cannot speak highly enough of Michael Simons.  A terrific Realtor and also a great guy.
Simon and Anne James – Denver Colorado
10 May, 2016
Michael Simons was our realtor for the condo we purchased at Pacifico. What sets Michael apart from other people we dealt with in this transaction is his responsiveness. He always answers emails and phone calls within a day and he never lets himself be the "hold-up" to any aspect of the transaction. As a Realtor, he has the ability to identify and match the potential purchaser's primary objectives with his company's inventory of available properties. He is also a wealth of information on everything you want to know about Costa Rica and Guanacaste. If he ever decides to leave the real estate business, I'm sure he can be a Costa Rican tour guide.
Thanks Michael!   Your friends,
Jeff and Mary Wittlinger – Buffalo, New York.
14 March, 2016 – Video Testimonial – Mary and Dennis Vandengergen – Wisconsin
29 February, 2016
We worked with Michael from Aug to Dec 2015. He spent 2 days showing us around Playa Hermosa and Playas del Coco.  We ended up buying a condo at Pacifico. We had to go back to the US, so Michael attended the closing for us.
He responds to our emails and phone calls very quickly.  He also has many contacts for Residency, Banking, moving, etc that he has shared with us. We would definitely recommend Michael for any real estate needs.
Steve and Cheryl Kensok – Arizona
27 February, 2016
Mike Simons is the person to go to.    While I've purchased many homes over the years, the experience Mike provides in by far the best.  Mike's knowledge of the local market, ecosystem dynamics, towns, associations and people to assist you in all aspects of your purchase and decision process are the best I've ever seen and experienced.   Mike's professionalism, approach and personal interaction during the purchasing experience was outstanding.  You become to know Mike first as a real estate agent, however within hours more as a person you will know for a long time as a friend/colleague long after the transaction is complete.   Mike takes the time to ensure everything is perfect, checking in and ensuring you are completely satisfied with all aspects of your decision process and purchase decision, making the overall process seamless.  When you walk around town and talk to people about being new to Costa Rica and whom you used to purchase a home with referencing Mike's name, the quick response is he's the best.     Thanks Mike for allowing me to have a "piece of paradise" as you call it.
Peter Lynt – North Carolina
19 January, 2016
Michael is very professional and I have the highest opinion of him. He really is the best real estate agent in Costa Rica. We purchased 2 properties and a lot from him, and his services were the same regardless of the price of the home we bought. He responds to your emails right away and provides you with the answers. He can refer you to other persons who can provide services that you will need  in order for you to make you the move to Costa Rica less stressful. I recommend him to any person that wants to buy in Costa  Rica with a first class realtor.  His staff and secretary Yorleny are very helpful  and well trained in customer service and they make you feel welcome.
Ziomara and Frank Blackmoon – New Mexico
19 January, 2016
Tres Amigos and Mike Simons went above and beyond to help us list and sell our  condo.  He constantly followed up on items and helped us stay on track through a short closing!  We never had to worry that something was slipping through the cracks on his end.  We unconditionally recommend Michael as the solution for any seller who wants to get the job done!
Carol & Jim Westerman – California
16 January, 2016
If you don't want to have to worry about what may go wrong buying property in a foreign country, hire Michael.  Here's our story . . . December 2014 I inquired about a realtor through Scott Oliver's newsletter.  I quickly received a response from Michael and I began letting him know about our situation via email.  Michael replied that he would give me a call (sure, I thought, after all it was Christmas time).  Nevertheless he did take the time to call while he was on vacation visiting his family over the holidays.  Even though I was shocked, the dialogue began.  First, Michael recommended Realtors to me to help sell our properties here in the US.  I did meet with those Realtors and both were excellent.  After that, we planned a month long trip to Costa Rica (September 2015) and Michael became our realtor, travel agent, tour guide, and friend. 
During our time in Costa Rica Mike met with us, personally, and showed us many properties over several days.  He gave us his undivided attention and besides showing us properties, he took us by the hospital, the grocery store, the do it center.  He got us a Pacifico condo at a price I'm forbidden from telling.  He helped carry our bags up.  He took us out to breakfast and lunch.  He invited us to his home, introduced us to his dogs, he cooked for us for heaven's sake!  He showed us the best place to buy steaks and wine.  He introduced us to some of his friends and the list goes on and on.  Mike is FULL SERVICE and he makes you feel like the most important person in the world.
At the end of the day we did not buy a big expensive house, but asked Michael to represent us in the purchase of a lot.  I  have no doubt Michael zealously represented us in that negotiation.  Our offer was accepted, without the stressful back and forth, and Michael hooked us up with the necessary lawyers, title company, etc.  Since we had spent so much time with Michael, we knew beyond all doubt he is honest and trusted him.  Next, he introduced us to builders and took us to their building sites.  Since Michael trusted them, we trusted them. 
We have not yet listed our properties here in the US, but the calendar is ticking with a goal of 319 days to go. Since September 2015, Michael continues to stay in touch with us even though the sale is done.  Most recently he's recommended a Costa Rican dentist and banker.  Michael has made it very clear that my questions or requests are never an imposition.
In sum, our deal went smooth and even though our slice of heaven is 3,000 miles away, we're not worried about it.
Patrick & Shelley Peters – Lake Lotawana, MO
7 December, 2015
Hi Michael,
Thank you so much for inviting Gregar and I to your party. You really know how to throw a bash! I knew it would be great just like all that you do. Since we met you last summer and bought our property, we are more impressed by you. Everyone we meet who knows you has only good things to say about you and you can add us to that ever growing list. The best I can say is I have complete trust in you! That says everything!
Best regards,
Gregar Amundson and Kathy Sitton – Tennessee
20 November, 2015
My wife and I came to Playa Hermosa in the middle of July, 2015.  As I already had a piece of land that I bought outside Tarcoles back in 2010 I was semi familiar with Costa Rica.  Originally, my wife and I were researching different areas on the internet to buy an as built home.  We examined many spots including: Quepos, Tamarindo, Los Suenos, etc.  What caught her eye was a place in Monte Paraiso, Playa Hermosa.  We started looking at it more closely and then eventually contacted an agent.  At first we start speaking with Courtney Bouquet whom is an expert in Tamarindo.  She was very helpful in the early stages.  Following, we ended up dealing with Mike Simons whom is the local expert for Playa Hermosa, Playa Panama, and Playas del Coco.  I started writing Mike to enquire about properties for sale.  Specifically, I wanted an as built property in the $700k to $800k range.
Mike was on the ball and I received roughly 6 property summaries to review in no time.  My wife and I sorted through the documents and then made plans to fly into Liberia.  Mike helped us with our stay at Pacifico by putting us in touch with Jeffrey Perez at Milagro Properties.  I barely got off the plane and Mike was already sending me texts.  I believe I arrived at Pacifico at 12 and Mike was there at 12:30.  I asked for some time and he was back again at 2pm.  We went for lunch and Mike spent the afternoon touring and educating us on the Playa Hermosa area.  He was extremely informative.  The next day Mike showed us 9 properties.  He was punctual, diligent, and extremely thorough.  My wife and I liked about 3 properties of the 9.
Our original first choice, Casa Viento was a little dated and needed some work.  I am not that handy or patient.  However, during our tour we zeroed in on 2 properties in Pacifico and one in Monte Bello.  We reviewed all 3 again the next day and eliminated the Pacifico ones because there was too much traffic with lesser views.  Isabel and I went through the Blue Diamond at Monte Bello one more time just to be sure.  We went back to Toronto after spending a week in Playas del Coco.
Once in Toronto, Mike communicated with me almost daily to structure an offer.  He was on the ball.  As I have spent most of my life managing about $1.5B in real estate loans and private debt I was familiar with purchase and sale agreements, indentures, loan agreements etc.  It took us a few days to draft the agreement as I wanted additional conditions in the offer that I was used to.  Mike probably thought that I was a pain in the behind but I believe in being thorough.  Every time I asked a question or required some documentation it was delivered fairly quickly and accurately.  Mike didn't miss a beat.  Not only was he on the ball he was incredibly thorough.  My negotiations took a while as I was emphatic about where I wanted to go.  Due diligence took another month.  Most likely a lot of torture for Mike but he didn't miss a beat.  I closed October 5, 2015.
As you might imagine during this process I would need the help of a few professionals.  Mike provided me with a home inspector, real estate-lawyer, insurance agent, property manager, car rental agent, used car dealer, immigration lawyer etc.  What a full service package!  To top it all off, I had to come down a little earlier prior to closing and Mike let me stay at his house for 2 nights. Who does that? The experience with Mike Simons at Tres Amigos, Playa Hermosa was fantastic.
If I had 2 phrases to describe Mike Simons it would be….."On the Ball" and "Doesn't miss a Beat"
Leonard and Isabel Farmer – Toronto, Canada
5 October, 2015
Our Testimonial About the Services of Michael Simons – Tres Amigos Realty Group
Anten and Fran Kraemer
(Anten writing)
Our first trip to Costa Rica was about 3 and ½ years ago.  I arrived 4 days prior to my wife Fran and from the airport I drove to the Lake Arenal region to spend two days there with the premier realtors in that location.  For two days they showed me what my U.S. dollars could purchase in terms of lot size and lake view, etc.  At the time that was impressive.
But my wife of 26 years has a saying:  "Yes, but at the end of the day, where are ya"!
To me, this lake region was too uninspiring, too sparse, few restaurants, and little entertainment, maybe too rural.  So I asked them to recommend a Pacific coastal realtor who I might meet with the next day.  They connected me with Michael Simons!
Michael and I met in his offices the next morning.  What impressed me greatly is that after handshakes we went to a second floor office furnished with maps of CR and the Central American region.
For about an hour Michael gave me information about Central America, Costa Rica in particular, and the cities and regions of Costa Rica.  My biggest takeaway from this session was the differences in rainfall levels between the north and the south.  Michael also covered issues like topography, government services, quality of life, etc.  Michael then showed me several properties and introduced me to a great local bar and several terrific expats.
My wife arrived finally and we both visited the Lake Arenal area and came to the same overall conclusion.  Then we as a couple met with Michael who showed us many properties in the Guan caste area which reinforced our intuition that we might be able to retire in Costa Rica.  We promised to stay in touch……….
FAST FORWARD
During May 2015, my wife and I again visited CR and arranged for time with Michael-our 'GO TO" GUY.
Michael's initial  interview is very detailed and he absorbs every detail of your responses.  What's your price range?  What are your preferences?
Michael spent a day with us, starting with an 8:00am breakfast at a nice hotel (our treat).
Then Michael spent the day with us, including buying us lunch.  But he showed us many properties meeting our criteria and price range, and explained his opinion of the market and future projected trends.  He also explained neighborhoods, stores, shopping, his favorite restaurants, monkey hang-outs, etc.
We purchased a 3-bedroom condo that we will rent for about 3 years and then live in.
In our opinion, Michael Simons made all of this possible.  We are grateful.
Anten Kraemer and Fran Bjorneby-Kraemer – Philadelphia, PA
2 October, 2015
The first time we visited Costa Rica in April '13 we stayed in Playa Conchal, at a condo we found via an online website.  It was nice, but we hoped for more and so we gradually ventured out to visit other places slowing making our way up/down the western coast of Guanacaste.  Visiting the beaches of Tamarindo…Grande…Conchal and Playas del Coco.  In Coco, we were referred to Michael Simons of Tres Amigo realtor, who was advertised as "if he can't find or doesn't know about it…nobody does."  He met us at Congo's (a local 100% organic coffee shop) and after asking us what we were looking for, he immediately said, "I have 8 or 9 homes you have got to see and I'll have them scheduled for tomorrow.  While the houses were AMAZING in almost every aspect, none of them felt compelling enough to invest in and so we parted ways…left to ponder what the next step might be.  We returned to the states, jumping back into that old way of life…
Nonetheless, our love for Costa Rica was still burning, and so we planned another family vacation in May '15, this time renting a house in PACIFICO.  This was the hottest new development in Playas del Coco and included townhouse, condo and home sites.  It was literally like driving into a Naples, FL type environment which immediately caught our attention as a potential spot to…sink our feet in the sand.  We looked at more homes and condos and eventually found a 3-bedroom condo, fully furnished at a price point which was simply outstanding.  It took about 45 days to close, but we are now the proud owners here in PACIFICO!!!
It shouldn't go without mentioning that while spending many hours with Michael touring the western coast, he seemingly always knew the style of place we were looking for, was full of advice on the what/where element, it sometimes sounded too good to be true!!  Well…after spending more time here in Coco, I can HONESTLY tell you that he hadn't exaggerated at all…in fact, it might be better than he described.  Think of it this way…in the United States we go on vacation to relax, forget about work and focus on family time.  Can I get an Amen?  Well…life in Coco is literally the opposite.  Life here is like being able to relax, work, yet be focused on quality family time…and because the cost of living is so affordable, we go on vacation for the thrills, hustle bustle and excitement…only to return to a lifestyle which is just as we left it.  Relaxing, working to fulfill Life, rather than living life to fulfill work.   Pura Vida!!!!
Julie and Brian Kinne – Ohio
30 September, 2015
Hi everybody
I would like to tell you about my experience with Michael Simons with Tres Amigos Realty.
About four years ago I began looking for a place to retire and live a different lifestyle. After researching several countries I settled on Costa Rica, further research led to Guanacaste province and specifically the Playa del Coco and Playa Hermosa area.
I found Mike from his website and gave him a call. I explained my needs, budget and timing, since I didn't plan on buying for several years I naturally thought I would never hear from him again.
Wrong – Mike would periodically contact me and send updates on properties I might want to consider without being pushy as we have all experienced in real estate pursuits. So finally two years ago I spent a week in Hermosa and met up with Mike, he spent considerable time with my wife and me showing numerous properties. We still were not ready to buy, Mike said he would keep in contact and when we were ready he would help us with our purchase.
Fast forward to this past July, once again we came to Mike and said we were ready to pull the trigger. We had just sold our home in Tampa Bay Florida and the money was burning a hole in my pocket. Once again Mike showed us several properties that would suit our needs. We decided on the Pacifico development in Playa del Coco, he had everything we needed, security, close to town, outstanding amenities and immaculate grounds and landscaping.
Mike helped us negotiate a great deal with the developer and we purchased a two bed two bath condo in the Lifestyle section of Pacifico. So the next problem was how I get this place furnished and decorated. Never fear Mike to the rescue, he put us in contact with an interior designer, Sandrine Acquart, and she took care of everything. We established a budget and away she went and we now have a fully decorated home.
At no time did Mike ever try to pressure us to purchase and in fact I was amazed at the amount of time he spent with us. I told him that even though ours was not a huge sale we felt like million dollar buyers.
So let's recap my story if you are looking to move to Guanacaste region give Mike a call. You will have a friend for life and he will find the perfect place for you.
Bill and Carol Keating – Tampa, Florida
4 September, 2015
Michael Simons, Tres Amigos
This man's depth of knowledge of real estate exceeds any other realtor we have met. Add attributes of humanity, compassion, kindness and efficiency you have, in our opinion, a description of Michael Simons.  
After taking into account our wants,needs and budget, Michael's expertise quickly narrowed down our house-hunting so that we were able to focus our limited time here on what was achievable. Once we made the decision to proceed with a house offer, Michael went out of his way to ensure we were in the best of hands relative to Costa Rica house closing details; his attention and care since our relocation to Playas del Coco this past July have not changed.  
In short, this guy is a power house!
Clem and Lydia Biel – Toronto, Canada
28 August, 2015
Hello Michael,
We want to thank you so much for your continued efforts to help us sell our lot there.  We know it took some time but you did in an efficient and ethical way.  Although we did not realize the price we wanted we do believe you helped us get the best price possible.  We would recommend you to do the job for anyone we know.
Gerald and Millie Rice – Georgia, USA
29 July, 2015
My experience with Michael Simons at Tres Amigos.
I met Michael in of all places, a bar! For the next couple years, as I would come to Costa Rica to vacation, we would occasionally run into one another. He always told me, "if you ever decide to purchase a piece of property, let me know." I finally decided it was the right time, and Michael helped me to buy a PACIFICO condo. I actually bought the ONLY one he showed me. He said "this is the best deal going" and I bought it. After the paperwork was completed, Michael asked me if there was something else I wanted to do. I told him I wanted to buy a car. So he drove me to a car dealership to look at vehicles. On the way back, I remembered there was this furniture store by the airport and asked Michael to stop, and I bought a Lazy Boy Recliner for the condo. I was informed by the store that they did not deliver. Michael said, "No Problema" and proceeded to load the recliner into the back of his pick-up truck. We then went over and stopped at the San Martin Meat market and bought a loin of steaks as long as your arm. We returned to PACIFICO where Michael helped me carry the recliner up a flight of stairs and into my condo.
We have been great friends ever since. I actually bought a second condo from him a few months later. I ask you, How many realtors would have gone out of their way like he did? Oh by the way, we did stop for a few beers along the way as well. I have referred a few of my friends since them to Michael as well.
David Richter – Green Bay  Wisconsin
18 July, 2015
When you first meet Michael you might think, "Is this guy for real?" because of his high energy style, positive attitude and unwavering optimism.  If you take the time to figure it out and get to know him, you realize that with Michael "What you see it what you get." He has such a great following because he always does what he says he's going to do. He pays attention to the details that are important to his clients and follows things through to their conclusion. That makes it so much easier to have piece of mind when buying property in a foreign country, knowing that things will be done right.
Michael is straight-forward, kind and generous with his time and patience. He helped us find "our little piece of paradise," twice in fact!  We always enjoy spending time with him, his infectious sense of humor and great outlook on life.  Everything people say about Michael is true.  He's authentic, professional, smart, and gets the job done.
Pura Vida,
Dr. Larry and Joey Salmansohn – Delray Beach, Florida/Brevard – North Carolina
13 July, 2015
Mike:
Romy & I would like to thank you for making it so easy to purchase our Villa in Hermosa. It will be a year in August when we came here on vacation for our 20th anniversary with our good friend Ellen. We had a great time and really enjoyed the area. On our last day here we went on the Sunset cruise and we met Michael. After talking to Mike and asking him why he came here, he told us the whole story and why this is a great country to live in. On the flight back to the States we talked about what a great experience we had and decided to come back in December. We made our reservations and let Mike know that we would be there on the 8th of December. He emailed us and said you have to change your date you have to be here for my party there's a lot of my friends you need to meet.
We made it to Mikes party and didn't realize there would be over 600 of Mike's friends there, everyone had a good reason why they came to Costa Rica. The more we saw of the area we really liked it, and Mike showed us several properties. Mike is such a professional he listens to you to understand what it is that you like and how much you can afford.  He takes his time with you to make sure you get what you want. I had found a property online that I really liked and was ready to put a offer on it without seeing it in person.
This is what I like about Mike he told me I would prefer you to see it first and check it out make sure you like it before we put an offer on it, if its meant to be it will be here when you come back down. Well we came back in May and we did check it out and we did make an offer and on 1 July we closed on our Villa. Mike made it so easy to get all the paper work done and the right people to take care of you. If you're ready to retire or buying for rental property there's one person that will take care of you from start to finish that's MICHAEL SIMONS.
I can truly say we have a good friend in Costa Rica. Pura Vida!!
PS – Mike give Millie a hug for us woof woof!!
Romy & Jay Billman – Thompson's Station Tennessee
08 July 2015
Mike Simons is by far the BEST realtor I have ever met ANYWHERE.   Not only is he engaging, personable and fun to spend the day looking at places with, he is the consummate professional who REALLY knows his field.  Responsive, knowledgeable and no-nonsense.  I mentioned multiple listings to Mike, who seemingly knew each property mentioned in detail off the top of his head.   Anything he did not know, he found out quickly and got back to me immediately.  He didn't bother to show me properties outside of my specs and if I said a feature was important, every property he showed me had that feature.  Don't get me wrong, he did make suggestions to see if I might be interested in something else just to give me options but he NEVER pushed an agenda and if I wasn't interested, he would quickly move off to try and get me what I wanted.
Mike also picked me up an hour away from his office to take me around (and dropped me back off) and he did it with a smile and never grudgingly.  He had no idea whether I would buy or I was just some nutty American who would waste his time but he totally went out of his way…  While this isn't something one should expect from a relator, man, is it ever nice to find someone who goes the extra mile… and another mile…. and another mile…. I would mention plots and he would go out ant take pictures for me that day so I had a better idea of what I was looking at.  He went off and measured the buildable portion of a plot that I was potentially interested in.  When I was interested in a property that he didn't think would be suitable, did he discourage me from seeing it?  No!!!! Even though by then, I trusted his judgment and was willing to not see the property, he said, let's go see it anyway, "I want you to feel 100% that you are making the right decision"
Ultimately, I bought a plot of land to build (I would have NEVER thought I would build a home from scratch in a foreign country but Mike made the road pretty easy with all his contacts).   On a personal level, Mike is one of the most interesting people I have met (and though we don't always have the same views, he is respectful of differing opinions), has a big heart and a true desire to see his clients (most who undoubtedly become friends) happy!   I know this testimonial sounds too good to be true (you are probably thinking he must have gotten a friend to write this for him) and that is in part true…. Mike and I have become friends but I think most people who use Mike as a realtor will become friends with him (so he will always have friends writing his testimonials!).  Meet him for yourself (and if I am in town, meet me too so you can thank me for the great advice 😉 and you will see that whether you are planning to buy a home today or in five years from now, there is no better realtor around to start the process with. 
Good luck on your home purchase and pura vida!
Ms Tan Cheung – New York City
08 July 2015
Mike – Thanks for making my dream come true of buying a piece of paradise, you made looking for properties so easy and fun.
Your enthusiasm for Costa Rica is so contagious that it's rubbed off on me and I find myself talking like you to all my friends and family about this wonderful place.
Thanks Mike and your team at Tres Amigos for all the work that you do to make dreams happen!
Pura Vida – with a southern accent!
Charles Rich- Alabama
08 July 2015
Michael Simons is perhaps the top real estate agent outside of the United States, with offices in Playas Hermosa, Playa Panama and Playas del Coco. When I purchased a new condo in November, 2014, Michael assisted me through all the steps of ownership as a foreign national. He introduced me to individuals in immigration and property rental services, and as I was back in the U.S. at the time of closing, he graciously represented me by proxy. Everything seemed so easy!
As successful as he has been in real estate sales, Michael keeps in touch with his clients (he contacted me shortly after I broke an arm to ask if there was anything he could do for me). Michael is a true professional but even a greater friend!
John Cook – Wisconsin
On May 24 2017, my good friend John Cook passed away. NO ONE loved Costa Rica more than John, and he lived every single day of his life as if it was his last. He touched so many lives, and was one of the most inspirational, energetic, happy and positive people I have ever met in my life. He died on a beach, in a lounge chair, moments after a snorkel trip with friends, a cold beer in his hand. May God please allow me the same peaceful passing. I miss you tremendously my friend RIP.
http://www.legacy.com/obituaries/postcrescent/obituary.aspx?n=john-godfrey-cook&pid=185726753
30 December 2014 
When we came to Costa Rica it was a vacation and look around but really did not plan on buying a home. We fell in love with the people, the way there government is run and the pure beauty of Costa Rica. 
Little did we know when we asked the manager where we were staying that we would like to look at some homes in the area that this larger than life person came to show us around. Yes, Michael. That was you. 
Not only did we learn so much more about life there he took the time to really show us what we asked for. 
We then went to other areas to see if we liked any and was not returning  to the area Michael showed us. Two days in yow other areas and we headed back to see Michael.  We wanted to see a few more places and wanted to see one that he showed us before. 
All I can say at that point we knew this was going to be our second home. Yes, we brought one that we saw on our first round of looking. We can hardly wait to close in January. 
Michael we want to thank you as we know we have found our first friend in Costa Rica. That is what he is all about – Being there for anyone that needs help in any way.  We met some of his staff and they all are wonderful. 
Thank you so much Michael. 
Nancy Kincade-Baker – Florida
11 December 2014
Hi Mike, 
I have been remiss in getting this letter to you. We have been so busy since moving, getting the new place the way we want it.
I just wanted to say thank you and your team so much. You (when I say you I mean your whole team), were all so dedicated to selling our home and were always professional. We cannot praise you enough for the efforts you put forth. There is absolutely nothing we were not pleased with. Every showing was done in a most professional manner and we realize that the showings on our place were a bit more challenging than most with all the dogs there.
Just wanted to say thank you to you and your team for a wonderful and professional job and tell you how much you are appreciated.
We would also like to thank you and Joseph especially for your wonderful support of CARE during our years there. There were so many we could not have helped had it not been for you.
We are staying busy getting our new place the way we want it. All the fur babies seem to be loving it. We have them set up really nice and at this place they are away from the house but have a huge area with lots of things to keep them busy.
Alice and Paul – USA
09 November 2014
We fell in love with Costa Rica during our first visit here over 10 years ago, and had been contemplating a move here ever since. About 2 years ago we decided we could finally make it happen, though the actuality of everything involved seemed daunting.  Then, via his awesome website, we found Mike Simons.
For close to 2 years, Mike answered every question we had, offered advice, helped with logistics, etc. The move to paradise suddenly was a lot less overwhelming.
Fast forward to August 2014 – we came to Costa Rica dead set on finding a house and making the move.  When we finally met Michael in person, we were blown away by his knowledge of the country and his genuine love of the people and the place.
So house hunting we went…and found our dream house. Made an offer and closed the deal. Realtor's job in done, right? Not with Michael!
He set us up with an attorney to handle the sale of the house, an immigration attorney to help us with our residency, a car dealer to help us find a car – and by "set up" I don't mean he gave us phone numbers. Mike provided us with introductions and set up appointments for us.
We went back to the US to prepare for the move; Mike kept in touch with us constantly. He and his office (thank you Yorleny!) set us up, with a furniture maker so our house was furnished within a day of moving in. Landscaper, vet, handyman, phones, cable TV – you name it, Mike has helped us get it done (down to a dog bed for one very sad guy whose bed is in the process of being shipped down) – all the while making us feel like we were the only clients he had.
I feel like I've barely scratched the surface – we are beyond happy to be here, and can't thank Michael enough!
Doug & Joan Bartels – Arizona
October 9, 2014
To All considering coming to Costa Rica.
I cannot say enough good things about Tres Amigos Realty, Michael Simons and his staff.  They are extremely professional, yet friendly.  No inquiry was 'too dumb' not to be answered directly and promptly.  If you are seeking quality, honest, and reliable support in the Costa Rican real estate market they are the ones to turn to.  Come see for yourself.
Mike Skidmore – New York City
14 July, 2014 – Video Testimonial – Chad Lytle and Teresa McCullough – Texas
14 July, 2014
Bad Beginning, Great Ending
Ten years ago I made my first trip to Costa Rica and fell in love with the country and the people. So much so, that I decided that I wanted to own property in the country. Unfortunately, my first experience was with a developer (from the good old USA, by the way) who was, lets simply say, less than honest (you could say a dishonest bastard if you would prefer!).  While being scammed caused me to lose some faith in mankind, I never lost my desire to have my own little piece of paradise and Pura Vida.
I had rather be lucky than Good!
As luck would have it, I had the good fortune to meet Cheryl Grant during a vacation visit. Since she had been in the real estate business, and was now the owner of a Property Management Rental company Costa Connection. I trusted her to recommend someone who was trustworthy and honest to show me various properties, and share with me what might be the best course of action for me to take…..buy existing home, purchase a lot and build, or purchase a condo.
Enter Mike Simons…..real estate guru extraordinaire. I contacted Mike and he arranged a whole day of his life to not only show me property, but to answer questions about Costa Rica, the people and their customs, the economy, the government, taxes, the education system, the medical facilities and how the national health system works, how to become a resident, and on and on. I swear he had to have a headache the size of Texas by the end of the day that three Patron Gold margaritas would not have caused.
Most importantly, he took an interest in ME. Not just in selling me a piece of property, he was truly interested in what my ultimate goal was…..Do you want to live here?  If yes, full time or part time. Do you want to rent your property?  Do you want to use this for now or for the future?
We enjoyed a wonderful breakfast on the beach. We talked about weather, sports, politics, and pretty girls……he became a FRIEND.  So after continued communication over a nine month period, he found a perfect opportunity for me, and the perfect way to do it for my situation. He never pressured, I never received the "sales pitch," and most importantly, never felt like he had anyone's interest at heart other than mine.
So if you find like me….wanting a little piece of paradise for yourself and having doubts about what you should or shouldn't do, you can trust Mike to help you…..and while he will get paid for his work, you can rest assured that he also has your best interest at heart.
Dr. Scotty Hermann – Waco, Texas
June 17th, 2014
Mike Simons is a unique businessman, … as well acquainted with his craft as any … and he doesn't just sell properties, … he offers solutions. He's the only realtor we've dealt with that is all about the customer.
Whether you choose to target from his network, or another … you will never sense a difference in his demeanor. He's very switched on, charming, energetic, fun.
Mikes greatest strength is perspective AND he delivers in such a way that enables your confidence. This type of assurance is a big factor when considering a property purchase abroad. Mike knows where to go, what to do, how to do it and what its going to take.
You earned and deserved our trust Mike and continue to answer the bell. Any reader of this note can expect the same.
Nurys and Murray Hooper – Ontario, Canada
June 8th, 2014
We had been looking for a house in Costa Rica near the town of Coco , not too seriously until the winter of 2013-14. Having bought a condominium at Pacifico, several years ago, we were looking for something more away from the village, up on the ridge if possible, with views of the Pacific ocean east of Coco. We had heard of Mike Simons from his Tres Amigos Realty office in Playa Hermosa through a couple friends that Mike had helped sell their condo previously.
We also heard that he was a very charismatic fellow, who loved his pack of rescued dogs that he collected from around the country, eight now I believe. In our view, anyone that loves dogs like him, must be a nice person, as we have our own bunch of Australian Cattle dogs here in British Columbia that live with us.
We viewed several houses and properties in the Coco area, came very close to buying a certain house that we really liked the layout of, it just didn't seem quite right with the views of the ocean. Finally, Mike said he had a buddy/builder friend that was finishing a spec house in Ladera, around 75% complete. We had a look the next day, it was exactly what we were looking for, deal was sealed a couple days later. (same layout as the one we liked, but much nicer location) We returned to Canada and Mike sent photos of the house as it progressed, we returned to Costa Rica in May, with the house 98% completed, and finalized the deal, stayed in our new house for our 10 day visit.
We enjoyed dealing with Mike, his casual style, very punctual, and got the job done. Discussions and dealings mostly over a beer or two. (after all we are Canadian and we need our beer!!)
Thanks again Mike, we will see you for a cool one in November.
Mike and Audrey King, Chief Pilot,
White Saddle Air Services Ltd.
British Columbia Canada
 June 2nd, 2014
My husband and I closed on our Costa Rica condo with Michael a couple days ago. He provided the absolute best service, support, guidance, and expertise from top to bottom. The process could not have been any smoother. Michael goes out of his way and far beyond the call of duty to take care of his clients. He instilled confidence in us from the start. We feel fortunate to have had him representing us throughout the experience.
When we met Michael on our first trip to CR last year, he instantly felt like a friend we'd know for years. He's a very genuine person. He really cares about his clients and seems to love what he does. He had our best interest at heart from the very beginning.
Michael was intuitive and knew exactly what we needed at each stage of the game in order to get us to our ultimate goal – the perfect place in Costa Rica for our family of 5.
I trust this guy. He's the real deal. If you're serious about buying in Guanacaste, CR and you want someone who respects your time and money, Michael Simons is it. Look no further.
Thanks, Michael. We couldn't have accomplished this amazing goal without you. We are thrilled about our place and cannot wait to get back there soon to enjoy it.
Bob Burger and Melissa Connell – Chicago
May 24th, 2014
Mike Simons is "The Man" for buying or selling real estate in Guanacaste, Costa Rica.  He has contagious enthusiasm about the region and encyclopedic knowledge of the communities and the real estate available in each.  And once you've bought or sold through Mike you are not finished.  He is effectively your entree to an entire community of people, services and opportunities, including Costa Rica natives and expats.  Basically, Mike is the hub of the wheel and we're delighted to be among the spokes!
Stuart and Katie Saunders – Chapel Hill, North Carolina
May 29th, 2014
In 2010 I started researching warm tropical locations where I could purchase a home or condo where I might eventually retire. After about eight months of research I decided that Costa Rica was the place that "ticked all of the boxes" and so it was time to convince my wife. All of the articles, photos and pleadings seemed to fall upon deaf ears and my wife did not want to hear of my plans. Finally I was able to get her to concede to going on vacation to Costa Rica where it would be OK for me to schedule some real estate visits.
In my research I learned of the developing South Pacific Region, the Central Valley and the Guanacaste region. So, in the summer of 2011 I contacted several real estate agents and made plans to see all of the areas. I remember Michael Simons telling me to go and visit all of the other areas, to see what is on offer, and then come to see him in Guanacaste. He boasted that after seeing all the rest, he believed that I would be very happy to live in one of the areas surrounding Playa del Coco or Playa Hermosa.
In September 2011, my wife and I with another couple, set off to Costa Rica on a real estate hunting "VACATION". We did as Michael suggested and visited other areas first and then went to see him at his Tres Amigos Realty Office in Playa Hermosa. Not only did we find a condo that my wife was begging me to purchase, but the other couple that we were with (who were not looking for real estate) they also purchased a condo with Michaels help. In addition to purchasing the condo units, Michael also set us up with tours that included zip lining, white water rafting and more. So we found a home and had an exciting vacation.
Since 2011, I have added to my property investment in Costa Rica where I have purchased 4 properties with Michaels help. Not only is he my realtor, but I now consider him to be a friend and someone that I trust greatly.
If planning to buy or sell property in Costa Rica, Michael Simons will take great care of you.
Raymond Charlton – Bermuda
July 22nd, 2014
Mike,  Thanks for helping us find a place in Costa Rica.   Being a realtor myself from Austin Texas it sure was nice to work with another professional who really knows the market.  Can't wait to close on the purchase and get back down to Playas Del Coco, my new home away from home.
Chris Griesbach – Austin, Texas
May 26th, 2014
Mike Simons is the reason we bought real estate in Costa Rica.  My wife and I have been looking for a place with all the beauty and great weather of our native California, but without the high prices, taxation and politics.  We had been evaluating several places in Latin America as potential year-round or partial year retirement spots including, Panama, Ecuador, Mexico, Belize and Costa Rica.
We decided to take a 10-day tour of Costa Rica exploring the southern Pacific coast, the Lake Arenal area and the northern Pacific coast.  We were immediately attracted to the beach area around Playa Panama, Playa Hermosa and Playas del Coco. We found everything we wanted in the local grocery store, the Pacifico condo where we stayed was the perfect combination of relaxing and well-appointed with an amazing pool.   Mike took care of our every need during our stay in Playas del Coco, from showing us real estate possibilities, helping us set up an adventure tour, showing us the town and its infrastructure and recommending restaurants.  Mike is very knowledgeable about the real estate market in Costa Rica and helped us with some of the ins and outs of overseas real estate investment, including the possibility of purchasing through a self-directed IRA.
It is very comforting to have someone you can count on and trust in Costa Rica.  Mike is the kind of guy who will give you the shirt off his back.  He must have hundreds of clients just like us, but he treats my wife and I as friends and answers every e-mail right away.  He helped us with inspections, tracking down property surveys, and arranging every detail of our purchase.  Mike seems to know everyone in town and was able to recommend closing attorneys, interior designers, property managers, builders, he even introduced us to our future next door neighbor through e-mail.  He made an appointment for us to talk to someone about what is needed to establish residency, recommended a rental car agency, even sent us pictures of our condo and pool as they were being built.  He has gone above and beyond the call of duty so many times for us we owe him a great debt of gratitude.  
He has made the experience of buying a lot and condo in Costa Rica as simple and comfortable as buying a house in your home town.  I would recommend Mike and his team at Tres Amigos Real Estate to anyone thinking about buying in Costa Rica.
John and Kay Houghton – Visalia, California
May 27th, 2014
If you've seen the HGTV show "Property Virgins", we were something like that. Although we had bought two houses in our 30 year marriage in the US, with buying in Costa Rica, we were really over our heads! We don't speak Spanish and we were uncertain about the laws, real estate rules and processes.  Mike Simons helped us to navigate the "stuff" that we would require to own property here.
We had a general idea of what we were looking for in a house: one story, view, not too expensive. We spent a few days with Mike scouting out the possibilities. He was very patient with us as we tried to figure out what/where to live. As it turned out, he found us a nice, flat lot and a killer view of Coco Bay. We fell in love. With Mike's help we negotiated a good price and it was ours.
Now we are building our dream home and Mike continues to help us with great contacts and advice. Whenever we have questions, Mike or his assistant, Yorleny, have the answers. It is truly a pleasure working with such professionals.
When you come to Playas del Coco, buy us lunch and we'll tell you all about it!!
Stu & Wendy Pike – California
May 27th, 2014
What do you say to people who ask us…
"You moved from Hawaii to Costa Rica–You nuts?"
That is exactly what we did and when we started looking into Costa Rica we had no idea where, who or how we would do it. After searching on the internet I came across Michael Simons name and I can't recall where I actually found it, but after many e-mails and some long distance phone calls with Michael we had set a date for coming to Costa Rica.
Sally and I flew in to San Jose and made the trek to Guanacaste to meet with Michael and learn more about Costa Rica. Our first introduction was so rewarding as Michael sat with us and explained the culture and history of the area and what this community meant to him and his company Tres Amigos Realty. We were so impressed with his knowledge we didn't even talk or see real estate the whole first day.  The whole week was very rewarding and Michael was the most generous host showing us property that would meet our needs and wishes.  We were so blown off our feet about Costa Rica that before the week was ended we had picked a property and made an offer on our very first trip to Costa Rica.
Our next adventure to Guanacaste we had become a lot wiser and we flew into the Liberia airport and met Michael and he had his support contacts meet us and taken us under their wing and showed us all the necessary steps to help close our escrow. Sally and I were really impressed and very thankful for the help and support and answers to our many questions that Michael provided to make this an easy and smooth sale.
We have to thank Michael Simons for many things but mostly for his honest and sincere effort to show Sally and I how "PURA VIDA" is really lived in Costa Rica. We had a wonderful experience in purchasing real estate but a more lasting fact we have a friend who cared about how we wanted to LIVE.
Jerry and Sally Howard – Hawaii
May 26th, 2014
I met Mike Simons through a referral from someone that appeared on House Hunters International. He was so friendly and enthusiastic! He helped me find a condo and the sale was easy. I found him to be very reliable and knowledgeable. When I came to visit and look at the condo before the sale, Mike showed me around the area and made me feel right at home. He arranged pretty much everything.
Whenever I have any questions or concerns, Mike is there for me, and I am sure will always be. I will always consider him a true friend and would highly recommend him if you are looking for an agent. You can't say that about other realtors!!
Janet Rowe – the Great State of Texas, United States
May 27th, 2014
Mike Simons takes looking for real estate in Costa Rica to a different level. His passion and love for this wonderful country rubbed off on us quickly. Not only did he show us great properties we also received a lot of information about the country that we found very helpful in our decision.
The Pilsen's were very tasty also.
Thanks Mike
Mike and Cindi Ruevers – Minnesota
May 2014
Last fall, after visiting various areas of Costa Rica for the last 15 years, my husband Dan and I decided to search for property in the vicinity of Lake Arenal.
Although we loved the beautiful views of the lake and volcano, we couldn't find the right match. As we were heading west to the Pacific Coastal area, our agent gave us Michael's business card in case we wanted to see real estate there too.
Dan doesn't normally like beaches, so I thought there was very little chance of buying anything, but we called Michael and he met us for breakfast. After looking at several places, we learned that Playas del Coco, Playa Hermosa and Playa Panama were much more than beaches. We liked the personality of the area because Michael introduced us to all the charming people…. and their dogs. We felt a sense of community that we had not felt in Lake Arenal. While we ate ceviche and drank beer at the beach cafes, we realized that this was an area where we could entertain family and friends and feel comfortable in retirement. Within a couple of months, we had signed a contract on a new condo in the development Pacifico.
Now we are official property owners in Costa Rica who are waiting on their container of furniture to arrive. Michael made the foreign business transaction less intimidating in an extremely professional manner all the while wearing flip flops and Hawaiian shirts. That day last fall, we met a great agent who became a special friend.
Dan and Lisa Sharp – Houston, Texas
May 28th, 2014
Mike Simons and the team at Tres Amigos Realty Group go above and beyond to help their clients make a wise investment in Costa Rica. We have had the pleasure of purchasing two properties and each transaction was very smooth. They were happy to answer my millions of questions and Mike took an extraordinary amount of time showing us around when we first went down, despite our modest budget on that property.
He truly loves the area and has become one of its greatest assets and his passion is evident in every conversation and email.
Buying in a foreign land is frightening and understanding the local culture and customs is paramount- while at times it drove this type A American nuts, he was very patient, never pressuring us into a position that made us uncomfortable. I can say that you will not regret choosing to buy in Costa Rica through Mike and his team, he will quickly become a good friend and before you know it you will be leaving the good life or in our case, counting the days until we visit again.
Pura vida!
Heather Drebenstedt – Fort Wayne, Indiana
June 30th, 2014
My wife Lin and I first met Mike around 2007 on our first trip to CR.  We had gone to Jaco and scheduled a trip up to Hermosa to meet with one of Mike's realtor's, Jennifer and that is when we met Mike.  We continued our investigative trips at the rate of just about one per year until April 2013.  Our sole intent was to look at a piece of dirt, buy, and build at our convenience.  Mike was all set to show us some dirt but had a couple of existing homes he wanted us to see.  Well, Lin just fell in love with the view from our home in Vista del Pacifico and we started figuring how we might acquire the place.  We worked out the resources and now enjoy going there as often as we can until Lin decides to retire, probably about this time next year.
Mike was always sensitive to the parameters we put on what we may be interested in and could afford and we appreciated that.  Since then he has always followed the sale with "service".  By that I mean he didn't abandon us after closing but has always been available for advice, assistance, and friendship.  I have to say though that on the day we decided on this house, the sale was almost killed by a disagreement about "some" attitudes we witnessed that day and the silence could be cut with a cheese knife.  But, cooler and professional heads prevailed and we proceeded with offer discussions later that day.  I can always call on Mike and know that either he will personally assist or put us on the right trail.
Tom and Lin Grant – San Antonio TX
Video received May 18, 2012 from Drew Dixon – Tennessee
May 31st, 2012
When my husband and I decided to sell our Pacifico condo, we knew we wanted the best to help us.  We had heard over the years while in Costa Rica that Michael Simons (and Tres Amigos Realty) is who you want on your side when selling or buying. 
We didn't know Michael when we called him out of the blue and told him that we wanted him to list our condo.  He came over, answered our questions and suggested a price to list.  During the few months that it took to sell, he was very attentive, answering all of our questions (and believe me, we had constant questions).
When it came time for the closing, Michael was excellent.  He walked us through the whole process and went beyond the call of duty as a realtor as he answered questions about how to close various accounts (i.e. telephone, etc.).
We highly recommend Michael Simons whether you are buying or selling in Costa Rica.  He knows the area, is very professional and is a great friend to have on your side.
Linda and Gary Roisum – Alexandria, VA
May 21st, 2012 
I have bought several properties through Michael. He has always put  my interests paramount  and steered me to the ideal properties. No one knows the area as well as him. He has continued to demonstrate the highest level of professionalism!  
Dr. William Muir – Las Vegas, Nevada
April 30th, 2012
If you are looking for a Real Estate Agent in Costa Rica, I highly recommend calling Mike Simons. Michael is very experienced,extremely knowledgeable in his field and in the area. He spent several days with us looking for a piece of property that matched our vision and fit our budget.He is a true professional,very personable and incredibly generous. Michael always had our best interest in mind. Thank you Michael for helping us find our little piece of paradise.
Heike and Larry Knaus – Orlando, Florida
October 6th, 2011
When I first decided to look into Costa Rica as a location to purchase a vacation condo, I didn't know where to start. I really appreciated Mike's calm reassurance and expert advice; he made it easy (and fun) to look at condos that fit my parameters. Mike is not only knowledgeable about the real estate in Costa Rica, but he is knowledgeable about people as well and helped direct me to locations that fit my needs and desires best. He always made me feel as though I was his only client.With Mike's expert guidance, I purchased a condo in Costa Rica where my family and I have enjoyed many happy vacations and look forward to many more in the future. I was lucky to find Mike as a realtor and I am now lucky to call him a friend. I simply cannot recommend Mike more highly; he is professional, motivated and has significant knowledge and experience with Costa Rican real estate.
Sincerely,
Donald L. Feinstein
Chairman of the Board
Emerald Foods, Inc/Diamond Foods, LLC
September 22nd, 2011
It is with great respect and pride I introduce you to one Mr. Michael Simons who in short is nothing less than in my eyes a miracle worker! Yes, I can actually say this.  I will explain…
For many, many years I do mean MANY years I have scoured this absolutely breathtaking country in a quest of obtaining the perfect rental/vacation villa in which I could have a decent rental income and still enjoy all to offer.  I have put numerous, numerous offers and always still the same outcome … either the deal went sour, fell apart during the due diligence period or something happened that I didn't feel I was obtaining the results that should have taken place.  I was actually watching a House Hunters International program one Friday evening and watched their whole process from inception to the actual signing and I thought to myself WOW, this is the way it should be, why can't this happen for me?
I immediately went to the archives of the show and found out who the Realtor's were that actually made this happen and found Michael Simons.  Through numerous emails he was able to access what type of property I would be interested in, what type of revenue I wanted to obtain and would be able to receive in the different areas never, ever going above what my budget was. Mr. Simons sent links to the various properties describing in detail his thoughts and why he thought these would be of interest to me, and even found one or two that had been taken off of the market but was relentless in his search, one of which I purchased.
Mr. Simons knows the area inside and out, and takes it upon himself to know the homes and owners personally and all of the developments and developers in and around the area and even outside the area if this is where you might have seen a property so, if you have a particular interest he has the inventory to suit not just myself but, anyone, no matter their budget and treats everyone the same with the utmost respect, knowledge, integrity and above all honesty.  
So, if anyone is looking for an energetic, knowledgeable, honest hard working Realtor who is ALWAYS there for you and goes above and beyond the call of duty this is the Realtor you just MUST use!
Sue Ann Rasenberg – Ontario, Canada
September 22nd, 2011
Mike has been the most amazing Realtor I've ever worked with to find and purchase a home. Even before our trip down to Costa Rica, we emailed houses back and forth and he even called several times. Upon our arrival in Costa Rica, we set out on a search for our new home.
Mike is incredibly knowledgeable about the area and history of Costa Rica. Before we knew it, we felt like we were home already! He was so helpful in guiding us through the process and made it all pain free. When we chose our home, he negotiated a fantastic and fair deal for us. Now, we can't wait to make our move to CR permanently!
His services didn't stop with just showing us homes, he has an amazing list of people that he was able to refer us to for help with everything from the actual purchase to beginning the immigration process. Even now, I can email or call him with a question and he's always there to help! I can't imagine dealing with anyone else in CR. Mike is the man!!
Suzanne Calhoun – Conroe, Texas
September 22nd, 2011
Michael Simons and the members of his office in Playa Hermosa are the best choice for people interested in buying or selling real estate on or near the Papagayo Gulf.
Mike personally found me a large investment property there and then sold it for me at a significant profit several years later. He is also extremely honest and has repeatedly made good on promises when others have not followed through. What's best about Mike, though, is his enthusiasm. He loves Costa Rica generally and Guanacaste in particular, and he has the long term knowledge and experience here to lead people to the right properties. I am currently using him to list some of my properties, and I recommend him highly.
Alan J. Shusterman
Linden Partners/Matapalo Investments
Baltimore, Maryland, U.S.
September 22nd, 2011
We were referred to Mike Simons and met him in March of this year when we went to Costa Rica to search for property. We were very pleased with his enthusiasm, his knowledge of the country and his patience. He did not show us anything that was not in our budget and when we found our home, he was extremely helpful with the entire process, we would highly recommend him! (we even recommended him to another family member who also bought a house from him).
Michael and Cathy Glasner – Conroe, Texas