Why we relocated to Playas del Coco
I am truly a lucky man. I have met so many outstanding people, here in Costa Rica. I can honestly say I have thousands of friends.  Over the last 8 months, these fantastic human beings have stepped up and answered the call, when needed. It warms your heart to see how generous and giving they are, helping the local families in need, during these challenging times. Every day money keeps pouring in to allow us to continue feeding the locals, and time and time again, someone rises up to sponsor an entire day's food drive. The best part is, it allows me to share with you some of the stories, of these magnificent folks, to give you an inside look at who and why so many have made Costa Rica, and the Papagayo region their home.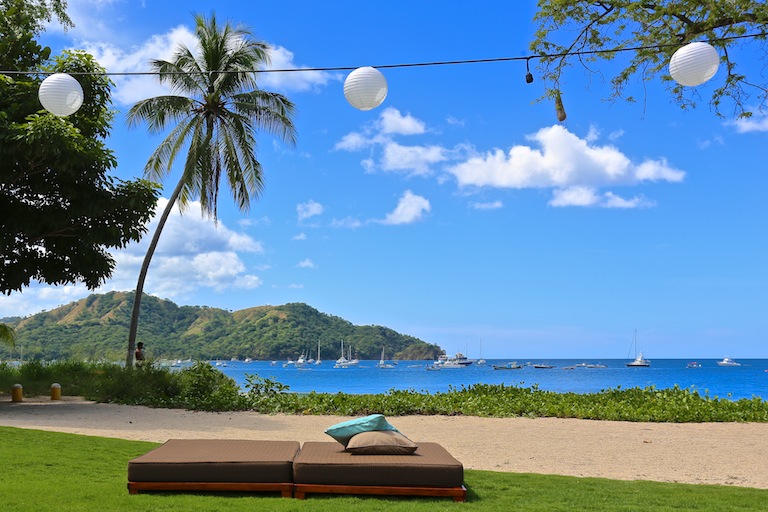 When I first met Victor and Doreen Bhatt, I knew right away we would be friends for a long time. They just have this incredible warmth, and sparkling sense of humor, that attracts people in. They are the type who truly care about you, they do not just ask for the sake of asking. They are a special couple with a fascinating life history and I immediately was drawn to them. Within a few minutes, I knew I was in for a ride.
Tank Tops Flip Flops Newsletter edition no. 185

They had owned a home previously in Manuel Antonio, in the Central Pacifico Coast of Costa Rica. I am the first person to tell you, this is one of the most beautiful places on God's Green Earth. It is stunning yet very remote. They chose to sell that house, and move to Playas del Coco, buying a home from me in the PACIFICO development, for all the reasons I preach, over and over again; weather, lifestyle, social activities, medical care, shopping, community and the spectacular beaches and calm waters of the Papagayo Bay.
Please take a few minutes, and listen to their story.
One of the main reasons so many Expats move and retire to the Papagayo area, is the proximity to the Liberia airport; less than 30 minutes away. LIR was just voted the BEST airport in Latin America and the Caribbean.
ticotimes.net/2020/10/26/costa-ricas-liberia-international-wins-best-airport-award
Wow, what an award. Anyone who has ever flown in or out of Daniel Oduber knows what a stress free environment it is. Yet, so many people are still very nervous to get on a plane, and fly. Especially, those who are getting up there in age. So I asked Doreen and Victor about their trip as they just recently returned from the other home in Houston. Please watch as they explain their experience with International travel from USA to LIR Costa Rica.
Here is Victor's perspective in his own words of why he moved to Coco:
We work all our life to arrive at a comfortable level of retirement and aging.  In my 75 years I have run 228 Marathons and 9 for Doreen including all 50 States and many Countries.  I have lived in 5 Continents.  We have visited 7 continents and 41 Countries in search of retirement and peaceful living.  When we arrived in Costa Rica, we were encouraged by friends to buy a home in Manuel Antonio.  We regrouped 2 years later. We came to Playas del Coco, in search of community, and bought a beautiful home from Michael Simons in PACIFICO, a gated development.  We have everything on our wishlist.  Happiness, Peaceful, Quiet, Convenience, Medical and Inexpensive lifestyle.  We liked it so much Michael sold us another lot in the same neighborhood and we started construction on our bigger house.  

When Costa Rica reopened the country we were anxious to return to our little piece of paradise.  Our journey was uneventful. The departure airport was very safe, clean and uncrowded.  Airline travel was uneventful. Aircraft was extra clean and not crowded.  On arrival going thru Immigration was a breeze. The whole process took less than 10 minutes. In 15 minutes we were in a Taxi on our way home.  During our flight to CR at 35000 feet in the air I turned to Doreen and popped the question.  "Sweetie if I am not comfortable returning to Costa Rica can I return to Houston? If I return at a later date will you still love me?"  

Doreen said "Victor don't be hard on yourself. Not only I will love you but I will miss you too."

Happy to help anyone wanting to relocate to CR.  Our new home is almost finished and we are ready to sell and move.  Thanks Michael Simons for finding us a two little pieces of Paradise.

Doreen & Victor
Victor and Doreen loved this area so much, they have purchased a new ocean view lot, and are building a monster house, which is almost finished. Their pristine PACIFICO 114 house is currently listed for sale.  Here is the link to the listing.  PACIFICO Lot 114 House Link.
If you want a marvelous investment and a home you will cherish for many years to come, this is it!  Please check out the video.
I want to take a moment to thank Doreen and Victor Bhatt, for their overwhelming generosity. Their huge donation allowed us to help in feeding 200 families here in the Playas del Coco area.
THANK YOU BOTH from the bottom of my heart. I love you guys!
An extra huge shout out to RICH COAST DIVING for continuously, week in and week out, going above and beyond the call of duty, in making sure our friends and neighbors in Playas del Coco have food on their tables and our streets are cleaned and trash free. They are also overseeing the beautification project of our town, painting the street poles, and sidewalks. WAY TO GO TEAM. APPLAUSE!!!!

If you or your business, development, resort, foundation, FOR SALE or AIRBNB home, would like to sponsor a day, please contact me directly.
If you would like to make a donation, so we can continue to feed these superb people of Costa Rica, please PAYPAL or ZELLE to michael@tanktopsflipflops.com
NO DONATION IS TOO SMALL
Tags: Charity Costa Rica, Costa Rica Dream, Costa Rica Lifestyle, Costa Rica Real Estate, Life in Costa Rica, Volunteering in Costa Rica