Things to do in Guanacaste–Punchlines in Paradise
There is no shortage of things to do in Guanacaste.  We have great live music in Playas del Coco, we have all the Watersports and Outdoor Activities you could ever want to do as well.  One thing we have not had much of is COMEDY.  Well that is all going to change.  On December 6th, 2019, Tank Tops Flip Flops has teamed up with Hotel La Puerta del Sol and Garden Bar to bring you a world-class comedy event.  And to top it all off the proceeds from ticket sales go to one of our favorite organizations – Coco C.A.R.E
We are bringing five hilarious professional comedians from the United States that are going to make you laugh 'til it hurts! It will be one of the funniest things to do in Guanacaste.
You will absolutely need to buy your tickets in advance as this show will sell out.  Call The Hotel La Puerta del Sol at 2670-0195 for ticket information.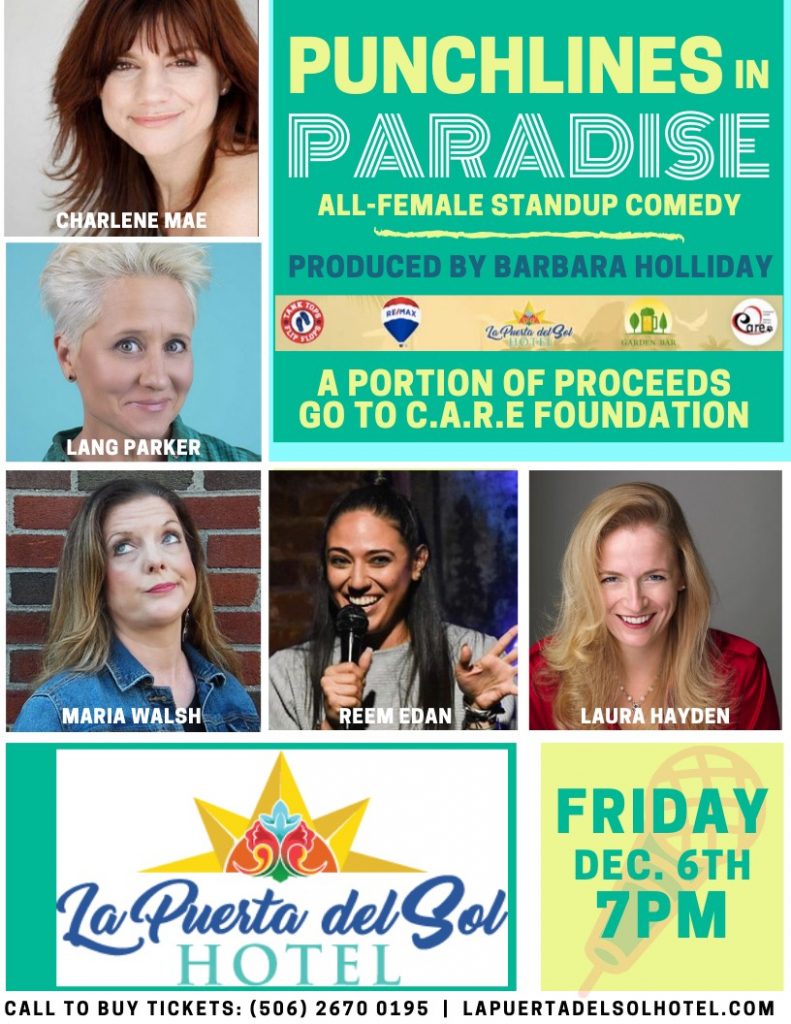 Tank Tops Flip Flops Newsletter edition no. 144
Here is the line up of the Comedians performing:
LANG PARKER
Lang Parker headed out west from Wisconsin 15 years ago and continues her acting career in film, television and performing in commercials. Lang's impressive comedic timing, instant likability on and off camera and impressive writing skills gained her national attention on the Emmy-nominated NBC show Last Comic Standing. She floored judges when she came out in her overalls and asked, "Have you ever been mistaken for a lesbian?"
Lang regularly tours clubs and cities all over the United States as well as numerous tours overseas to entertain the US Armed Forces.
Lang's credits include Beverly Hills 90210, The Ellen Degeneres Show, a pilot for a major US network, 40+ national and international commercials as well as dozens of movie & television roles. Lang has won California's Funniest Female Contest and is described as Jane Lynch, consistently drawing parallels with the Rosanne star Laurie Metcalf.
Lang ran her own comedy show in Los Angeles, "West Of The 405", attracted some of the biggest names in comedy and had been voted Top 8 Must-Attend Shows on the westside in beautiful Santa Monica, California.
She continues to perform and create worldwide.

MARIA WALSH
Marie Walsh, "America's Naughtiest Mommy" redefines parenting and offers some original tips in her one-woman tour de force.  She may appear like a classic SUV-driving, latte-drinking, suburban soccer mom but Walsh says what most people are thinking but are afraid to say. In the era of child worship, Walsh mocks the art of child-rearing in a hilarious fashion that gets mommies and daddies laughing so hard they can't hear the babysitter calling on their blackberries!
CHARLENE MAE
is a National Touring Comedian. Her material is versatile and her performance flows with non-stop laughter, all while being edgy without being offensive. A seasoned pro, she has also performed in a plethora of casinos, resorts, religious events, military bases, and even Nursing homes.
Charlene Mae is a standup Comedian and actress based in Los Angeles. Charlene's comedy can fit her comedy to any audience. Charlene started her standup Career in 2003 and has toured the country doing standup.
Some recent accomplishments include opening for Hal Sparks in Las Vegas and being invited to the 3rd and 4th Annual "Women in Comedy" Festival in Boston Massachusetts.
Attending the Prestigious Great American Comedy Festival in Norfolk Nebraska.
She was also the Winner of the 2013 CLEAN Comedy Challenge.
Since moving to Los Angeles, Charlene has spent the last three seasons of CBS's "Rules of Engagement. and is now a season regular on ABC Family "Baby Daddy". Other credits include Disney's "Jesse", Disney XD's new show "LabRats", ABC's "Mike and Molly" and Baby Daddy, and Nickelodeon's "See Dad Run!"
LAURA HAYDEN
Comedian/Doctor/Shoe Fanatic
Laura recently appeared on Stand Up In Stilettos for TV Guide Network. In addition to numerous other radio, TV and podcasts appearances worldwide in August, she returned to Scotland for the 5th year in a row to participate in the Edinburgh Fringe Festival. In July, she completed a three-week Middle East military tour. Laura is currently working on a book, turning her dissertation; The Healing Aspects of Laughter as it Pertains to Stress and Burnout (yes officially she is Dr. Laura, but not THAT Dr. Laura) in turn a speakers platform to help heal a world so in need of levity.
BARBARA HOLLIDAY
Barbara is the owner of Flappers Comedy Club in Burbank and H2F Comedy Productions an LA-Based Comedy Management and Development company, Holliday is an unexpectedly funny, blue-eyed, 5-foot-2-inch dynamo. And since 1999, she has been Managing Comedians and Producing live comedy shows, festivals, and television pilots. A few of her shows include Uncle Clyde's Comedy Contest, sponsored by the Riviera Comedy Club in Las Vegas, Survival of the Funniest and the Hollywood Ha Ha Festival, as well as many projects for film and television. She has also been on 14 Game Shows- Is that legal?
Holliday was born in Long Island, New York to computer programmer Paul Holliday and visual artist, Madeline Baker. She believes her multi-talented capacity for performance, and business is a result of being raised in a thoroughly "left brain/right brain" trailer park family. Experience probably has much to do with her flair as well. After graduating from San Diego State University with her Teaching certification and a degree in Theater Arts (Hon.) English minor in 1989, she was headed for a high school teaching stint but ended up getting cast instead as a Kid's Club Host for Fox on the highly-rated television program Fox Kids Club. The show allowed Holliday to hone her performance & leadership skills on some of the toughest guests around-young children and animals-while simultaneously writing and producing her daily show.
Since moving to Los Angeles in 1993, Holliday has performed in National Television commercials for SBCGlobal, films such as (Naked Gun 33⅓) and television shows (Friends, The Dating Game, World's Funniest), on stage (Funny Girl, Hello Dolly, West Side Story) and as a stand-up and sketch comedian (The Comedy Store, IGBY's, Ha Ha Café, The Improv and various other Showcases throughout Los Angeles).  She has also worked as a Clown, and balloon artist at local theme parks, as well as being the CO-Creator of Uncle Clyde's Comedy Contest, and Survival of the Funniest and many other reality and comedy show pilots.
It is going to be an AMAZING night of fun and laughs and the best part? It's for a good cause. So come join us for one of the funnest things to do in Guanacaste. We can't wait to spend another great night with you all at The Garden Bar.
COME ON DOWN BABY!  IT'S GOING TO BE A LOTTA LAUGHS
Michael Simons
Tags: Charity Costa Rica, Comedy Playas del Coco, Costa Rica Lifestyle, Life in Costa Rica, playas del coco