Tank Tops Flip Flops Newsletter edition no. 57
You know me by now; I am always up for a good party!  So when the V.P. of a major Real Estate brand asked me to tag along with him to Nicaragua for a meeting, it was a no brainer.  COUNT ME IN! I figured a couple days of drinking Tona beer would be good for my system; a little liver cleansing.   Besides, I have been hearing how "cheap" it is compared to Costa Rica, and I needed to check it out for myself. It has been ten years since I was last there, as I am a Permanent Resident of this amazing little country, and so I haven't needed to leave to get my passport "stamped."  I decided that I would invite my entire office, and make it a little team building adventure, so we closed all three offices for two days, secretaries and all, and we headed North.  

The Tico Tour van picked us up at 6 am, just outside my Playas del Coco office, and off we went, stopping in Liberia first for a little typical style breakfast.  There is this incredibly cool little restaurant, just next to McDonald's called the Bramadero, and it is one of my favorite spots to eat, when I have to get my tires rotated or my oil changed.  To be honest with you, I wasn't sure how he would handle 21 meals at one time, but God Bless his heart, he got it done.  I can truthfully say, that I ADORE gallo pinto, the local beans and rice, especially when you roll it up in a homemade flour tortilla, some Costa Rican Natilla (sour cream), farm fresh scrambled eggs and a little Lizano green sauce, the local flavoring for everything.  Toss in a glass of fresh squeezed fruit juice, some fried plantains and a cup of rocket java coffee, and we were ready for the ride.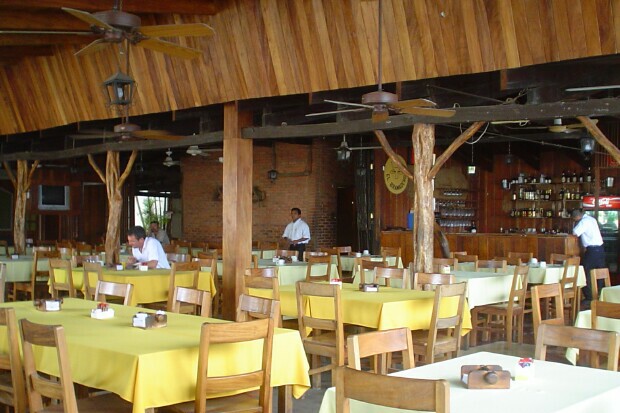 It is impossible for you to completely imagine what a border crossing is like, between two Latin American countries, if you have never experienced it firsthand.  About 5 miles before the gate, is the back of the line, as hundreds of 18 wheelers, NICA buses and cattle trucks, sit and wait for that magical green light to cross.  There are actually bicycles with bench seats in the front, similar to Vietnamese rickshaws, except backwards, because so many people get frustrated and want to cut to the front, leaving their vehicles and paying the young man for a ride.  Fortunately for us, Louis, our driver, was fearless, and he proceeded to enter the lane of oncoming traffic, and methodically plotted his way to the front, occasionally having to enter the far left culvert ditch to avoid a head on collision with Costa Rica bound traffic.  Aside from the occasional "friendly" gesture with the middle of some trucker's five fingers, we arrived at the Immigration office, ready for the next experience of a lifetime.  You pay $13 in an exit tax, at this little road side stand, and then proceed into the customs building, which is very similar to the airport lines when entering by plane.  I have been told that the later you are in the day, the longer the line and the more difficulty it is, so I was beyond thankful that we were there at the exact moment the windows opened.