Tank Tops Flip Flops Newsletter edition no. 57
You know me by now; I am always up for a good party!  So when the V.P. of RE/MAX asked me to tag along with him to Nicaragua for a meeting, it was a no brainer.  COUNT ME IN! I figured a couple days of drinking Tona beer would be good for my system; a little liver cleansing.   Besides, I have been hearing how "cheap" it is compared to Costa Rica, and I needed to check it out for myself. It has been ten years since I was last there, as I am a Permanent Resident of this amazing little country, and so I haven't needed to leave to get my passport "stamped."  I decided that I would invite my entire office, and make it a little team building adventure, so we closed all three offices for two days, secretaries and all, and we headed North.  

The Tico Tour van picked us up at 6 am, just outside my Playas del Coco office, and off we went, stopping in Liberia first for a little typical style breakfast.  There is this incredibly cool little restaurant, just next to McDonald's called the Bramadero, and it is one of my favorite spots to eat, when I have to get my tires rotated or my oil changed.  To be honest with you, I wasn't sure how he would handle 21 meals at one time, but God Bless his heart, he got it done.  I can truthfully say, that I ADORE gallo pinto, the local beans and rice, especially when you roll it up in a homemade flour tortilla, some Costa Rican Natilla (sour cream), farm fresh scrambled eggs and a little Lizano green sauce, the local flavoring for everything.  Toss in a glass of fresh squeezed fruit juice, some fried plantains and a cup of rocket java coffee, and we were ready for the ride.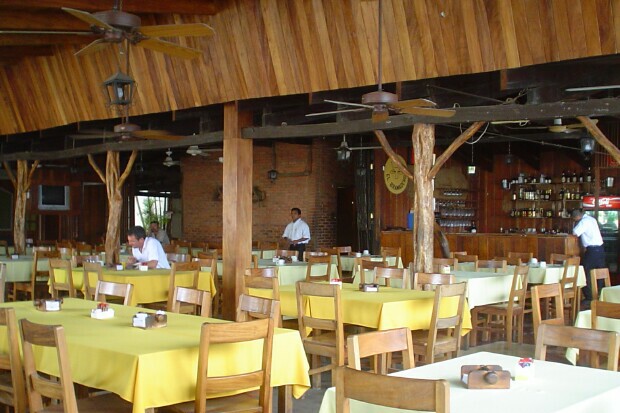 It is impossible for you to completely imagine what a border crossing is like, between two Latin American countries, if you have never experienced it firsthand.  About 5 miles before the gate, is the back of the line, as hundreds of 18 wheelers, NICA buses and cattle trucks, sit and wait for that magical green light to cross.  There are actually bicycles with bench seats in the front, similar to Vietnamese rickshaws, except backwards, because so many people get frustrated and want to cut to the front, leaving their vehicles and paying the young man for a ride.  Fortunately for us, Louis, our driver, was fearless, and he proceeded to enter the lane of oncoming traffic, and methodically plotted his way to the front, occasionally having to enter the far left culvert ditch to avoid a head on collision with Costa Rica bound traffic.  Aside from the occasional "friendly" gesture with the middle of some trucker's five fingers, we arrived at the Immigration office, ready for the next experience of a lifetime.  You pay $13 in an exit tax, at this little road side stand, and then proceed into the customs building, which is very similar to the airport lines when entering by plane.  I have been told that the later you are in the day, the longer the line and the more difficulty it is, so I was beyond thankful that we were there at the exact moment the windows opened.  

It only took about 30 minutes, to get through the line, and back in the van, and we started to enter, what is known as NO MAN'S LAND.  This is the 100 yards where you aren't officially out of Costa Rica yet and haven't entered Nicaragua either.  Hundreds of workers were lined up at the foot entry, waiting for their OK to cross into their homeland and continue through the process.  One of my agents, who unfortunately attempted this during the Christmas holiday, told me that it took her and her husband over 6 hours to make this trek across the same distance that Eli Manning can cover in 90 seconds against the New England secondary in two different Super Bowls.  Boom!!! Sorry about that Patriots fans, the truth hurts LOL!!!!  Overall the Costa Rican side of the border was clean and organized, considering how many people were trying to cross.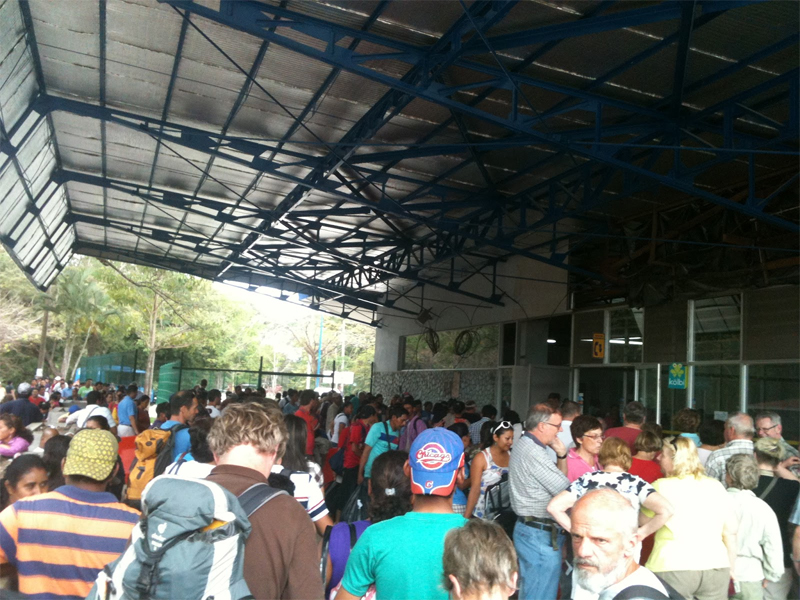 Now this is where the fun begins. I assumed, which was a stupid thing to do, that the other side of the border would be basically the same scenario.  Pay a small fee, stand in a line, and get waved on through to continue to our meeting. Wow, was I wrong and in for a serious surprise.  First off, as you drive across into Nicaragua, your van has to go through some sort of a mandatory insecticide spraying, where this poor fellow in a rubber suit and gas mask, shoots some kind of chemical all over the outside of your vehicle.  The only thought I had, aside from the fact that he looked like Bill Murray in Ghostbusters or Caddyshack, was "Thank God the windows are closed, or we would be dead from asphyxiation." Just after this, we are directed into a waiting area, where a border inspector enters our vehicle and checks our passports.  As our van door opened, you could hear the stomping of his boots, as this military officer clomped up the 3 or 4 steps into our little sanctuary.  We are DEFINITELY not in Kansas anymore Toto.  You see, Costa Rica has no army, and after living here for 11 years, I have gotten used to not seeing one single machine gun or military uniform.  So it is a tad overwhelming, when a man with an M-16, Green Beret type outfit and a combat helmet demands to see your identification.  He was actually quite nice, but it still left a bitter taste in my mouth, that I won't ever soon forget.  As you can imagine, my office is a reflection of myself, so I was very happy when nobody opened their pie hole and cracked some smart ass remark that might have landed us in the barracks before we ever got to where we were going.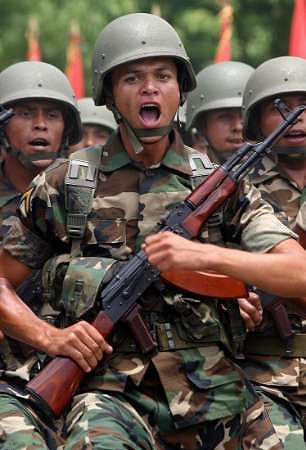 Well, this must be it, I thought, we can now be on our way; Hilarious, and completely WRONG.  We were then directed to another area, where we were told to park our van, exit the vehicle and turn over all our passports to another immigration officer.  The guy that took our IDs was barely old enough to drive, and I had this vision of him never returning them, selling them to ISIS and being stranded in this cesspool like Tom Hanks in the movie The Terminal.  Imagine a giant truck stop, in the middle of a jungle, with pools of dirty water and piles of trash.  It is 95 degrees, stray dogs, flies and mosquitoes everywhere and a stench that borders on the smell of vomit.  There are hundreds, maybe even a thousand people, all walking around, either begging or selling, like something out of Bangladesh, with 4 brand new air-conditioned Duty Free buildings for your Rum purchases convenience; Scary man.  There was the family of midgets selling some kind of corn bread thing in a plastic bag; a blind man with a cup, bumping into people groaning for change; a paraplegic in a wheelchair, being pushed around by his mother, with little pieces of paper telling how they haven't eaten in weeks.  Every 30 seconds, some guy was shoving a hammock in my face, trying to convince me of its quality construction, while jewelry peddlers persisted and old ladies hawked wood bowls, and ceramics.  There was every type of food for sale, although I recognized very little of it, and even the Playa Hermosa Cashew guy; I now believe him when he tells me that his family grows them in Nicaragua and he has to go through hell to get them into Costa Rica to sell.  There were also about 20 old men rolling ice cream carts, selling squished and melted push up cups with flavors that don't even exist outside of this little Bazaar.  And then the banker comes through! You know when you travel through an airport; there is the money exchange, where you can turn in your dollars for Colones or Cordobas or whatever currency the country uses where you are flying?  Well at the Nicaraguan border, they are doing it right there in the muck. These dudes have on these little black visors, like Poker Dealers in Vegas, and they are waving what looks like and amount to probably tens of thousands of dollars, each one adamant that their exchange rate is better than Jose's.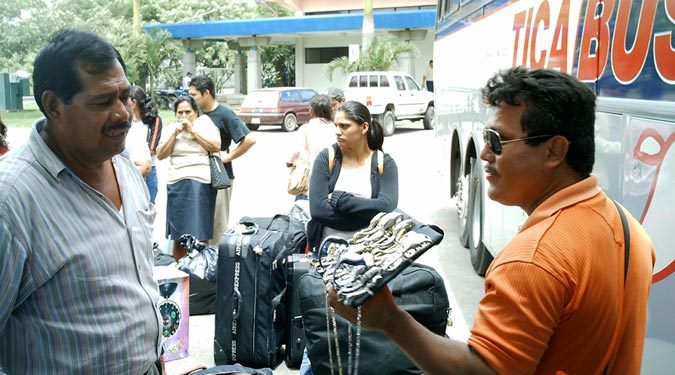 "Where the hell is that idiot with our passports?" I kept thinking; I can't stand another minute of this!!!!  I was literally going insane.  I looked at my right hand man Joseph, as we both rolled our eyes, and thought to myself "I will NEVER do this again for any amount of money." I could have killed the V.P. Ricardo LOL.  As we were waiting, for what turned out to be over an hour and a half, a dozen buses rolled through the station, and every single passenger was required to get off.  They had to grab their individual bags, go up onto a loading dock, and have the immigration officer hand search each suitcase.  What a bundle of fun huh?
You read all the time on the internet, "Why would you become a resident? Just do the borders run every 90 days, no big deal?" That gets a chuckle out of me every time.  First off, it is very easy now to become a resident.  The ONLY people who would not, cannot, because after seeing this ordeal, I couldn't imagine having to do this every 90 days.  Of course, while we were waiting there, buying Chiclets and fried chicken, I saw at least 20 of the local Coco gringos making their tri monthly trek, that zombie look in their eyes, knowing that deep in their heart, this is not the way to go through life.  I truly felt sorry for them.
Finally, after what seemed like an eternity, we got our passports back, having paid the three dollar entry fee, climbed back on the bus and continued on our way.  FOR SURE, I thought, this is the end of it, and we will be in San Juan del Sur in no time.  NOT!!!!  We weren't a mile up the road, and sure enough, another military check point.  This time, there were tanks, and jeeps, all loaded on top with huge ass machine guns, and dozens of scary looking guys, and they instructed us to stop and allow them to board.  This time, the officer actually walked down the aisle, physically staring at each person on the bus, making them remove their sunglasses, so he could verify their picture on the passport.  And to think you can just walk across a river into the United States of America and our President doesn't even seem to care.  When it is harder to enter a third world poverty stricken country, that just 30 years ago was submersed in a communist Civil War, than it is the most powerful nation on the planet, I think it is time for a real change.  What do you say?
The first thing you notice about Nicaragua, after the military and the border fiasco, is the poverty; Extreme poverty. Coming from Costa Rica, we really don't see much of that, as it has one of the largest middle class in the world. Yes, compared to the USA or Canada, the homes are very simple, but they are not poor.  In Costa Rica, you see satellite dishes on every house, cars, scooters and new bikes in the driveway, and every home is super clean, even the most basic dwellings.  There are 4 Million people in the land of Pura Vida and there are over 3.6 million cell phones.  Everyone has access to internet and the school system is some of the best in the world.  People feel; no they KNOW, that they have an opportunity to better themselves and their family through hard work and education; But not in Nicaragua.  Every house we saw was nothing more than a wood shack, held together by hundreds of small boards and pieces of scrap metal.  The sides of the road, the ditches and every front yard, was littered with piles of trash and mud, and most of them did not have running water or even electricity.  But the one thing everybody noticed is that the people were not smiling.  Everyone smiles in Costa Rica.  The majority of Nicaraguans truly have very little hope, and it shows in their faces when they stared at the bus going by.  It was very sad.  There is no way I could live surrounded by such sadness and poverty, and obviously crime is a major concern.  When we finally arrived at the hotel, the woman was very adamant that we should keep our doors locked, be very cautious when walking down the street, and be aware of our surroundings and who is following us at all times.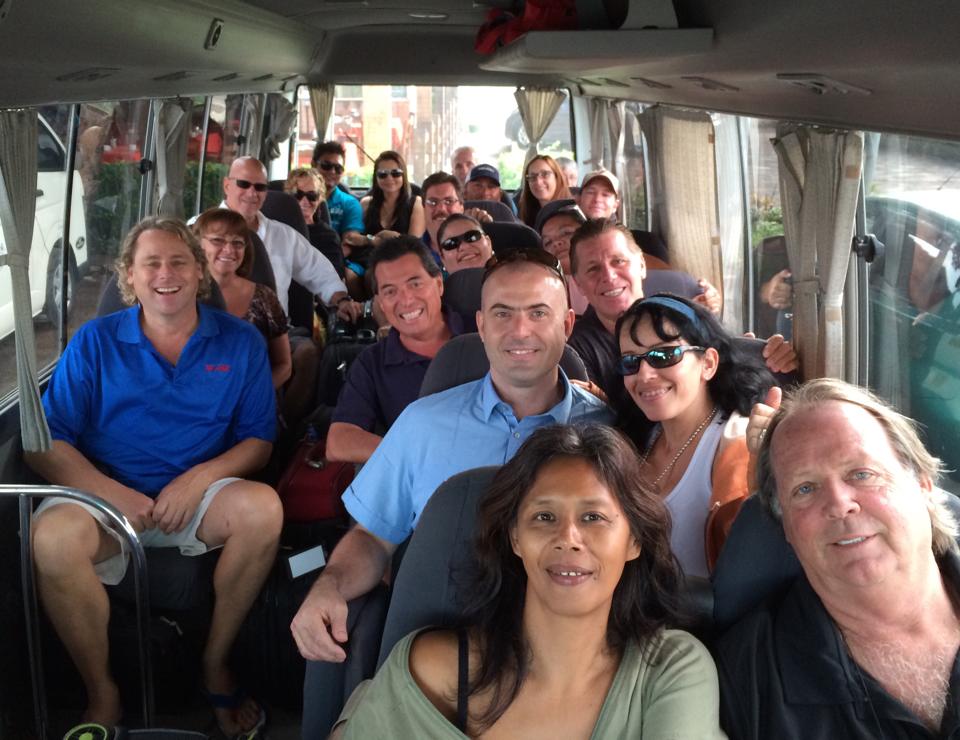 The town of San Juan Del Sur, reminded me of Playas del Coco 16 years ago, when I came on my first trip, an adorable little fishing village. The electricity went out 4 or 5 times throughout the day, there were pot holes the size of small golf carts and everywhere we went they were sure to remind us to drink bottled water only.  As we were walking down the side walk, we came up to a hole that literally could swallow up a school room of children, if you happen to fall in.  There was no rope or caution sign, just a 10 foot long gap in the concrete, and the bottom was 6 or 7 feet deep.  If you weren't paying attention, you could cause yourself some serious damage. As we spent the day wandering around, I found myself trying to imagine if I could live there.  Other than a few quaint little restaurants and bars, there was absolutely nothing to do except drink, and there was no shopping of any kind.  In Coco we have 5 grocery stores alone and 3 or 4 pharmacies, yet this little town only had a small Pulperia about the size of a 4 car garage.  I didn't see any retail stores of any kind, except for your typical tourist T-shirt shops, no nice salon or spa, no gym, and there wasn't even a place to get your car repaired or purchase new tires.  We stopped at this great little beach front restaurant for lunch, and as is always in Latin America, we had an amazing plate of fish and vegetables, probably caught at 6 am that day.  But after hearing for so long how cheap it was, I was not at all impressed with the prices on the menu.  The meals were maybe only a dollar or two less than Costa Rica, and the beers were a buck instead of a buck and a half; Big deal.  I absolutely believe that when you look at all the options, check all the boxes on the list, Costa Rica is still an incredible bang for your buck.  Maybe in 20 years, San Juan Del Sur will catch up to where we are now, but truthfully, I don't have that long to live and I don't have that much time to wait.  I want to enjoy my life NOW.  I guess if you are on a VERY limited budget, then this place might be for you, but anyone who has worked hard their entire life and accumulated any financial resources of any kind, would never pick this place over Costa Rica.  It is a great place though for smelly young surfers, willing to live in a $10 per day hostel.  We also commented that we had not seen a hospital or a clinic of any kind during the entire stay in Nicaragua; there were no mall or shopping centers, like we have in Liberia, and all the animals had vanished.  Unfortunately, either because of the war, or the poverty, most of the monkeys and Iguanas had either been killed or eaten; Very sad.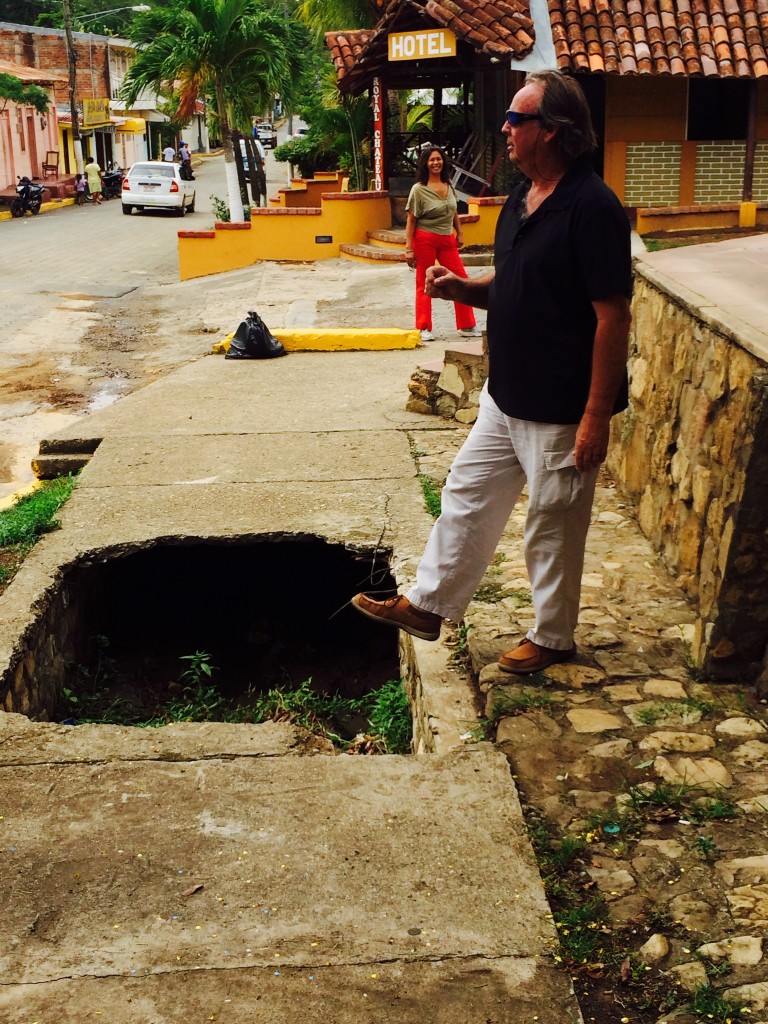 We had a fantastic meeting, the RE/MAX office there were exceptional hosts, including a sunset BBQ and a night on the town. We spent the next day on a gorgeous sailboat, floating in the Pacifico Ocean, before jumping back on the bus and heading home that following afternoon. We did all notice, though, the San Martin meat truck driving through town, which is the best cut of beef in Latin America. We have a location just outside the Liberia airport at the Solarium shopping complex; INCREDIBLE!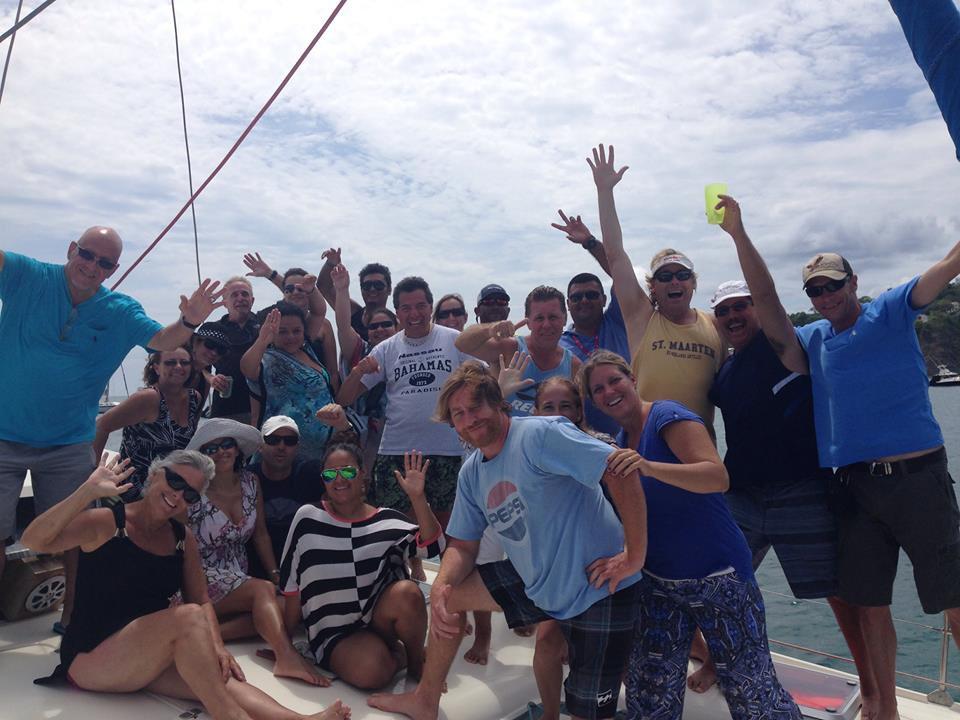 As we approached the border on our return trip back, we were optimistic that it couldn't be nearly as bad leaving, as coming, and we kept our fingers crossed that we would get through in a reasonable amount of time. Unfortunately, we were wrong again, and it took another 90 minutes to sort through the madness and work our way over the border.  This did allow us time, though, to attack the duty free, where we all loaded up on Flor de Cana 7 Anos, each person is allowed 5 liters.  Trust me when I tell you, we maxed out that allotment and the aisles of the bus were stuffed with cases of booze.  Rum and steaks, the only two things that Nicaragua has better than us, we all laughed and joked.  As we entered our spectacular little country, it was like night and day, as the beggars vanished, streets were clean, and not a machine gun in sight.  The funny thing is that CR should be spraying the buses coming back, not the other way around, yet they just let us right on through.  I would be way more concerned that we were carrying something from that country, but we just shrugged it off and kept on trucking.  It took about 25 minutes to go through the customs line, stamp our passports and get back on the bus, the agents were very friendly and everyone was smiling. The bathroom was spotless clean and there were at least a half a dozen little restaurants and stands where you could buy tourist items or food, but no one was shoving something in my face, pleading for me to buy it.
About 10 miles outside of the border, there was a check point, and the van was required to stop. This is where the Immigration police look to see if any illegal Nicaraguans had managed to get across the border, and onto a bus or truck. As the policeman entered the bus, we all had our passports ready, assuming it was going to be similar to the stop we had encountered on the other side of the border. The man, who by the way, wasn't even carrying a gun, just climbed into the bus, took one look around, smiled and waved and said Bye Bye. "Bye Bye" we hollered back, "PURA VIDA!" As we came into Liberia, and saw the lights of the town, I had this overwhelming feeling of how lucky I was to live in this paradise. We saw first world stores, infrastructure, restaurants and shopping centers, and there was even a brand new grocery store that was celebrating its Grand Opening. How exciting to see additional progress. It had been 10 years since my last visit north, and I can pretty much guarantee I won't be back for at least another 10 as well.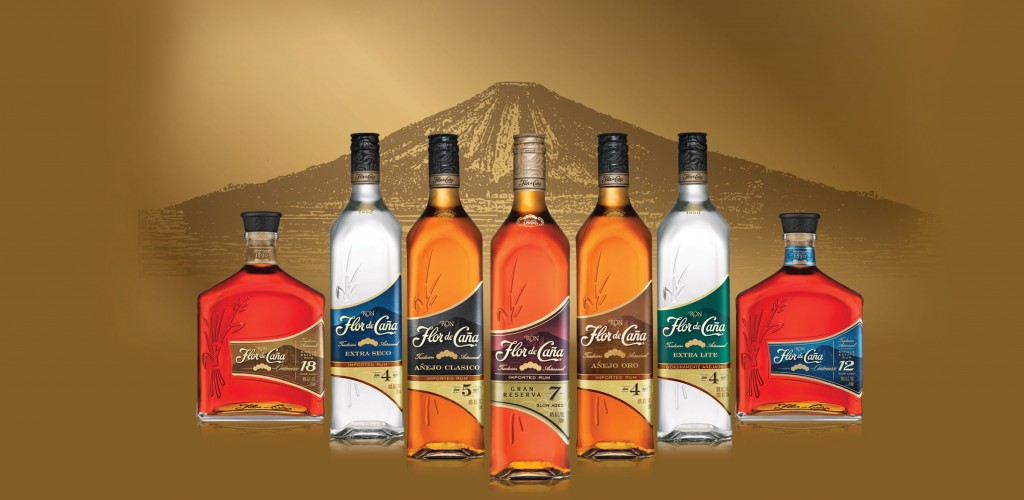 The wife of one of my agents gleefully shouted out "If you didn't appreciate Costa Rica before, you definitely will now." Amen to that sister, Amen to that!!! I am so glad to be home.
Hope to see you soon.
Pura Vida
Michael
Tags: Costa Rica Adventures, Costa Rica Lifestyle, Life in Costa Rica