EXPATS in Paradise – Mango Baby Beach Rentals
EXPATS in Paradise – Mango Baby Beach Rentals

John and Rebecca Murray were a typical young family coming out of the Pandemic.  They grew closer as a family while being confined to close quarters and when the world started to open up they began to reevaluate their situation.  John did not want to continue traveling for work a few days a week and the thought of putting their kids back in daycare so Rebecca could return to the office was not appealing either.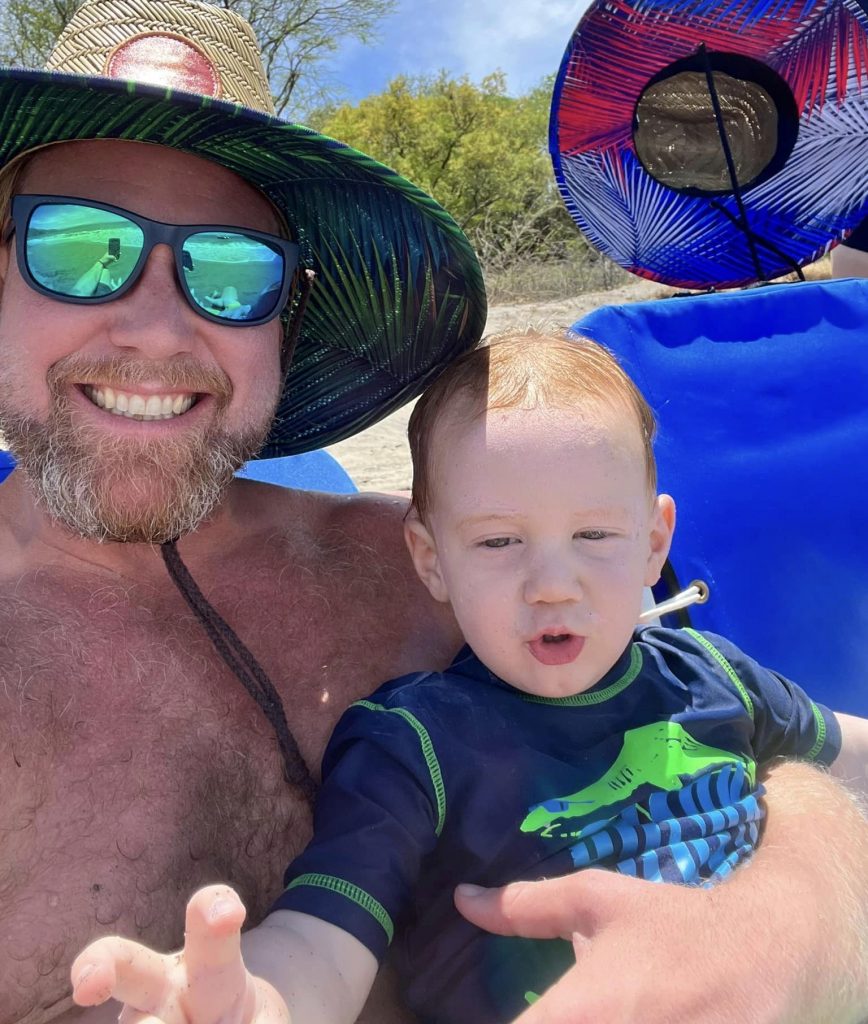 So at the a drop of a hat they basically sold everything they had in the United States and moved to Costa Rica.  Their plan was to do a year "Sabbatical" and see what happened after that.  Those of us that have made our lives down here in paradise all know that those were famous last words.  Sure enough, within months, they had fallen in love with the Papagayo Area and settled on a nice home in Playa Hermosa, Guanacaste.  
Tank Tops Flip Flops Newsletter edition no. 223
Why are we telling this story here?  First of all – It is amazing that a family with 3 young kids could move to Costa Rica without ever having been here.  And second – Both John and Rebecca left successful careers without a moments hesitation in search for a better life for themselves and their growing family.  It is important to note that many people came out of the pandemic saying they wanted to make a change in their lives and lifestyles but never did!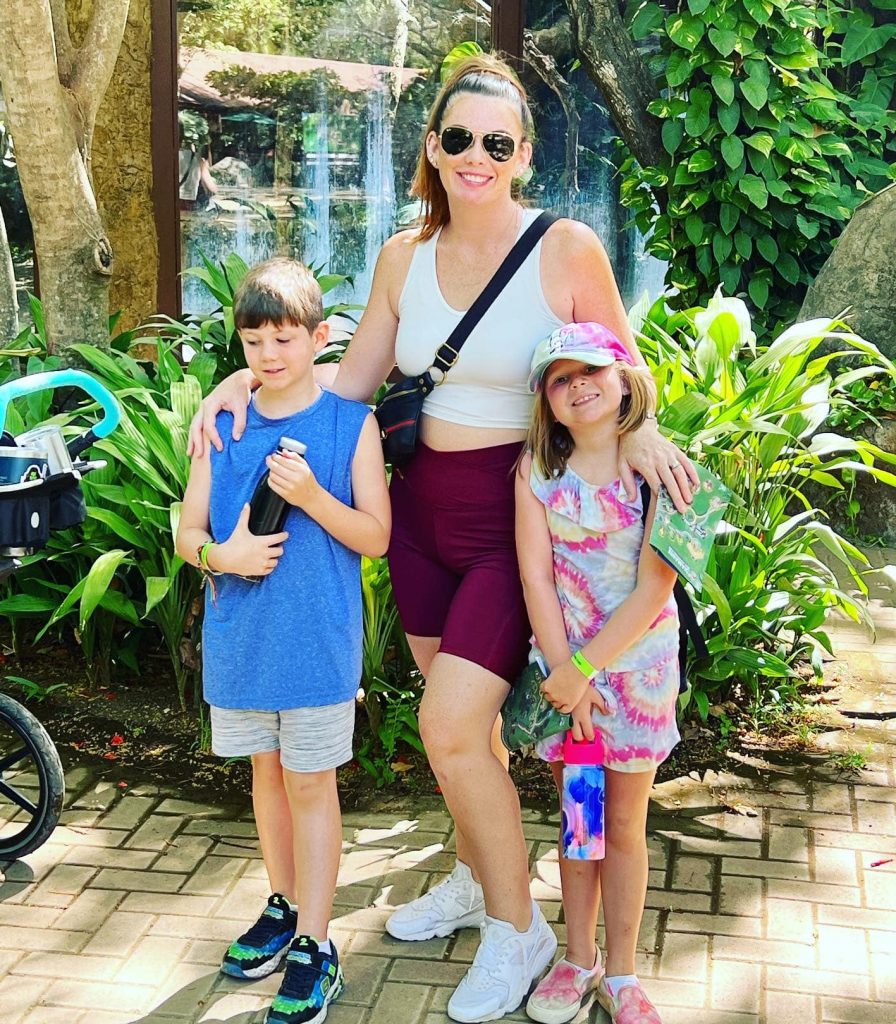 So congratulations are in order for John and Rebecca who took the leap and have not looked back.  They serve as a perfect example of what is possible if you are willing to take the first step.  You definitely wont regret it.  You can always move back to your life in North America…
Check out this video where they tell us how they made the decision to come to Costa Rica and why they stayed.
As is the case with many young couples trying to decide if it makes sense to uproot everything back home and move to a new country one of the main questions is how will I make a living.  Once John and Rebecca knew they wanted to stay in Costa Rica they started thinking of different business ideas.  As is the case with most entrepreneurs, many new businesses are spawned from a problem they encountered and worked on a solution to solve it.
When the Murray's first came to Costa Rica in what they thought would be a temporary basis they immediately realized there was really nowhere to rent gear for babies.  Strollers, Cribs, car seats, you name it.  Since they had not originally planned on staying permanently they did not go through the hassle to bring all these large baby items and on past trips to other destinations had encountered rental options that served their needs so they really never thought about it until they needed it.  So being good red blooded North Americans they immediately came up with the idea to provide Baby Gear rentals to vacationers coming to Costa Rica and Mango Baby Beach Rentals was born.
They have since branched out and now provide rentals for all sorts of beach activities.  For Baby Gear you can rent single or double strollers, cribs and mattresses, car seats, baby gates, portable bath tubs, baby seats and my favorite – Baby monitor Cameras.  You can rent a whole slew of beach equipment including coolers, beach chairs, tables and umbrellas and body boards along with a collapsible beach wagon to get everything smoothly to your favorite beach.  You can save if you rent one of their bundles.  They are now partnering with different companies to also provide sunglasses and sunscreen for sale with new items coming all the time.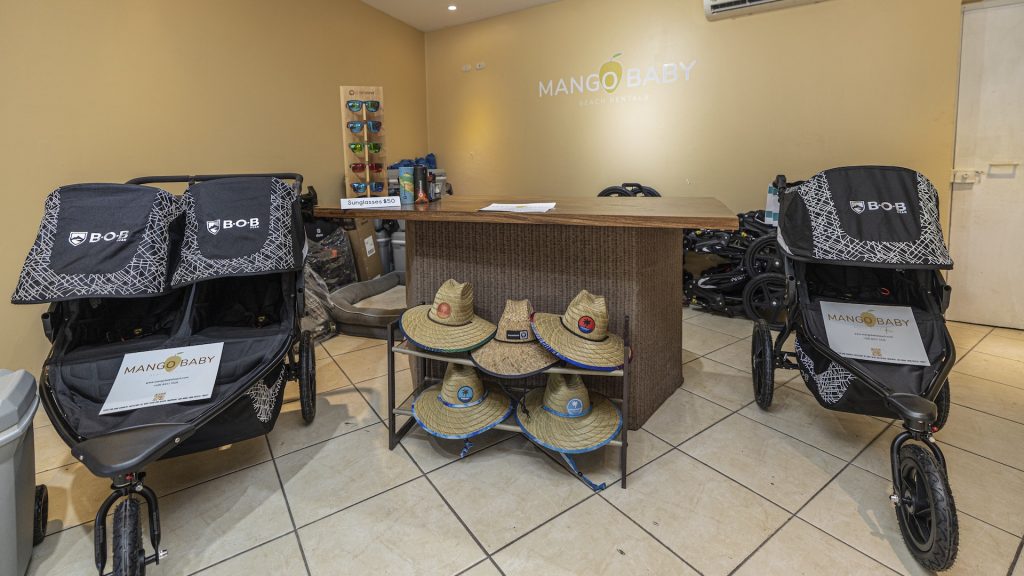 Check out their website here for more details www.mangobabybeach.com
As we have said for many years, the Papagayo Region is wide open for entrepreneurs who just have to look at what service is not being filled, make a plan, deliver a good product on a consistent basis and you will succeed.  You don't have to come up with some new fangled invention, just take a look around and you will see multiple opportunities that are waiting to be executed on.
Have a look at this video to get some insight on how John and Rebecca started Mango Baby Beach Rentals.
As you will find out when you meet John and Rebecca, they are super friendly and definitely go getters who don't let moss grow under their feet.  But even they admit that it was extremely important to have an ally on their side who could advise them on the myriad of issues that come up when moving to or starting a business in a new country.  As anyone who knows Michael Simons and the whole team at Tres Amigos Realty Group, finding a property is the easy and fun part of the process.  The real value comes after the sale when you have a trusted adviser who will not only give you contacts to everyone in the area and guide you to avoid costly mistakes, but will help you in any way they can to make your adjustment to a new life easier.  In the end we want great people to come down here and share this paradise with us.
So not sure what you are waiting for.  If a young family with 3 kids can come down here without a second thought then you certainly can figure out a way to carve out a little piece of paradise for you and yours.

COME ON DOWN BABY!
Tags: Costa Rica Dream, Costa Rica Lifestyle, Costa Rica Residency, Life in Costa Rica, Working In Costa Rica