A DREAM BECOMES A REALITY – TANK TOPS FLIP FLOPS TRADEMARK
A DREAM BECOMES A REALITY  
TANK TOPS FLIP FLOPS TRADEMARK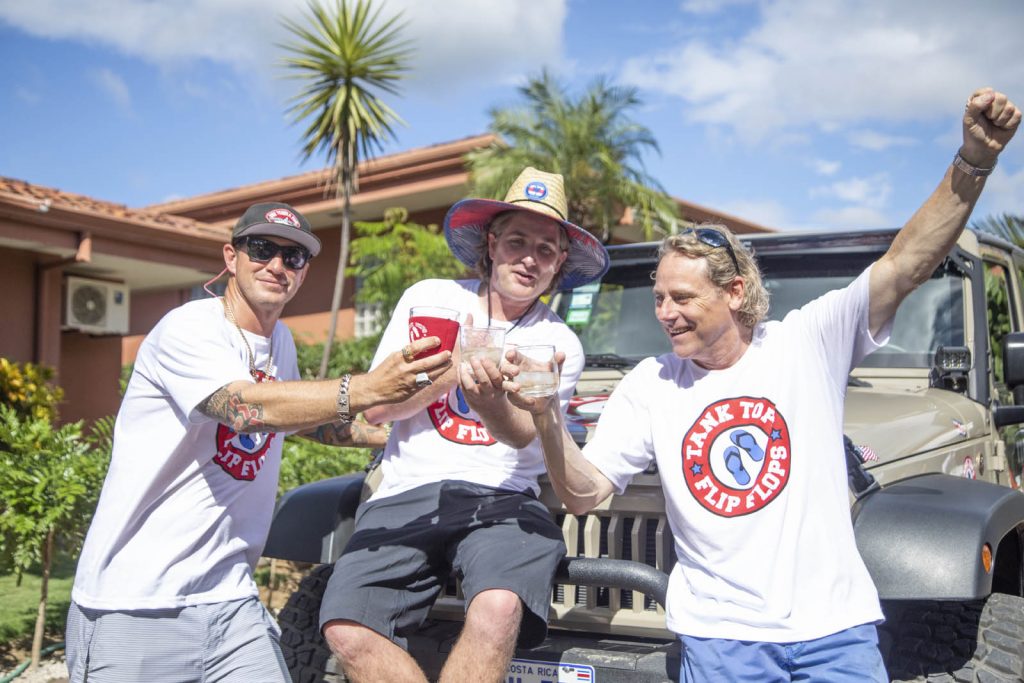 I spent a good portion of my 20s and 30s driving across and around the United States of America. I have been in almost every state and major city, and I have visited practically every single baseball, football and hockey stadium in the country: Fact. So, I had a lot of time to come up with some wild ideas. As my friend and I were driving through an ice storm one day, I distinctly remember looking at him and prophetically stating how I would ultimately live.
"I just want to spend the rest of my life wearing nothing but Tank Tops and Flip Flops dude!"
BING! This light went off in my head, and that is exactly how everything started. For the next couple hours, we spoke about opening a bar, in a place where palm trees lined the beaches. We came up with dozens of killer ideas for t shirts, beach clothing and even doggie wear; and how we would traverse the globe promoting our brand. We were even going to get two Labradors to come with us and model the gear. One would be named TANK TOP and the other FLIP FLOP and I knew I had a billion-dollar idea at my fingertips.
Then one day in 1999, I realized how many people I had told this to, and I started to panic. Someone was going to steal my idea and make it their reality. So, I reached out to a friend in California who was an attorney and we started the process to Trademark the brand and the name. I was granted the first phase of the process, but still had to prove that it existed and it was being used.
Fast forward twenty years. TANK TOPS FLIP FLOPS was real. It was a charity brand, here in magnificent Costa Rica. We were selling thousands of shirts a year and raising tens of thousands of dollars for local charities and community food drives during COVID. You could not walk down the streets of Coco without seeing dozens of people every day wearing our digs.
You can read the entire story here.
About Us – Tank Tops Flip Flops Merchandise
And also the previous newsletter about the BIG PICTURE.
Tank Tops Flip Flops Tank Tops Flips Flops: The Story and The Big Picture | Tank Tops Flip Flops | Learn about Living in Costa Rica
Now I could prove it was legitimate, I thought. Well, like everything in life, it is not as easy as it sounds. I hired one of the best law firms in Miami to spearhead the operation. We were denied a couple times, as they said there were inconsistencies in our idea. So, we went to work. We made sure every shirt had the official and standardized logo; we found locations to sell our shirts; we started an online store; we made sure to blast the internet with photos and videos; and I even bought a custom Jeep, shipped it from Arizona, and smothered it with the logo. We resubmitted again.
WHY DID YOU START TANK TOPS FLIP FLOPS?
Then COVID hit. For almost a year, we sat biting our nails, as most government agencies were locked down in Washington D.C. I was started to get really nervous that my dream was going to be shattered.
Then finally, in December of 2020 we were granted the elusive, and so hard to obtain, OFFICIAL TRADEMARK OF THE UNITED STATES OF AMERICA. The original documents and paperwork finally arrived in my hands a couple weeks ago. They are locked up tight.
Thank you to everyone who has supported our charities and our food drives, and who continue to do so to this day. None of this would be possible without your generosity. Please continue to pursue us and donate whenever you can, as so many wonderful Costa Ricans are counting on us.
If you want to FOLLOW our exploits, please LIKE and SHARE our FACEBOOK page.
Tank Tops Flip Flops | Facebook
Hope to see you soon.
Come on down baby!
Michael 
PS – If you ever need a PATENT or TRADEMARK attorney, I highly recommend Melissa Bernheim of the Zarco Law Firm in Miami. She was on top of our file from Day One, and worked tirelessly to make sure we accomplished our goal.
THANK YOU, Melissa, for all your hard work, you have truly helped make my life's dream become a reality.
(305) 374-5418
Tags: Charity Costa Rica, Costa Rica Adventures, Volunteering in Costa Rica