Mr. President Please Open the Airport!
Mr. President Please Open the Airport!
June 18, 2020 – Palmira, Carrillo, Guanacaste, Costa Rica.
It has been about 3 months since we have been working with the local communities, volunteers and your donations to provide much needed food and supplies to the most needy families in our little corner of paradise.  So what changed this time?  Well being good capitalists and knowing that it is not good for anyone to just receive handouts and not do something in exchange we decided to require every town who got aid to clean up their streets on the day we deliver them aid.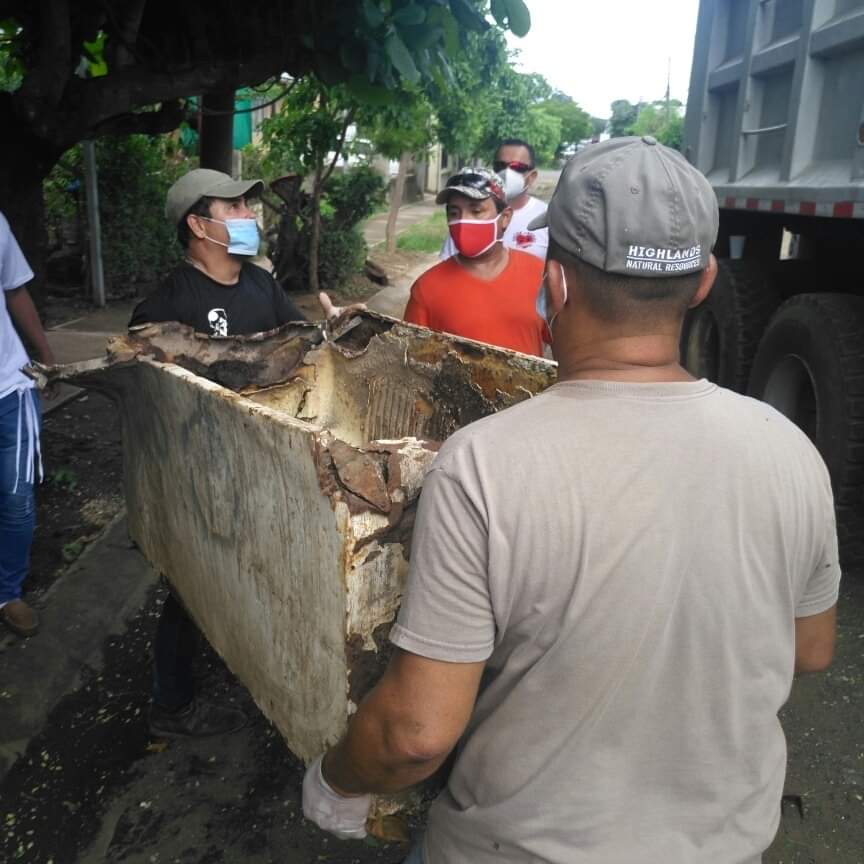 So here is what happened – and it is not what you would expect…  We had previously identified 53 families in the community of Palmira that were in need of food and supply packages.  And we told them that everyone who was on the list to get a package had to come out in the morning and help do a street and yard clean up.  We partnered with Patas y Manos like always who in turn coordinated the clean up with the assistance of the Municipality of Carrillo.  So instead of the 53 families, over 200 people showed up to not only clean the streets but to clear out backyards of garbage and items that could be a potential Dengue nests.
Tank Tops Flip Flops Newsletter edition no. 162
These people did not just do the bare minimum to get by but went above and beyond and did a deep clean of their little town that now looks immaculate and is free of Dengue threats.  Nobody was embarrassed by getting a handout because they all knew they had earned it and were in fact proud to see their town look so nice.   The Costa Ricans are such a proud bunch and take pride in their community that we should all recognize this as an example that people would rather work for food than just get the handout.  There is no welfare state here and even if there were the Costa Rican culture would not allow them to fall into that trap.  The world should learn from this peaceful little nation in our little corner of pura vida land.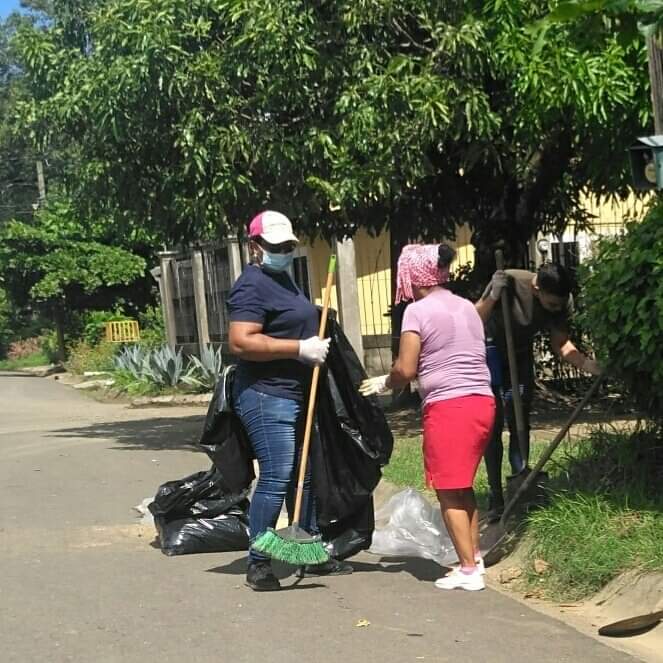 From now on wherever we deliver aid packages they will be giving their towns a facelift before we arrive.  WAY TO GO TICOS!
Below is a video where Amy Lentz of Patas y Manos talks with the Mayor of Carrillo Municipality about the days events.  Here is a rough transcript of the video:
Amy Lentz – Good morning, we are here in Palmira, Guanacaste with the Mayor of the Municipality of Carrillo, Carlos Cantillo. We are doing a community clean up event in conjunction with a food drive in partnership with Patas y Manos, the Municipality, Tank Tops Flip Flops and the community of Palmira. We went through the entire community picking up all different kinds of garbage in an effort to clean up the image of the town and at the same time lift the spirits of the community. The cleanup effort not only makes the town look great but also combats the spread of Dengue. Thank you very much to all the volunteers who came today. We had over 200 people come and help today and we will be giving food and supply package to over 50 families in need. Thank you to the Mayor of Carrillo for loaning us their dump truck so we could haul all the garbage away.
Carlos Cantillo, Mayor of Carrillo – Thank you very much to Patas y Manos, Tank Tops Flip Flops and to all the private donors. It is great to see the local townspeople helping themselves by cleaning their community and seeing all the donations coming in from local private companies and individuals. This is a great help and benefit to the entire community.
If you want to see more of the clean up here are the facebook live videos from Patas y Manos:
We are so incredibly proud of all the work done by the community and volunteers and immensely grateful to the donors.  But the real problem that is persisting beyond the impact of the coronavirus is the economic impact in the Papagayo Region as a direct result of the tourism industry basically closing down 100% since March.  
We decided to get a feeling for what the people were thinking and what they thought should happen.  Of course everyone is grateful for the kind donations to help them feed their families, but, to a person, they wanted to know what their government was going to do about the situation.  And overwhelmingly they asked the President of Costa Rica to please open the airport (Liberia) to allow in tourists.  A very good point was made by Carlos Cantillo, the Mayor of Carrillo Municipality – is that many countries around the world, including European countries with many more deaths and cases than Costa Rica have opened up and that we are faced with multiple diseases and viruses that threaten us everyday, not just coronavirus.  He also suggested that we should open up the airport, as long as we follow the now well established protocols to ensure that everyone remains safe.  Guanacaste is so far taking the brunt of the economic impact in Costa Rica due to the coronavirus as it is extremely reliant on tourism.  It is clear that the pressure needs to stay on to maintain vigilant in following protocols but the call needs to be made to open the airports.  How about we use the bubble concept and just open the Liberia Airport to start with?  There is no real need to open the land borders as they are already open for freight transport and the San Jose Airport can open at a later date.
If you understand spanish  – In the following video you will hear the stories of individuals who are all out of work and struggling to provide food on their tables and by and large the only earners in their families.  They are all asking the President to open the airport and allow the tourism industry to restart.  They understand that they cannot survive on handouts forever and they have done their part by staying at home but are now frustrated and are looking for answers.  So far little help has come to them from the government and unlike North America and Europe, the government does not have the ability to print money and give unemployed people handouts.  The only path they see to getting their jobs back is to open the airport and let in tourists.  We all know that there won't be a huge wave of tourists anyway but every little bit counts.  It will probably be the folks who own a home or condo here already or had a trip planned previously to stay in a condo or private home on their vacation.  It will remain to be seen how the government reacts but we feel the need to give the people some voice.
MR. PRESIDENT – PLEASE OPEN THE AIRPORT
Tags: Charity Costa Rica, Costa Rica Tourism, Volunteering in Costa Rica