Tank Tops Flip Flops Newsletter edition no. 42
MISTER Costa Rica!
That's how everyone refers to me now and I actually get a kick out of it.  I returned to Las Vegas last week for the annual  International Real Estate convention, where I see so many familiar faces, year after year, and it never ceases to amaze me how popular our little country is. One of the reasons I go, aside from the party, is to surround myself with some of the most successful people in our industry; the top dogs; the big hitters; because you can never learn enough and can never have too much motivation or knowledge. Many of these agents consistently rank as some of the top producing Realtors in the world and the conference also brings some of the biggest names in business.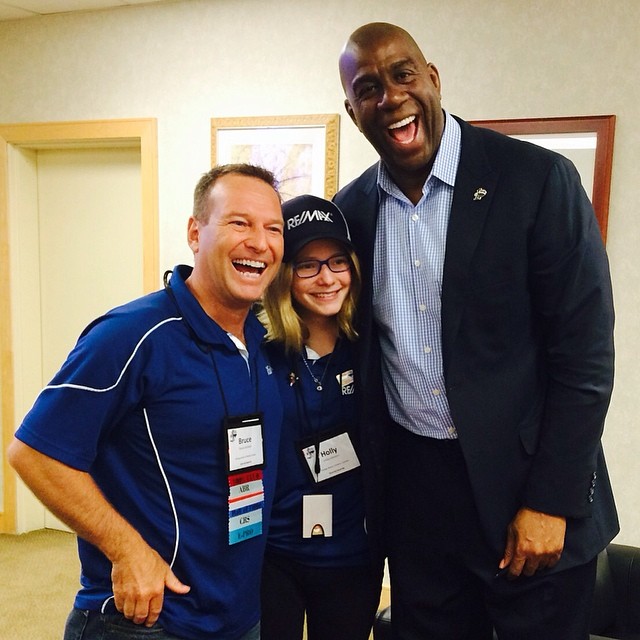 This year it was Magic Johnson, who is obviously well known by everyone, but also two other Johnson's who you might not have heard of before now; Bruce and Holly, who recently completed a fund raising journey to Costa Rica that will completely, blow your mind. Time and time again, the land of Pura Vida seems to make a grand entrance and I get to see it and enjoy it first hand.

It is quite obvious how much I love living in paradise, and I truly feel fortunate to have the life that I do. Each year we have a booth at the Marketplace, where thousands of people pass through every day, stopping at various vendors' tables for the latest in real estate goodies. There are FOR SALE signs, and business cards, mortgage lenders and banks, all showcasing their talents, trying to drum up new business, but Costa Rica always steals the show. EVERYBODY wants to talk to the guys from paradise, living vicariously through our stories. While everyone else is dressed to the nines, in three piece suits and business skirts, we're kicking back with flip flops and flowered shirts, giving out bags of coffee; mixing rum and cokes.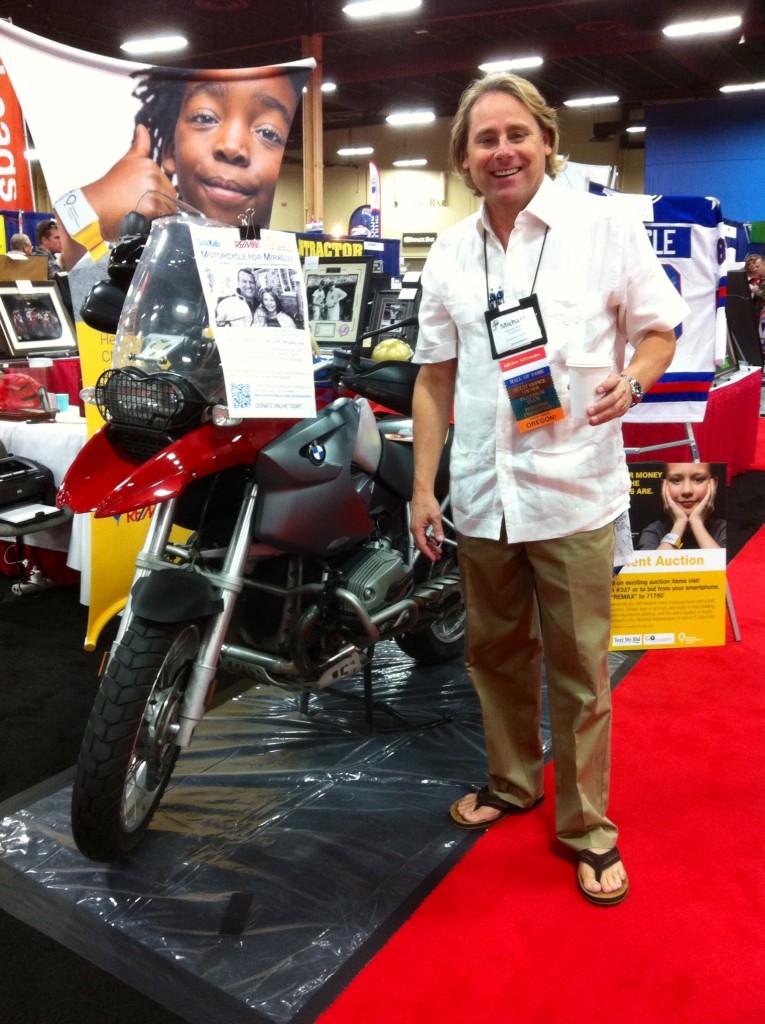 "MISTER COSTA RICA"!!!!!!
They yell, running up and giving me a hug, promising how this is the year they are coming down for a visit. Aside from all the referrals that the agents send us, the best part about this whole gig are the friendships that we make, that will surely last a life time. It seems the more the world goes to hell in a hand basket, the more people want to pack up and head south, to a life of palm trees and Pina Coladas. How can you blame them? Spending a week in Sin City just reconfirms what I already know; Costa Rica kicks ass, and I just can't see myself leaving.

In the 11 years since I first dropped my bags on the beach, our little country has come a long way. Granted, we don't have massive casinos with roller coasters and Ferris wheels, but we have way more adventure for a fraction of the cost. I laugh when I hear people tell me that Costa Rica has become expensive. Compared to what? I ordered a vodka tonic at the casino bar and it was $14. Yes FOURTEEN DOLLARS, for one cocktail. Are you kidding me? I can get completely demolished for the same price back home, having 7 rum and cokes, while sitting on the beach watching the sunset over the Pacific Ocean. And please don't tell me how slow the service is in Latin America; have you tried ordering something at Starbucks here?
The Guanacastecans are like New Yorkers compared to Vegas employees, where it takes 30 minutes to get a cup of coffee. And they are GRUMPY! A burger is $25 and breakfast is thirty, and you're forced to eat it in a smoked filled room, with thousands of bells and whistles going off in your head. I will take the salt from the beach with the peace and quiet of Pura Vida, the chirping of the birds, any time of the week, and you can have your 24 hour café and all night discos. Give me mud baths and hot springs, white water rafting and horseback riding, surfing, diving and sailing, all day long over poker tables or slot machines, Circus Soleil, or Celine Dion.
I want the rain forest over the Rainforest Café, the waterfalls and the volcanoes; not the Bellagio water show or the Blue Man Group and their Fire Show and I definitely love the monkeys swinging from the trees. They might have their showgirls, but they don't hold a candle to our Ticas and I promise you no one has ever seen the stars from their hotel window. I rented a convertible for an evening, to tour around the strip, and it was one of the first things that we noticed, or should I say, didn't notice.  You can keep your four lane highways; I will take our little potholed roads, although I wouldn't mind borrowing the In N Out Burger once or twice a month. Double Double with grilled onions please: and you can call me Mr. Costa Rica!! Personally, I am exhausted and couldn't wait to get back home.
Aside from sensory overload, I can't feel my feet, my legs are rubber and my lower back is toast, having walked what feels like a marathon every day for a week. I am so looking forward to the stroll on the beach with my pack of street mutts, the sound of the waves; the smell of the sea and a nice hour long massage for about 1/6 of the cost at the hotel spa. Yes, Las Vegas has all this great stuff, but it just doesn't feel right. Costa Rica is REAL and once it captures your heart, it won't ever let you go. Ask my friends Bruce and Holly.
On November 17, 1998 Mary Johnson gave birth to an incredibly strong little girl, Alyssa Rae. She was born with a very rare disease called Omphalocele, meaning some organs developed outside her body, and she put up one hell of a fight before she passed away 20 days later on December 6.  They were fortunate enough to have two more beautiful daughters; Holly and Jossy and they continued on forging an amazing life for their family.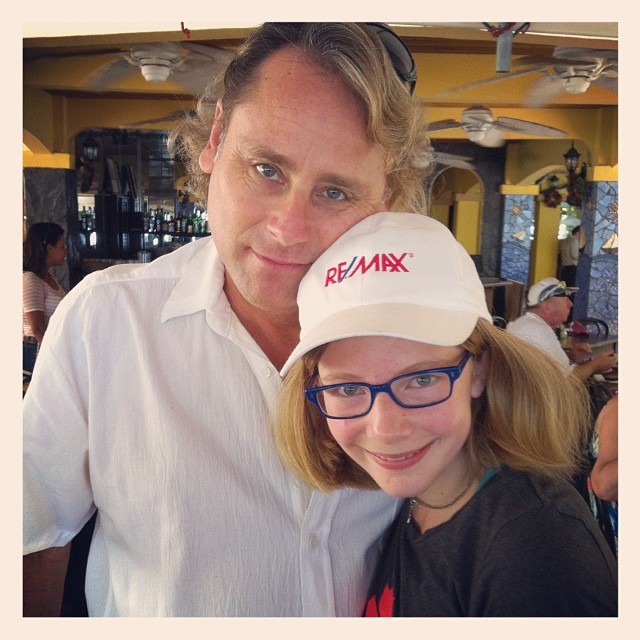 Many years ago, Mary and Bruce bought a home in Costa Rica, and they spent their free time here, in paradise. I first ran into Bruce at the Vegas convention about 6 or 7 years ago, he is an incredibly successful Broker in the Toronto Canada market, and we instantly had a connection. You see, it isn't very hard to like Bruce; he is one of the most positive, upbeat people you have ever met, and a friendship was formed that I am sure will last our lifetimes. The Costa Rica connection does that in its strange way.
Bruce has always been an avid motorcycle enthusiast, and even met his wife Mary on one of his crazy trips through the Canadian Artic, with his 12 year old nephew on the back. Yes, I said ARTIC, as in freezing fricken cold.  Holly couldn't wait to turn 12 so she could go on an adventure with her Dad, a father daughter bonding trip that they could talk about forever.  So when Bruce asked her WHERE she wanted to go, her response was immediate.  COSTA RICA.  The family spends every Christmas holiday here each year, and many times they stay and extend it into January, and it has become a big part of their lives.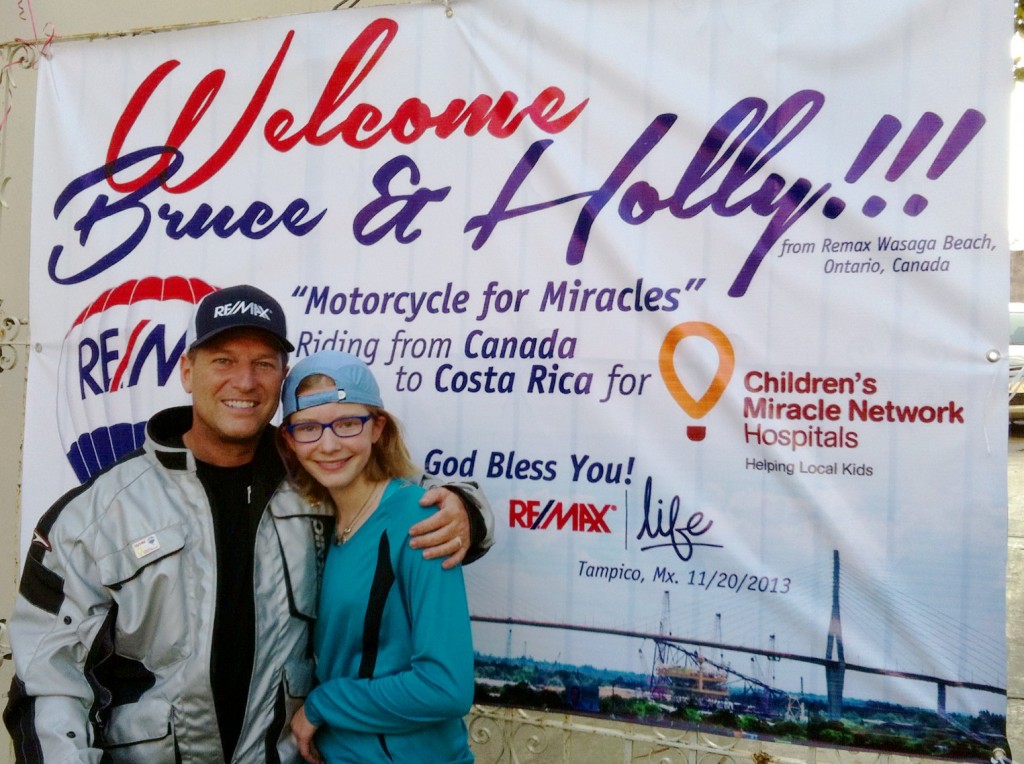 This past November, Alyssa Rae would have turned 15, which is a huge milestone in the Costa Rican tradition, so they decided to take their journey, and turn it into a fund raiser for SickKids Hospital and the Children's Miracle Network. They chose to embark on a fundraising initiative in Alyssa's name partly because enough time has passed that they can openly share her story and also because in Central America, 15 is the age when girls come of age. Their goal was to raise $25,000 for the Alyssa Rae Johnson Fund.
"November has always been a difficult month for us," said Mary. "Now it just feels like because of our Central American connection and our time in Costa Rica, part of their culture has percolated into us and turning 15, as Alyssa would have done, in Latin America is huge. It's a way of marking this time in her life but also we are finally ready to share our story." They were able to make stops in dozens of amazing countries, cities and states, finally arriving in Costa Rica. They carried with them a big flag, which so many offices along the way were able to sign. I feel so blessed that my name is on that flag, to be a part of such an amazing journey by such incredibly strong people.
The real trooper in this whole story is Holly. Think about this for a minute; how many 12 year old girls, would ride on a back of a motorcycle, through every kind of element, for weeks on end, and not complain one single time. It is truly remarkable and I am so lucky to have met this outstanding young woman. You rock Holly, and I am looking forward to seeing you again soon.
Well, they hit their goal and then some; raising almost $40,000 and then auctioned off the flag for an additional $30,000. The first signature on the flag were the Johnsons, and the last was Magic Johnson, and mine is somewhere on their too. Somehow this magical little country had a small part in this affair, and the world is a better place because of it. I hope to see you down here soon and you will see why.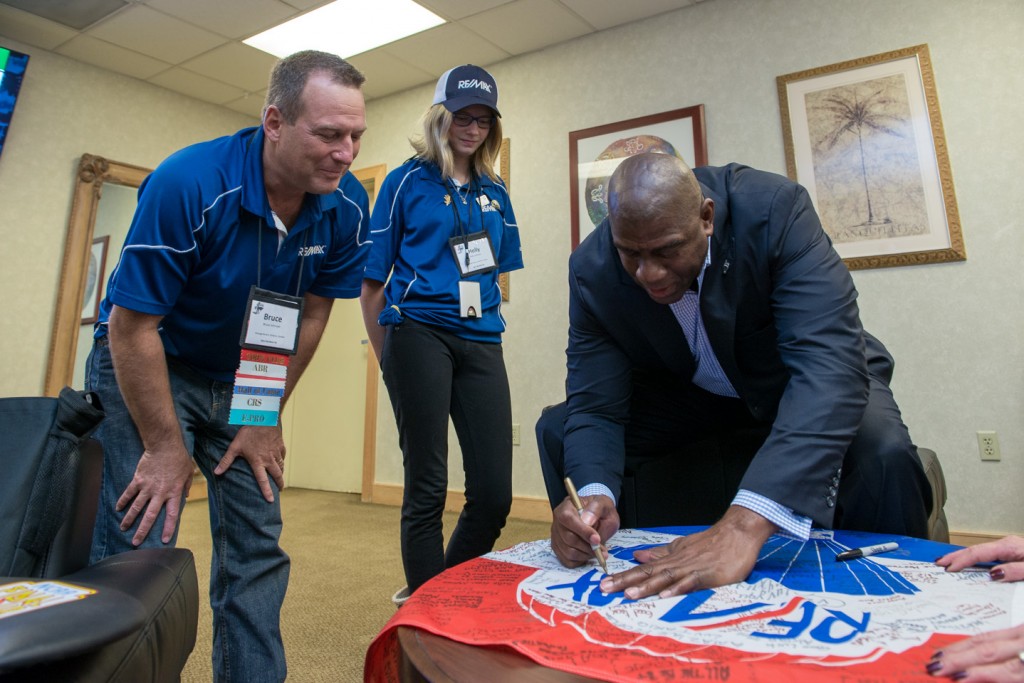 Please visit their websites, where you can read their entire story, and dig deep into your hearts. Sweet Alyssa's was born on the outside of her chest, and Bruce and Mary tell me it was an amazing little heart, that has now touched so many people. God Bless the Johnson family.  I love you guys.
Michael
https://www.facebook.com/groups/MotorcycleForMiracles/
http://www.johnsonjourneys.com/