Covid-19 Food Drive sponsored by Papagayo Ocean Adventures
Covid-19 Food Drive sponsored by Papagayo Ocean Adventures
This week our friends at Papagayo Ocean Adventures sponsored the Food Drive and community clean up in the little town of Obandito, just between Artola and Sardinal.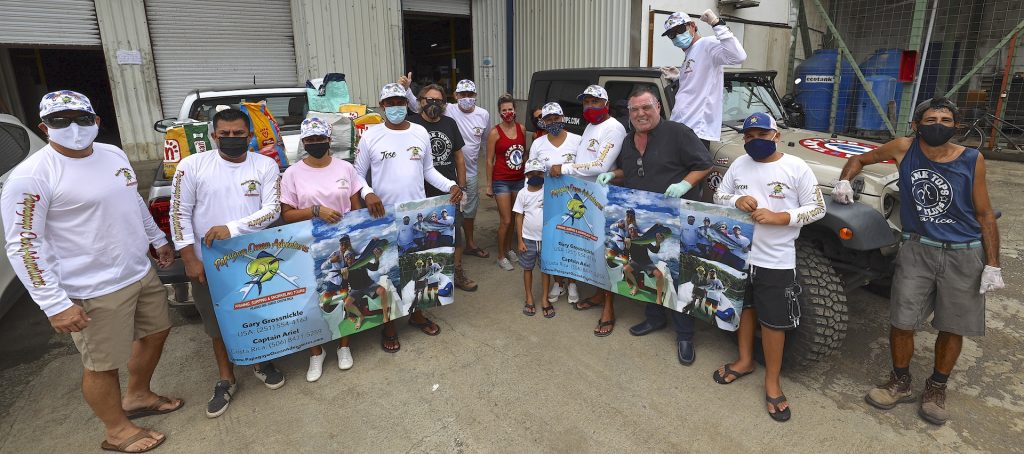 Thanks to their kind donation we were able to feed families that have had no income since March.  There has not been many sportfishing trips for anyone in the area but the owner of Papagayo Ocean Adventures felt it was his duty as a local business to help out local families who might not work directly for his business but are part of the entire community of workers who are so welcoming and hardworking for all the fun loving tourists who come to the beautiful Papagayo Area.
Tank Tops Flip Flops Newsletter edition no. 168

We have heard of people complaining about taking pictures and videos of the people getting the help.  The opposite is true as the people are proud to be cleaning their communities and they don't feel ashamed at all.  In fact most of the volunteers and organizations giving out the donations personally know the folks getting the food and supplies and they are completely aware and cognizant of what is happening –  The Community is helping its own people.  If the tables were turned it would be the exact same scenario.  That is the Costa Rica Pura Vida way as you will find out.
Papagayo Ocean Adventures is a small sportfishing and water sports tour operation but they see the need to support the local community from where they derive their business.  Next time you are looking to go out fishing, surfing or snorkeling, look them up as they are based in Playas del Coco.  They have the unique service where you can get picked up at the airport and go directly to fish.  You can check out their website here playasdelcocosportfishing.com or go to their facebook page here.  The Captain and Crew were born and raised fishing these waters. Check out this promo video to see their boat and some of the incredible moments you can enjoy too.
A Huge Thank You to Papagayo Ocean Adventures and all the volunteers at the food drive.  We could not keep this up without you.  Please continue to donate.  We are still in need as the borders remain effectively closed at this point to tourists. 
Please Send donations to PayPal or Zelle account michael@tanktopsflipflops.com.  No amount is too small.
PURA VIDA,  Michael Simons