Costa Rica Renewable Energy Solutions with Glen Nickerson
Tank Tops Flip Flops Newsletter edition no. 134
Costa Rica Renewable Energy Solutions–Solaris Energia Renovable–EXPATS in Paradise with Glen Nickerson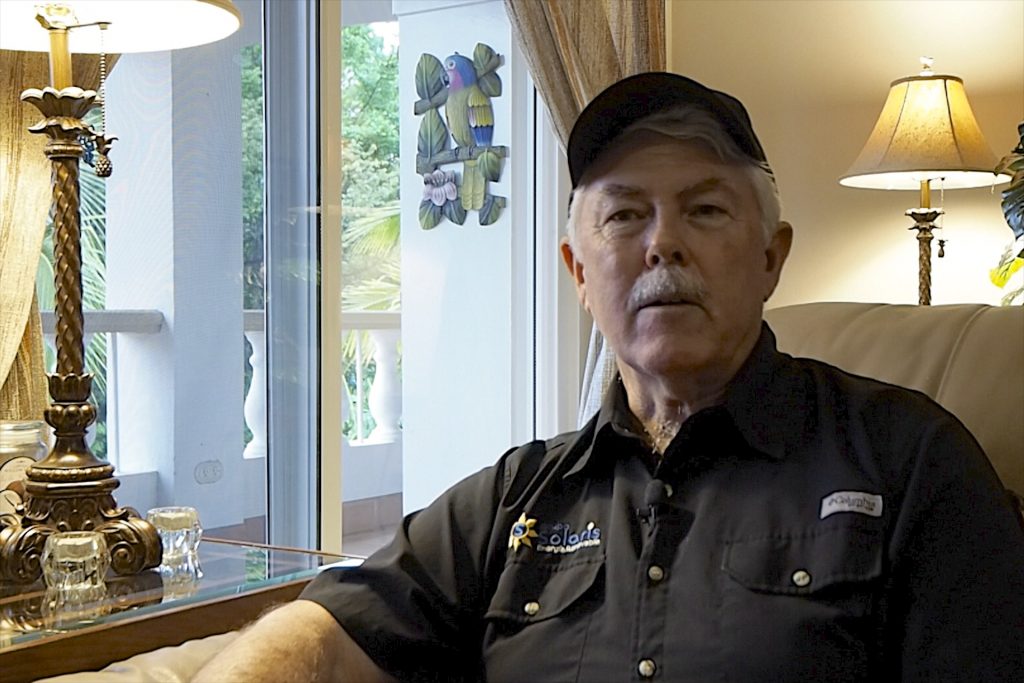 Glen Nickerson originally set up shop in Costa Rica in the Central Valley in 2006.  As he got to know the country and start expanding his business he soon found out that it was much better to live and do business at the beach areas.  He fell in love with the Playa Hermosa, Guanacaste area and bought a nice condo within walking distance to the beach.  He has continuously looked at ways that he could bring in his engineering know how into a practical energy saving business in Costa Rica.  We are glad he and his wife are members of the community and look forward to see their business grow.  Congratulations Glen on being another successful EXPAT in paradise.  We had Glen replace all the light bulbs in our Tres Amigos Realty Group office with energy efficient LED bulbs and we have seen a huge savings on our monthly electric bill.  Thanks again Glen!

Here is the Story of Glen Nickerson and how he started Solaris Energy here in Costa Rica
Describe your Business and explain what makes your Business unique and better than other similar businesses 
My name is Glen Nickerson and I am CEO and Business Development Director of Solaris Energy. Solaris is a Costa Rica renewable energy solutions provider. We help our customers reduce their energy bill by auditing the home or hotel and creating a plan, for example, to change lighting to LED technology. Solaris offers the highest quality and certified products from USA, Germany, Canada and China. We have top efficiency solar panels and we utilize the most efficient LED lighting with up to 160 lumens per watt. We have electric bicycles utilizing Samsung and Panasonic lithium batteries.
Check out this video where Glen describes how he came up with the idea and built his business in Costa Rica
Solaris is a one stop shop for LED lighting, solar panels, air conditioners, and solar hot water heaters, as well as home storage battery banks and powerful electric bicycles with lithium batteries. We have found that as customers become more aware of energy usage, their patterns typically change. Coupled with the solutions we install, customers can achieve a significant reduction in their monthly power bills. The most satisfying part is that we are enabling a low carbon footprint for Costa Rica with our solutions.
In this video Glen showcases some of the products he carries
Give us some background of yourself, describe why you decided to come to Costa Rica and how long you have been here
I'm a professional mechanical engineer from the USA (Florida, California, and Texas) and I worked for 40+ years as a utility design engineer and facility operations manager for large companies Motorola and AMD. After completing an MBA at the University of Texas, I also started up many ventures including financial planning, marketing, and business development. I came to Costa Rica in 2006 to find the next chapter for my family. I was amazed to find there weren't any solar panels on rooftops, and that LED lighting was not being utilized anywhere. Failing to settle on a traditional retirement routine, I polished up on my Spanish and started another business, focused on renewable energy and conservation methods. For the last six years, the energy company has grown and now we have 5 employees along with other collaborators.
Tell us what you like about Costa Rica, Guanacaste and this area in particular
Costa Rica has so much to offer, it has great people, clean air, pure water, all the foods you can imagine. I like to explore new areas and find new places. Depending on what time you get up, you can reach most any part of Costa Rica you desire in a day. The Guanacaste area has hundreds of beaches and mountains with lots of adventure opportunities, so I love the idea of being able to work and play, help people and still have time for a cold brew at the beach around sunset. Regarding the cost of living, depending on your lifestyle, it's still good compared to North American standards. Especially if you own your vehicle and your home, the rest can be handled easily.

What do you do for recreation, hobbies, etc.
I like boating, river rafting, zip lining, mountain biking, meeting new people, exploring and bringing new technology to Costa Rica. I like visiting new places, finding new beaches and waterfalls, and seeing what kinds of opportunities for adventures and hotels are available. I also can't resist evaluating the lighting fixtures of any place I go and talking with the owners!
Glen tells us why and how he came to Costa Rica and why he likes the Guanacaste area
Describe your experience with Michael Simons, Tank Tops Flip Flops and/or RE/MAX
Searching the RE/MAX website and all the home listings was how I began the search. Then I called on Michael Simons to assist with comparisons and we toured the beach areas. Michael was very knowledgeable about the entire region, the best spots, the best restaurants and shops, and he helped us find our beach condo.  Mr. Simons was great…he truly helps people make a change…he is a problem solver as well as a generous volunteer with his many community activities.
To Contact Glen directly go to his website solarisenergycr.com or Facebook page facebook.com/SolarisenergiaCR  He will definitely show you the options for Costa Rica renewable energy and how to save a ton off your electric bill.
COME ON DOWN BABY!
Tank Tops Flip Flops Newsletter edition no. 134
Tags: Costa Rica Builders, Costa Rica Lifestyle, How I came to Costa Rica, Life in Costa Rica, Working In Costa Rica