Rock You Like a Costa Rica Hurricane
Rock you like a Costa Rica Hurricane
Costa Rica has NEVER had a hurricane; EVER. Since the beginning of recorded history, in 1851, no hurricane has ever made landfall in the world of PURA VIDA. So when hurricane Otto started heating up in the Caribbean earlier this week, nobody paid much attention. There have been storms before, of course, but nothing ever caused any serious damage to our country. Usually, we get what they call the "TAIL END" of the storm; meaning we get a ton of rain, for 2 or 3 days, and that's all folks. The storms always turn north, and hits land higher up the coast. Even Nicaragua and Panama have only had a handful of them over the course of time; we were pretty confident nothing was going to happen. If you look at a map you will see that we are kind of down in a bowl, which protects us from the storms. As the week went on though, it seemed determined to change history.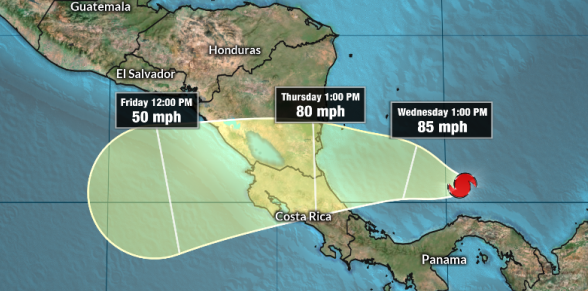 There has NEVER been a hurricane in Costa Rica. I have been telling this to people since I started living in Costa Rica; it was one of the main factors for buying property in Costa Rica. Although, technically hurricane season ends November 30th, it is very rare for one to form this late in the year, anywhere in the Atlantic. Also, they almost NEVER form this low in latitude. But Hurricane Otto, again, was determined to set a record. It was actually the LATEST landfall hurricane and the third LOWEST Latitude EVER RECORDED. It seemed like an eternity, waiting for it to finally arrive. It started out as a tropical storm early in the week, but by Tuesday November 22 2016 it had officially become a hurricane, the 7th of 2016, and earned its new name. Yet, no one in Coco seemed too concerned the first couple days, me included. I was shopping in the grocery store and a friend came up to me. "Are you stocking up for the big one?" he joked. "Are you worried there won't be any food later in the week?" Nah, I said. I am just getting ready for Thanksgiving and NFL football. Besides, there will always be fried chicken, I told him. There are dozens of stores on every corner, Costa Rica will never be without Pollo Frito, and I joked; I have tons of alcohol and lots of dog food too, so I will be OK.
Costa Rica has NEVER had a hurricane. These storms are intense low pressure areas, that form over warm ocean waters in the summer and early fall. Their source of energy is water vapor which is evaporated from the ocean surface. This vapor is the "fuel" for these massive storms, because it releases heat when it condenses to form clouds and rain, warming the surrounding air. Usually this heat is carried away in wind shears which blow the top off of the thunderstorms. But when there is little or no wind shear, this heat can build up, causing the low pressure to form. This causes wind to begin to spiral inward toward the center of the low. More water evaporates, spiraling inwards, feeding more showers and storms, causing what are called the "eyewall." This continues until a full blown hurricane is formed. For decades, they have been impossible to predict, but thanks to modern technology, it is getting more advanced. NASA just launched 8 satellites into space that will make it even easier to forecast, and keep tabs on these monsters, but that still won't stop them from coming and didn't help Latin America this week.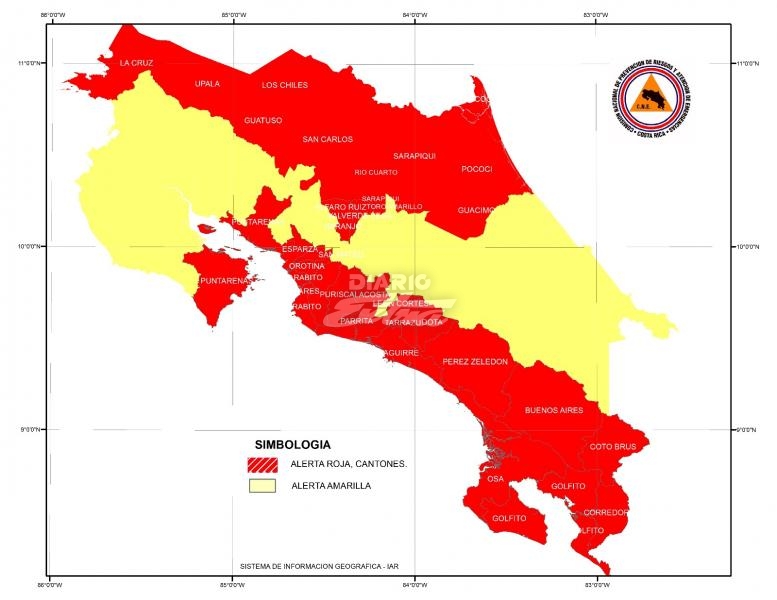 There has NEVER been a hurricane in Costa Rica. As it became evident that Costa Rica was going to receive at least a portion of the wind, the government went in to gear. They issued an evacuation order for everyone on the Caribbean Coast and potentially affected regions. The entire country went into either Yellow or Red Alert, and the RED CROSS started setting up shelters. Thousands of people were moved from low lying areas in the Limon region, and moved to safer and higher ground. Animals were picked up too, and placed in safe zones, and the President declared a National Emergency, allowing the police and rescue teams to rock n roll. They cut electricity in many areas to avoid the potential for electrocution.  I was VERY impressed with how this little country handled the situation, especially since they have never had ANY experience at all with something like this. Their quick response DEFINITELY saved lives; maybe hundreds. The storm seemed to just sit on the eastern coast, leaving us wondering if it was ever going to make landfall, and work its way across the country; as was predicted on the hurricane channels. The path showed it coming directly over the top of Liberia and the Papagayo region; yet it continued to stall. It got stronger, and more violent, and it was pronounced a Category 2, during the midday hours of Thanksgiving.
Costa Rica has NEVER had a hurricane. It finally hit. It actually didn't make landfall in Costa Rica, so technically we still have never had a Costa Rica hurricane.  It hit just north of our border in San Juan de Nicaragua at 1 PM EST on Thanksgiving Day. Massive winds, up to 110 MPH belted towns all along the border. The wind arc was 50 KM across, so it covered well into our territory. Dozens of rivers flooded, washing away homes, and devastating neighborhoods. As it rose over our mountain range, mud slides took out anything in their path, leaving many homeless and without food. Close to 10PM that night, it finally bore down on Guanacaste. I had all 9 of my dogs, huddled up in the house; it was a doggie slumber party. The rain was torrential, pounding harder than I have ever heard. We are accustomed to wind, as we experience the Papagayo Trade Winds every February, but when mixed with bullet type rain, it was so loud it was deafening. The dogs were trembling; the power was out; yet we sat and we waited. That is always the worst part, not knowing what to expect. Finally, somewhere in the middle of the night, it finally passed.  We survived and we are all ok, Thank God, but many of the surrounding homes in the area were hit hard. As is usually the case, the poor take the brunt of it. Their homes aren't built to the standards that mine is; many times nothing more than tin and wood. Dozens of trees fell, unfortunately crushing houses and cars underneath. Fortunately, no one in our area was killed.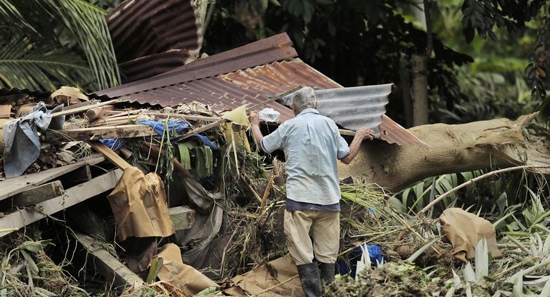 As far as hurricanes go, this one was pretty small, but still devastating to so many people throughout the country. The town of Upala was hit the worst; almost completely demolishing it. There is a handful dead and many missing, the numbers are not in yet. Rescue teams are still searching the rubble; so many people are homeless and left without anything.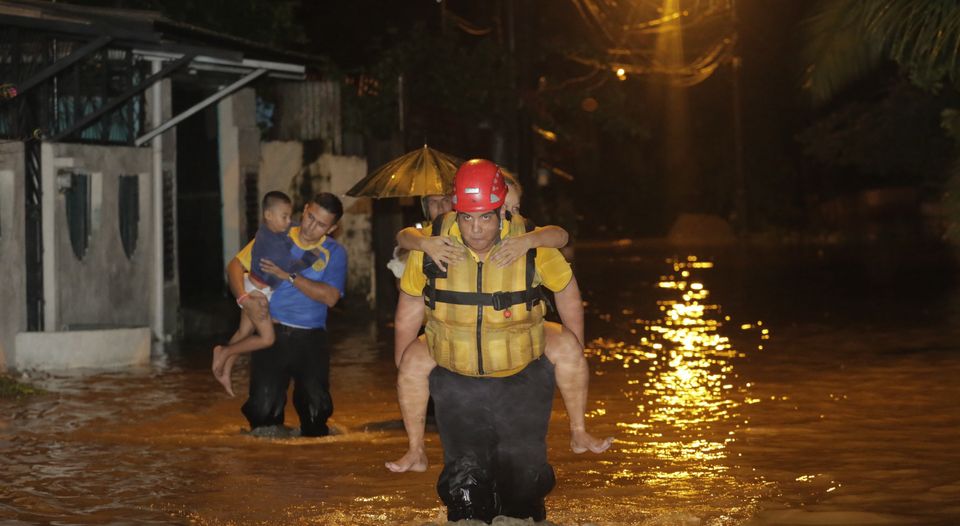 Costa Rica has never had a hurricane until now. I hope we never have one again. Thanks for all your prayers, emails, phone calls, texts and Facebook posts.
If you want to help the victims of the Costa Rica hurricane, you can make a donation to the RED CROSS attention Costa Rica. Also, you can have your property manager here in Costa Rica make an immediate donation to any local bank via wire transfer, or you can personally go to any National Bank and make a cash deposit. Please say a prayer.
Michael
Tank Tops Flip Flops Newsletter edition no. 96
Tags: Hurricane Otto