The list of direct flights to Liberia airport keeps getting longer.  In another sign of further momentum building towards growth in the Papagayo region, another North American airline is providing nonstop service into Costa Rica's Liberia International Airport (LIR) which is the gateway to the famed Guanacaste region and our own Papagayo area.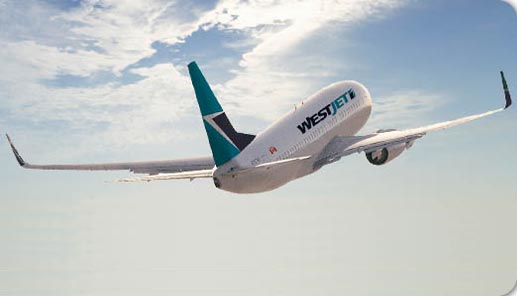 On Monday, November 1st, 2012 the Canadian airline, WestJet, inaugurated the first of its regularly scheduled flights to Liberia.  The flight connects Toronto, Canada, with Liberia, Guanacaste in the northern Pacific of Costa Rica.
The airline will be travelling twice a week (Mondays and Saturdays) to Costa Rica, using a Boeing 737-800 aircraft, with capacity for 166 passengers.
According to information from the Costa Rican Tourism Board (ICT, in Spanish), this flight will allow the country to provide 34,528 additional seats to and from Canada per year, its second most important tourism market, after the United States.
According to Allan Flores, Tourism minister, the arrival of WestJet is the result of the "open sky" agreement signed with Canada recently.
The executive vice-president of operations for WestJet, Cam Kenyon, stated that this new route, which is free of layovers, between the Pearson International Airport in Toronto and the Daniel Oduber International Airport, represents a milestone for the company, which was founded in 1996.
"This is the first time in 16 years, in which we are providing service in Central America, which will allow us to continue offering our clients more opportunities to experience new destinations. We hope the service between Toronto and Costa Rica will be very successful," he added.
WestJet is a low cost airline that offers regular service to 81 destinations in North America and the Caribbean.  The airline provides jobs to 8,600 people, and has 99 Boeing 737 aircraft in its inventory.
According to ICT, the typical Canadian visitor spends approximately 15 nights, and spends an average of $88 per day (data from 2005-2010).
The activities that most attract Canadians in Costa Rica are adventure tours such as canopy, snorkeling, surfing, and other more traditional activities such as enjoying the beach and bird watching.  And now that there are more flights to Liberia, it's even easier to enjoy what Guanacaste has to offer.