Tank Tops Flip Flops Newsletter edition no. 81
We are happy to announce that our good friend Kent Scantland has opened the Sandbar in the Hermosa Heights Retail Center right on the Main Street in Playa Hermosa.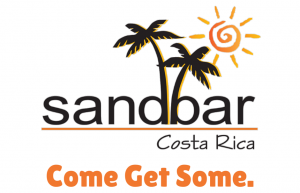 Kent tells stories of his exploits with his best buddy Michael Simons starting back in 7th Grade all the way to how he reconnected with Michael in 2011 and followed him to Paradise.
BUT FIRST THINGS FIRST….
The BIG Grand Opening Party at the Sandbar is December 5th!  Come join us in welcoming them to the community.  From 2 PM to Midnight the big bash will feature live radio broadcasting from Radio 911, Live music by Will Matthews, The Latin Trio and DJ Wardo from San José and an art exhibit.
If you have not been yet, The Sandbar has elevated the level of taste and care they put into providing you all your comfort food favorites like Gourmet Burgers, Wings and Appetizers along with a creative list of Cocktails and locally sourced Beer.  The service is great, the atmosphere is fresh and clean and of course you can watch any imaginable sporting event on one of their many big screen TV's.
Open 7 days a week from Noon to Midnight Sandbar features Live Music, Game Days, Sunday Brunch, Karaoke and Community Events.
The Sandbar has made it their philosophy to source their menu ingredients from local Farmers, Butchers, Bakers, and Brewers which means they use Organic products, local Meats and Seafood, homemade Chips and French Fries and Sauces made from scratch.
Do you self a favor and check out the Sandbar – You will be impressed and will definitely want to come back for more.  As their Slogan says – COME GET SOME!