Buyer's Remorse in Costa Rica
Buyer's Remorse in Costa Rica
The world has gone mad! They just cancelled the NHL and NBA seasons, and the rest of MLB Spring Training. People are stocking up on toilet paper for God's sake. Schools are closing, large gatherings cancelled, and people are locking themselves in their homes. If you go to social media, you literally want to jump off a building, as the fear is out of control. It doesn't help either, that the media is blowing it totally out of proportion and everyone is trying to make it political. Two weeks ago, all my Facebook friends were Constitutional Scholars and today they are Infectious Disease Experts.
But you really wouldn't have known it the last week in Costa Rica.

Sure, many frightened travelers have postponed their vacations, and most big events have been called off, but the town was still very busy, and the airplanes were full. I just went through an incredible two weeks, of amazing highs and very low lows, and I was so happy when I finally got back to paradise. I thought for sure, that I would be the only person on the plane, yet every seat was full except for about 10%. Personally, I was way more scared about driving on the black ice returning my rental car, than catching coronavirus on the jet; I had seen all these massive car pileups on TV. As soon as we landed, I knew everything was going to be OK. Our phenomenal Liberia airport (LIR), has 6 gates, but there were already 11 planes there when we arrived. After 10 minutes of chilling out, they finally had us park on the tarmac and brought the rolling stairs to the door. Man, nothing feels better than 92-degree heat blasting your face, after suffering through a miserable 8 days in Denver Colorado.
Tank Tops Flip Flops Newsletter edition no. 149
As I removed layer after layer of jacket, sweater and shirt my brain was turning; "who lives where it is freezing cold every day? What is wrong with these people?"  Two weeks in shoes and my feet were killing me. Arriving at the immigration room, it looked like Ellis Island 1907 as hundreds of tourists were waiting patiently to get to that first Pilsen beer. I calmly walked around to the Residents line, where one family was ahead of me. Within 90 seconds, I had cleared customs and was waiting for my bags. Five minutes later, I was on the street; the Papagayo winds pushing into me like a bouncer holding back the surge at a concert. As I got to my truck and put on my shorts, Tank Top and Flip Flops, I thought to myself; No Buyer's Remorse here, dude.
I need to start by thanking my clients. Last year, 2019 was the best year I have had in over a decade. I won the "BELT" and get to proudly display it in my office. I was the NUMBER ONE RE/MAX agent in the entire Caribbean Central American Region, and Number 18 Globally with RE/MAX INTERNATIONAL. Words cannot express how grateful I am to everyone who helped me achieve these incredible awards. I am forever humbled. The RE/MAX convention was held again this year in Las Vegas, and over 10,000 agents attended from all over the world. It was awesome. No one was going to let the coronavirus dictate their lives. We partied, we networked and bonded. Sure, we had hand sanitizer at our COSTA RICA booth, but no one was overwhelmingly concerned; although I did see a drastic reduction in hookers hanging around the bar.
People: stop making this scarier than it is.
My phone rang and it was my sister. My Dad was rushed to the hospital with heart issues, and needed an operation. Talk about a kick in the gut. I immediately changed my ticket home and routed it through Denver. My father is an incredible man. He is as tough as they come, and as loving as it gets. I am a lucky son. Spending the week by his side, was something I will always treasure. It was scary for him, and probably scarier for us kids, but he got through the two surgeries and is home recovering nicely. I love you Dad, stay the course.
My mother has dementia and as anyone who has ever had to deal with this disease, knows it is frustrating. They ask you the same questions over and over, and it just doesn't seem to register in their skull. It is not their fault, and you cannot get upset, but it still drives you a tad bonkers answering every question multiple times. While we were waiting for my father to come out of one of his surgeries, she asked a very good question. "How did he end up at this particular hospital?" Now you have to know my old man, he is one of the sharpest knives in the drawer. While in the ambulance, basically on the verge of a heart attack, he had enough whereabouts, to tell the paramedics, TAKE ME TO SWEDISH. He knew, that the best heart surgeons in Colorado are not at the hospital near his home but about 20 minutes away. So, I relayed this info to Mom and she was happy to know he was in excellent care.  Sure enough, she asked it again; and then again; and I answered calmly each time. On the 4th time I figured, why not? Let's have a little fun.
You are not going to believe this Mom, but Dad had a coupon!
"What?"
Yeah, you know how Dad is always cutting things out of the paper? Well a few weeks ago there was a sale; 20% off heart surgeries, and he saved the slip of paper. When he was in the ambulance, he told the driver to go here, so he could save a few bucks.
"Really?'
No Mom, I am just messin' with ya.
Boy was she pissed, but the nice thing about it; she forgot how mad she was a few minutes later.
"I love you Michael, you are the best son in the world!"  Thanks Mom, I love you too.
First thing I did when I got back here, was to go to the beach for a ceviche and cold beer. It was so nice to feel the warmth on my body, listen to the wave's crash and suck back a couple bottles of brew. So good to be home. This has been my routine since my first trip 20 years ago. I remember, how I was completely floored at how serene this place was and I bought property on my second day in Playa Hermosa. To me it was a no brainer. For 2 decades now, I have helped a couple thousand people buy a piece of heaven, and it is so rewarding to see how much joy this place brings them and their families. Clients ask me all the time if people get Buyer's Remorse, and go home and cancel their offers when reality sets in. Truthfully, I can count on 5 fingers how many people changed their minds. Sure, I have had people back out of contracts, but not because they didn't want to be here. Maybe they couldn't get their funds together, or the sale of a property back home fell through, but not because they had a reversal of heart. The biggest issue we get, actually, is Seller's Remorse. People put their little piece of paradise on the market, and when we finally bring them an offer, reality sets in. Oh no; we have to give it up. I have had 10 times as many seller's back out and keep their property, compared to the other way around.
I see Big Mike, at El Velero, working the crowd. "Best decision I ever made" he says.
Claude, the owner of Villa del Sueno, just celebrated his hotel's 25th anniversary, by throwing the biggest shindig you have seen in a long time, and his band rocked the house late into the night.
Devon and his new Garden Bar, and their captivating events that invigorate the town; just in the last month: Blues Fest, with some of the top Blues artist in the world and Sol Fest, a local Rock N Roll mini Woodstock. Papa Coconutz proudly surveying his amazing cantina. Seeing the hundreds of Ex Pats who eat and party in these establishments every single day, supporting the local community, it is great vibe. The love shared, the bond they have, that only we understand. They had the guts to MAKE something happen, when so many others continuously hold on to their excuses.
No buyer's remorse here.
I had a great couple from California who owned a home for a few years. They were not visiting enough, and felt that it was better to sell their property and do something else. Guess What? They were back in 2 years and bought a bigger house; Seller's Remorse.

Over the last few days since I returned, I have talked to dozens of people who have decided to stay in Costa Rica, instead of returning to North America. They figured it is much safer here in Coco, than back in their home towns. I was having lunch with some good clients the other day, discussing purchasing a 4th investment property here in the area. They told me that they were not going back next week; their daughter told them it was a mad house back there. We feel way more secure here they said. One of my very good friends, is a snowbird. He and his wife spend the winters here, and then go back to Toronto for the spring and summer. He left two weeks ago and returned home. He called me and told me he was coming right back.
"It is crazy here man. Everyone is locked in their homes; it is on full shut down; and they canceled hockey! I cannot just sit in my condo with no sports, watching movies, waiting to die. I am going to cut my wrist. I would much rather be drinking beer and sitting on the beach."
Sure, we have had people cancel their trips, but just as many have decided to come at the last minute.
One of my clients is a retired NHL player. "We are coming no matter what. I hope they don't let us leave because I have no desire to return."
Seriously, where would you rather ride out a pandemic?
Chicago or Coco?
Pittsburgh or Playa Panama?
Ottawa or Ocotal?
Hamilton or Hermosa?
I got a call from a friend in New York City, who said he was calling off his vacation. I rolled my eyes. NEW YORK. Think about that for a minute. They have the National Guard there, keeping people in their homes. Do you really think you are safer in a city with 20 million people, where you are packed in like sardines everywhere you go? Or a gorgeous beach town, where it is 90 plus degrees every day and people can actually BREATHE fresh air? This is what we do know. Viruses do not do well in hot weather. They say the best place you can be is where it is warm and humid, not cold and dry. Welcome to our world. I feel so sorry for people who are living in minus temperatures in places like Winnipeg or Wisconsin.
coronavirus-and-the-sun-a-lesson-from-the-1918-influenza-pandemic
Costa Rica is one of the healthiest countries in the world; we actually have Blue Zones here, where people live to be over 100 years old. The majority of Ticos are in very good shape; they walk everywhere, ride bikes, and eat well. Many families live in simple homes, with warm fresh air blowing constantly through the windows. Almost no one smokes here, and they tend to live many more years than we do. Most Latinos in general are very clean people, but the Costa Ricans are over the top. They brush their teeth 3 to 4 times a day; wash their hands constantly, even before this crisis; and they always look great. Even someone from a very poor family, has on spotless clothes and they are ironed perfectly, every time they step out of the door. We have some of the most pristine potable water in the world, it is the only country South of Texas where you can drink it right out of the tap, and our air quality is top notch; there is practically NO pollution.
This country is 99% self-sufficient. We grow our own fruits and vegetables; have our own meats and fish; generate our own electricity. There is nothing we need from the outside world, except A1 Steak Sauce and Jack Daniels. THIS is exactly where you want to be when something like this happens. Sign me up. Sure, we are all being extra cautious, and practicing good hygiene, washing constantly with soap. No more shaking hands, hugging or kissing; I am fine with this, I hate that shit anyway. When I went to the car from the Auto Mercado, I made sure to leave my groceries in the sun just a few extra minutes, just to be sure. From now on, it is Namaste for me.
indian-greeting-namaste-goes-global
The government of Costa Rica is being very proactive. They have closed their borders starting tonight at midnight until April 12 to foreigners, so only Costa Rican Citizens and Residents can enter. They have closed all night clubs and bars, and require that restaurants do not have more than 50% occupancy. They have cancelled all large events, like horse parades, conventions and concerts, and closed many of the schools. The CCSS, which is the Universal Health Care Provider, provides free quality medical attention with positive results to the full population (locals and tourists) in the treatment of the virus and also provides tests and analysis without discrimination; anyone can get tested. The internet providers have increased the WIFI speed for free to promote teleworking. They are increasing the production of alcohol-based hand sanitizers and are distributing it at very low rates. All schools are being deep cleaned but the cafeterias are remaining open, even if the school is closed, so kids can get their meals.
Listen, I am not downplaying the severity of this crisis: people are dying. A State of Emergency has been declared, flights cancelled and routes suspended, hospitals are taxed and people are scared. But what are you going to do? Lock yourself in your basement; hoard cans of green beans and tuna fish? Are you really going to start drinking powdered milk? Last year, 650,000 people died worldwide from the flu, yet not one single news stations told me to wash my hands. When someone sneezes in the grocery store, do you find yourself wanting to punch him? Now people are like Bill Murray in Caddyshack, walking around in asbestos suits, when they go outside to clean the leaves from their pool.
Come on people. You should have been here all along. Some of you have been making excuses for a decade.
This is New York City.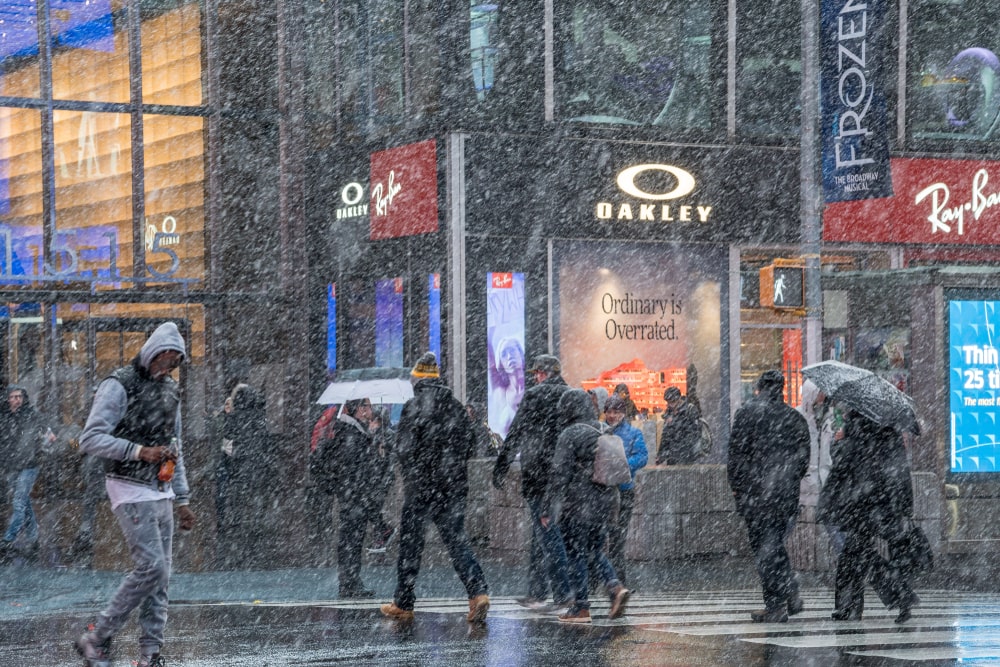 This is Toronto.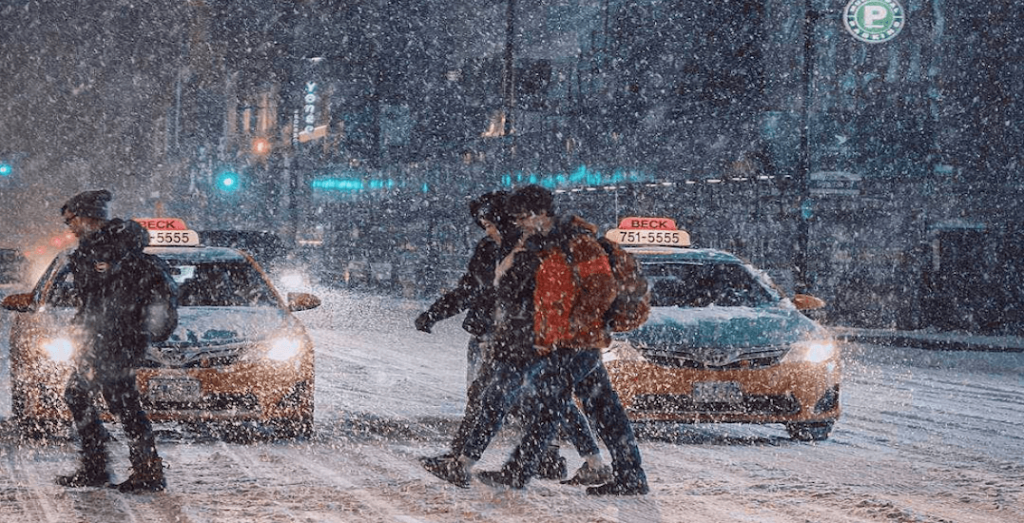 This is Playa Hermosa.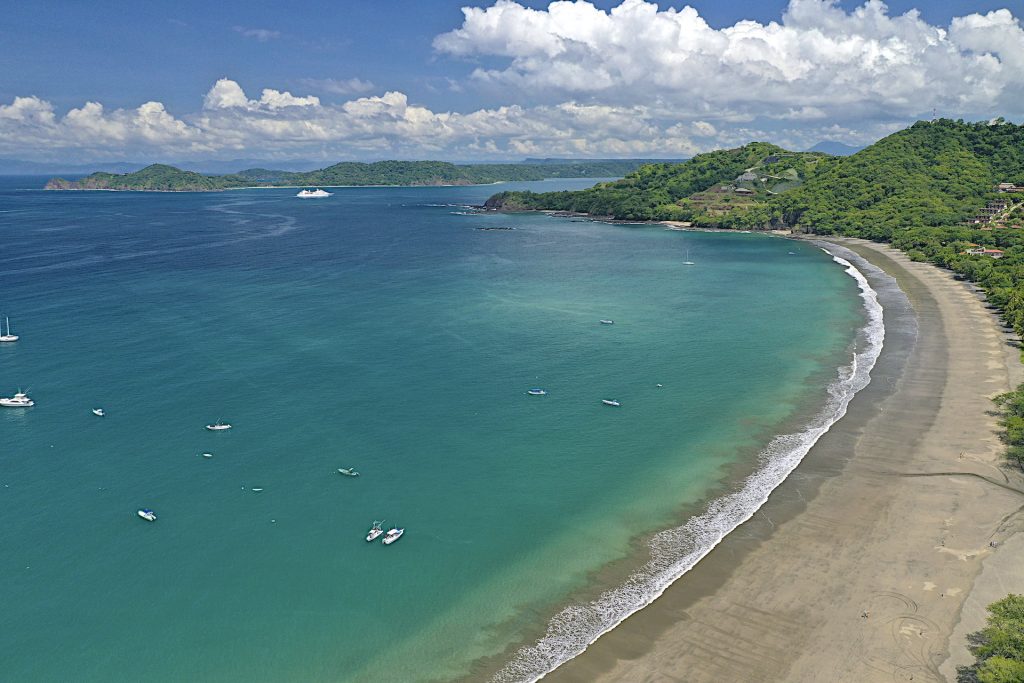 Where do you think you are safer? Where should you have a home?
I have always told my clients that it is imperative that they do three things:
Own a property in Costa Rica, one of the safest countries in the world; stable Democracy; no army; excellent medical care; low cost of living; very little crime; phenomenal weather; happy people.
Obtain Residency here. I cannot stress enough how important this is.
Have enough money in a local bank that you can live for a year.
Because if they put a full lock down on travel, as they have temporarily done now, the only people who will be allowed into our Eden, will be Costa Ricans and Residents. The rest of the people will be stuck up in that hell, fighting for their lives.  WAKE UP PEOPLE.
Obviously, tourism is going to be seriously affected this year as thousands of people will cancel their vacations. It is fair to say, of course, that real estate sales will be down substantially too, at least for the next couple months. But I am already seeing investors wanting to take their money out of the stock market, and put it into hard assets and many others wanting information on moving, living and working here, with the crisis going on back home. I have had multiple inquiries with potential buyers just in the last week, giving me the confidence to make this statement.  In the long run, I think this is going to be astounding for our market. People are realizing that they need to have a safe haven they can return to when the shit hits the fan. Did you really think the bull market would go on forever? We knew it had to have a correction at some point, we just didn't know what would cause it. Maybe a war; maybe North Korea or Terrorism. Possibly the election. Even with the dip, people still have twice what they did a few years ago. So, I am already getting calls from serious investors looking for opportunities, and with all-time low interest rates, I would imagine a lot of people will be refinancing their homes and moving it outside of North America. I called a realtor the other day to show one of his listings. "Are you guys as busy as I am? I sold 6 properties in 16 days and I have a showing on a $2.6 M house tomorrow." Now is the time to invest in hard assets. No matter how bad it gets, you still own the house or condo, it doesn't just go to zero like a stock. And next winter, when the new wave of flu and coronavirus kicks in, how many people in North America are going to want to flee the cold weather and shack up in Costa Rica? Time to stock up on your rental properties. Bitcoin dropped 50% this week, but my long-term rentals are all full. If nothing else, at least have a piece of Shangri-La for yourself, where you can come and ride out the storm. The sunsets are always spectacular and the beers are very cold, even when there is a virus.
Since I brought up the topic of elections, I was asked how I thought the market would do if Bernie Sanders was the President. "I hope he buys everyone a condo in Costa Rica and gives it to them for free, it will be great for my world rankings next year."
Do not take this as pressure. No one is pushing you to buy something you do not want to buy. Costa Rica is a lifestyle investment. Properties do not fly off the shelves like Lysol wipes at Wal Mart, as you see in other markets, because everyone has a different vision of what they want. It could be a condo on the beach, or an ocean view home; a lot on a golf course, or a 10-acre horse ranch. Some have $50k to spend and others have millions. Whatever it is, gives each person the same reward and happiness, and they all get to brag to their friends back home that they own a property in the greatest country on the earth. We will be here for you whenever you are ready, sitting on the beach enjoying a margarita. I know, though, that many people have been on the fence, procrastinating about pulling the trigger. Maybe this is the event that makes you realize you need to be in a better place.
Speaking of shelves, ours are stocked. Nobody is going into panic mode. I went to the grocery store today and there was a mile of Charmin and Cottonelle. Maybe that is your new business opportunity. Come to Costa Rica with an empty suitcase, and go back full. Scalp TP and hand sanitizer for 10 times the normal going rate. "Butt wipes! I have Butt Wipes!"
I had a beer with a friend this week who was a couple years from moving full time, they were down here relaxing. He is taking an early retirement and coming in August, he just cannot deal with it anymore up there. There are so many people who live here, who still work through the internet too. I have mortgage brokers and insurance agents; accountants and consultants; real estate appraisers and entrepreneurs; investors and professional poker players. So many others, have come down and created a new life for themselves here in our fabulous little town. Every day, more and more people pack it all up, have faith and pull the trigger. Life is short, live it. Sure, it isn't easy, but that is what makes it so rewarding. You have to slay a few dragons to get to the princess.
Sunday morning came and I loaded all the fur children into the pickup, for their big bash at the beach. They were extra fired up, as it had been a few weeks, due to my travels. As usual, there were only a handful of people on the sand at 530 am, and my 10 dogs were having a blast. The morning sun on my face, the gentle sounds of rolling waves, and the nearest human being 300 yards away, it was magical.  I am definitely not catching coronavirus here.
I plan to practice a little self-quarantine today, just for the hell of it. I mean they say, you have to be prepared, right. Practice makes perfect. I am going to spend my Sunday laying on a raft in the pool, sucking up some much-needed Vitamin D and Guanacaste air. I have a 12 pack of Corona, packed on ice in my rubber blow up floating cooler. I might get CoronaDrunk, but I am not catching the bug.
I am going to crank some good ole' rock n roll: REO Speedwagon; Ridin' the Storm Out.
I have a 14-ounce Ribeye just dying to get on the grill and I am fully stocked on bourbon.
I am going to watch Matrix tonight; the greatest line ever.
"Human beings are like a virus."
I am going to get a good night's sleep, get up in the morning, make a fresh fruit smoothie and do what I do, all over again.
Breakfast on the beach in Playa Hermosa.
No buyer's remorse here, man!
Come on down baby.
Why are you still there?
Stay safe people. Please take care of your loved ones.
Michael Simons
P.S. Do yourself a big favor. Focus on positive things. It will make you feel a lot better.
PURA VIDA.
Tags: Canadians in Costa Rica, Costa Rica Health Care, Costa Rica Lifestyle, Costa Rica Residency, Life in Costa Rica