Costa Rica Project Development and Construction Team
Costa Rica project development and construction team Corbin and Tatiana Vandruff came to Playa Panama, Costa Rica via the United States in 1994 in search of a better quality of life for themselves and their 2 small boys.
Check out this video where they tell of their personal story of how they met and what made them decide to drop their successful businesses in the US to start a whole new chapter in Costa Rica and why they love Costa Rica and especially Guanacaste.
Leaving well established Architectural and Construction businesses behind in California they decided to use their project development and construction know how to purchase a large parcel of untouched ocean view property that would become what we know now as Vistas del Pacifico.
In order to find their dream development parcel Corbin bought a vintage Land Rover and drove from one end of the Peninsula of Nicoya to the other finally settling on a pristine tract of land in the heart of the Papagayo Region, perched above the calm waters of Playa Panama, minutes to the Liberia International Airport and the beaches of Playa Hermosa and Playas del Coco.
Walking every inch of the land, Corbin developed a master plan that encompassed 100 single family lots and a condominium parcel taking advantage of the natural contours of the land and the stunning ocean views looking out through the mouth of Bahia Culebra and the endless sunsets.

Unlike most developers, who sell everything as fast as possible and leave town for the next project, Corbin and Tatiana built their family home at Vistas del Pacifico, where they still live to this day, and proceeded to sell single family lots and then design and build the homes for the lot owners.
All the lots are sold and they have built 45 custom homes in the project along with designing, building and selling an 11 unit luxury ocean view condo development called Bay Point.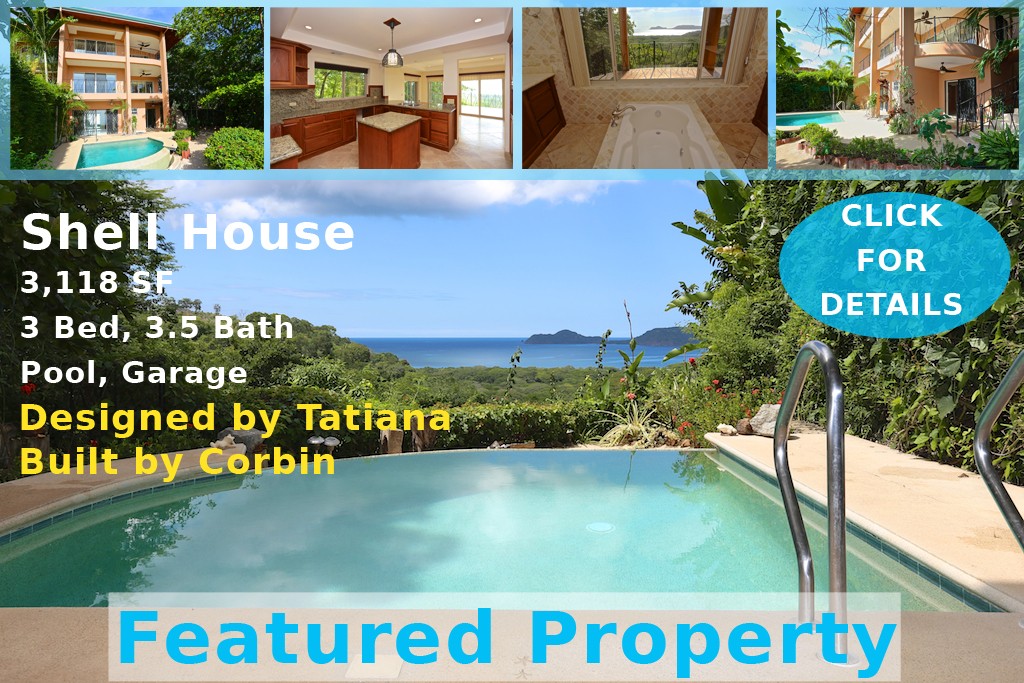 Check out this video of Corbin and Tatiana explaining how they discovered and developed Vistas del Pacifico.
As a result of their experience developing both in California and the United States they were invited to oversee the master plan development and design the common areas of another Costa Rica project, Hacienda del Mar.  Within Hacienda del Mar they were asked to design and build a luxury Ocean View Condominium Development called Jaguar Village.
Jaguar Village is currently under construction and will consist of 12 luxury ocean view condominiums built with the same attention to design and attention to detail that is a hallmark of all of their projects.
Corbin and Tatiana give us an informal tour of Jaguar Village on this next video.
Both Corbin and Tatiana are very passionate and extremely capable at what they do and over the years they have developed a working relationship that cannot be rivaled in the field of Costa Rica Project Management and Construction.

Corbin is constantly searching for cutting edge construction methods that will allow him to build a more energy efficient, low maintenance home for less while always maintaining the custom craftsmanship and features his clients have grown to expect.
Tatiana is an accredited LEED Associate on the forefront of sustainable design, incorporating the most up to date efficient building materials and methods and is always looking for ways to optimize the human encounter with space taking advantage of the Spectacular Ocean and green views while maximizing every square foot.
With over 40 years of construction experience in the United States and Costa Rica and over 250,000 square feet of custom building under their belt, Corbin and Tatiana bring a level of experience and skill to the table unlike anyone in the area. They would be happy to build your custom home for you and will be hands on with the project from start to finish ensuring that you get an attractively designed, well-built and energy efficient home that will look good for years to come.
Check out this video of Corbin and Tatiana describing the process of building a custom home from start to finish.
To Contact Corbin and Tatiana I can do a personal introduction for you or you can contact them directly at:
tvandruff@grupopacificocr.com 
www.grupopacificocr.com  
506-2666-3306
Tank Tops Flip Flops Newsletter edition no. 76
Relax You Are In Paradise – Part 6
Tags: Costa Rica Builders, Costa Rica Lifestyle, How I came to Costa Rica