How to open a Costa Rica bank account
Before answering the question of how to open a Costa Rica bank account, another question should be answered: "Do you NEED to open a bank account in Costa Rica? And that depends on what you are doing in Costa Rica.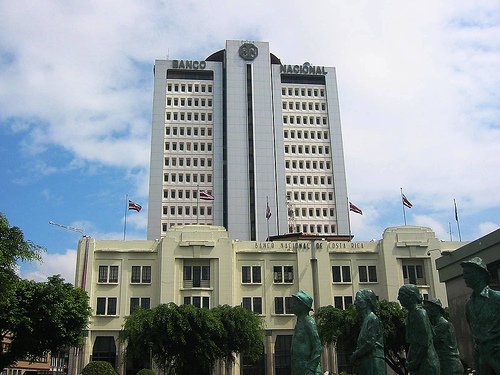 You do NOT need to open a bank account to buy a property in paradise. All transactions are done using a reputable law firm and a third party escrow, like Secure Title Latin America. They will set up an escrow account specifically for your transaction and insure that the closing takes place before your funds are distributed to the seller.
https://www.tanktopsflipflops.com/what-is-the-procedure-to-write-an-offer-and-close/
Costa Rica is a very safe place to put your money and their banks are considered some of the strongest in the world. So your money is very secure in a financial institution in this country. But they are also very opposed to money laundering, drug dealings or tax evasion, and they have implemented many rules and regulations to guard against those types of transactions. So be prepared to show lots of paperwork to substantiate WHERE your funds have come from and HOW you have obtained them. In order to open a Costa Rica bank account, you will need to provide the following documentation:
For each of the authorized signing officers, copy of all pages of the official ID passport or official resident permit.
Copy of last declaration tax return in US or Canada (Form 1040 U.S. Individual Income Tax Return).
Water, electricity or telephone bill showing your current address.
Provide information to fulfill "Know your customer" policy, for example: source of funds, purpose of the account, address, phone numbers, marital status, e-mails, profession or occupancy.
You will also have to show documentation that substantiates where the money is coming from, like bank statements in your home country, Social Security statement or pay check stubs. If it is from a sale of a property, then you will be asked to provide proof of that sale, before the money will be credited to your account.
There are two types of accounts that you can open; a personal account and a corporate account. If you are not a Permanent Resident of Costa Rica, then you will be very limited to the movement you will be allowed in a personal account. You will not be able to do any online banking, or any in-country wires or transfers and you will have a very limited amount of monthly deposits that you will be allowed to make.
Most of my foreign clients, who are not residents, then open a bank account under a Costa Rican corporation, many times the same one that owns their house or condo. You want to make sure that this corporation is NOT attached to your car though. You have a lot of liability when driving a vehicle and the last thing you want is to get in an accident, and have your bank account frozen or levied to pay for any damages that you might owe. In a perfect scenario, your bank account corporation should be separate from any other holdings in Costa Rica. But there are annual fees associated with each corporation, so you have to look at those costs as well. It is important to remember though, that under the tax laws of the US and Canada, you must declare any foreign corporations that you might own. So you have to weigh the need for a bank account against the paperwork you must file back in your home country. With a corporate account, your attorney will prepare the necessary documentation that the bank will require. You will still need to provide the personal information above as well. With a corporate account you will be allowed to have online banking abilities, in-country SINPE transfers and a debit card or ATM card as well.
As a permanent resident of Costa Rica, you are in essence a Costa Rican. So you will have full banking powers, authority and movements to do transfers, wires or online banking. But at all times, you will have to substantiate where the money came from. The US and Canada, now require all their citizens to disclose any foreign bank accounts on their annual tax returns. So again, you have to decide if it is worth the extra paperwork and filings, to keep that account active in Costa Rica. The purpose of this is to insure against money laundering or any illegal or illicit activities. ALL of my clients are upstanding, tax paying citizens, and none of them are using their Costa Rica bank account as a place to hide or launder money. So none of us are concerned about the disclosures, filings, tax returns or paperwork we must fill out. It is more about whether the account is truly a necessity, as there is some extra work on your behalf required to keep that account legal and above board. Your accountants are happy to charge you the fees to prepare these forms so you have to again look at the costs versus needs.
Also, you must keep the account active or the bank will ask you to close it. Unless it is an interest bearing savings account or a CD, you must make at least one transaction every 30 days to keep the account opened.
If you are living full time, or spending 6 months a year in Costa Rica, then obviously you need a Costa Rica bank account. You want your money to be here in paradise where you can get at it easily. You want to be able to pay your bills on line and have access to easy cash at the teller and have your personal funds, Social Security Checks, etc directly deposited into your account. Obviously, if you are working here and earning an income then you will need an account and you will file a Costa Rican tax return at the end of every year. But if you just have a rental investment property, or are only coming a few months a year, then it does not make sense for many people to go through all the hoops and hurdles of opening and maintaining an account. They just have a property manager handle their bills. They keep enough money in there to cover the costs of their overhead, and replenish it as needed, either with rental income generated here, or by depositing money from home into their account. These people then just obtain cash through an ATM, just like any other tourist or visitor, and pay for any of their travel and eating expenses with a credit card.
There is much written on line, about how slow the banks are, how long the lines can get, and what a general pain in the butt it can be. Truthfully, I have not found that to be true here at the beach anymore. Most of the banks here are very service oriented now as thousands of full time residents live here and bank here. There are hundreds of businesses here now doing millions of dollars in transactions so the banks have absolutely stepped up their game.
Just in Playas del Coco alone we have 4 banks and another 3 within a short drive from the beach. They are all brand new locations now, with many tellers and customer service representatives and with the exception of busy holidays, or pay days, they are relatively quick and have very good service. They all are Air Conditioned and many times even have a TV or the radio playing in the corner. Almost everything you need to pay for can be done online as well now, so there are very few times that you will even find yourself having to go and stand in line at the bank.
Personally, I try to go to the bank at least a couple times a month, as the Ticas are very good looking; there is nothing more enjoyable than flirting with a teller.
COME ON DOWN BABY!